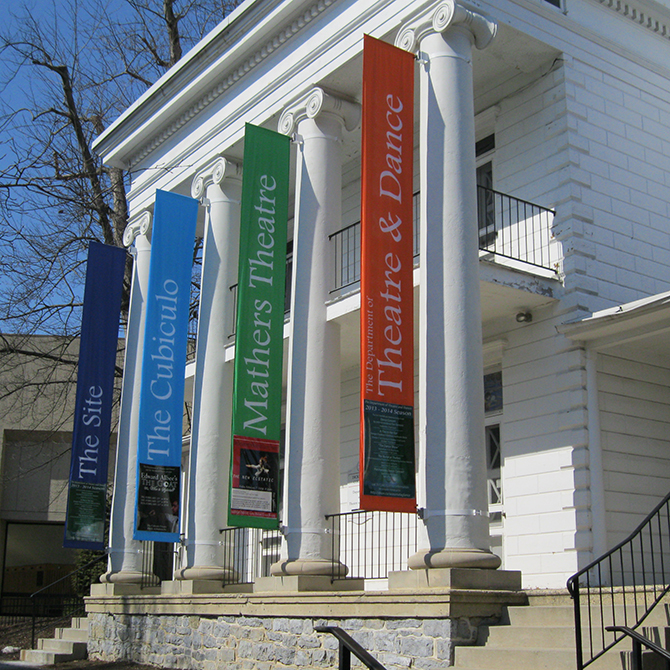 Every year our department welcomes new students into it's formal classes and it's production programs in theatre and dance. Some of these students intend to major in Theatre Arts or minor in Dance or Theatre. Some may be primarily interested in participating in our productions as a co-curricular activity. Still others may take an occasional class with us in either the traditional classroom, our shops or our studios. All of these students have one thing in common: they are all students at an excellent liberal arts college that has an active, vital commitment to excellence in theatre and dance.
There are many strong programs in theatre and dance at schools across the country. The most important consideration for prospective students is to find a program that is the right "match" with your educational, artistic and personal goals. Our department is characterized by a number of distinguishing features including:
a carefully struck balance between intellectual inquiry and practical production, where we rigorously study art in order to produce it in the most effective way possible.
an international perspective, where students not only STUDY abroad, but also have opportunities for international PERFORMANCE experience.
extraordinary interaction between students and faculty in on-campus study and production as well as in off-campus professional work, where faculty research and creative work often offers opportunities for student involvement.
an integration between our department and the rest of the college, where non-majors' involvement is encouraged and where students' artistic work is seen as an important extension of their learning in other fields.
If you are looking for an outstanding liberal arts college with active, inclusive and excellent programs in theatre and dance, feel free to contact us for further information.
Enjoy your visit to our website. We hope to see you during a visit to campus soon!