Study Abroad
All majors are encouraged to seriously consider study abroad as part of their educational experience. Dickinson's approach to financial aid and careful integration of study abroad with on-campus requirements should make such study possible in most cases. Some considerations that majors should think about:
In most cases, the most logical first program to look at is the program co-sponsored by the arts and humanities departments in London and Norwich, England. Contact person for this program is Todd Wronski.
It should be noted that most study abroad programs (including the Norwich program) generally do not include studio art training in their course offerings. Therefore, theatre students should make sure they have completed directing, design, and technology before leaving for their junior year abroad (thus making it possible to take advanced directing upon their return). 

All majors studying abroad must complete form A (at the back of the student handbook) and have it approved by their Advisor before being approved for study abroad. This will ensure that an appropriate plan for meeting all prerequisites is in place.
Students studying abroad are strongly encouraged to consider ways in which their study abroad experience could be developed into senior projects/ performance pieces upon their return to campus.
International Production and Performance
Just as Dickinson College has distinguished itself in international education, our Department of Theatre and Dance has made international study and performance a significant and unique part of its mission. We are a co-sponsoring department of Dickinson's programs in England, which offer students the option of studying in London for the summer or in both London and Norwich for the entire academic year. Here at home, we regularly welcome international guests to our campus.
We, in turn, have been invited to perform at a number of international venues: in 1994 we performed A.R. Gurney's Another Antigone at the Edinburgh International Fringe Festival, and in 1996 Dickinson students traveled to the former eastern sector of Berlin, Germany to present a performance of The Baltimore Waltz to an international audience. 1996 also saw students traveling to Victoria, British Columbia with productions of Krapps Last Tape and Breath, presented at the First International Beckett Festival. In 1998 we returned to Berlin with a student production of Sam Shepard's Fool for Love.
Another overseas venture was a triumphant return to the Edinburgh International Arts Festival in August 2000 where we performed "Oleanna" by David Mamet as a part of Fringe 2000. The company of three faculty and three students rehearsed the production for three weeks at Dickinson then traveled to Scotland for a one week run. Returning home, we played two performances during the first days of the fall semester.
The many fans of the high-spirited literary personality William Saroyan were delighted to see his work revived through the theatrical production "An Audience with William Saroyan", conceived and performed by Todd Wronski. William Saroyan was a pervasive presence in 20th century America. At the peak of his career he was a highly popular and prominent literary figure. His eccentric and animated personality found frequent expression in magazine articles, newspapers, and even through appearances on entertainment talk shows. In short, William Saroyan was no less than a household name. Wronski has taken selections from Saroyan's diverse writings and woven them together in order to bring the mid-century humorist to life on stage. Working in cooperation with the William Saroyan Foundation and Stanford University, Wronski has compiled over a thousand quotes, excerpts, and other selections in order to create the script. In August, 2001, Wronski and senior major Kim Tracey produced An Audience with William Saroyan at the Edinburgh Fringe Festival, Edinburgh Scotland. The production was also featured at the start of the 2001-2002 production season at Dickinson.
An all student cast was featured in Dickinson's contribution to the 2004 Arezzo International Festival of Performing Arts. This unique festival which takes place annually in Arezzo, Italy included performances of companies from Hungary, Italy, Ireland, Spain and Germany, as well as one other company from the U.S. The students performed Kent Broadhurst's comedy The Eye of the Beholder, directed by Todd Wronski, and also prepared a "street theatre" piece conceived and choreographed by our Director of Dance Amy Ginsburg.
2006 found Dickinson collaborating with our partner institution in England-the University of East Anglia-in the presentation of a new play titled Dickens and Twain: Crossing the Pond, directed by Senior Lecturer of Drama at UEA, Tony Frost. An international company including a Dickinson student intern rehearsed by production in Norwich, England, and presented it in Edinburgh and later at Dickinson.
Discussions are always taking place to present our next performance abroad. Return to our page in the future to see where we take our Theatre and Dance department.

Guest Artists
Our department places a priority on connecting with the professional arts world. We have an active field trip program in which we regularly take students to see the most exciting work happening along the east coast. We also have an active and exciting guest artist program which brings leading artists from the world of both dance and theatre to our campus. While our audiences benefit from the performances that are always a part of these residencies, we always design visits of guest artists in such a way that contact and collaboration with our students is maximized. Some of the Guest Artists who have taught, performed, choreographed or directed at Dickinson include:
Jose Greco, world-renowned Spanish dance artist
Laura Hupp, former American Ballet Theatre dancer
Mark Taylor, Artistic Director of Dance Alloy
Madeline Cantor and Judith Moss, Philadelphia-based choreographers
Alvin Mayes and Deborah Riley, Washington D.C.-based choreographers
JoAnna Mendl Shaw, New York City-based choreographer
Attack Theatre, Pittsburgh based movement theatre
PerksDanceMusic Theatre, New York dance and music collaborative company
Partridge-Benford Dance/Music
Headlong Dance Theatre
Sharon Pinsley, Israeli Based dancer-choreographer
Twyla Tharp (Dickinson Arts Award)
Craig Lucas, playwright
Horton Foote, playwright (Dickinson Arts Award)
David Mamet (Dickinson Arts Award)
David Birney, actor
David Snider, Artisitc Director, Washington Young Playwrights' Theatre
Jean Cocteau Repertory Theatre
Pendragon Theatre (Saragnac Lake, New York)
Julie Harris (Dickinson Arts Award)
Andre Gregory (Dickinson Arts Award)
Antonio Banderas (Honorary Degree)
Tom Watson, English actor
Hallie Foote, actress
Fred Morsell, actor
Paula Aarons, dancer-choreographer
Karl Rogers, dancer-choreographer
Edward Albee, playwright (Harold and Ethel L. Stellfox Arts Award)
Dawn Springer, dancer-choreographer
David Henry Hwang, playwright (Harold and Ethel L. Stellfox Arts Award)
Pam Tanowitz, dancer-choreographer (Cecil Andrew and Adeleine Ewing Fund Performance)
Bliss Kohlmyer, dancer-choreographer
Julio Mayo, dancer-choreographer
Dina-Verley Christophe, dancer-choreographer
Cori Kresge, dancer-choreographer
Student-Faculty Research & Creative Work
Any solid college or university faculty is characterized by teachers who remain current in their fields through ongoing research, writing, creative work and other professionally related endeavors. What distinguishes Dickinson's faculty is the degree to which this activity is shared with students through faculty lead projects which often involve students as key members of the research team. Of course theatre and dance has been characterized by close student/faculty interaction since their arrival on college campuses, with students and faculty spending long hours in the theatre preparing productions for public presentation. At Dickinson, this collaborative tradition has expanded to include creative work beyond the confines of the campus or the academic year. Our faculty is professionally active and engaged, and students frequently become a part of this work through internship and assistantship opportunities.
Student Intern Sara Bookin-Weiner (center) with Professor Todd Wronski (right) and other company members on the set of Dickens and Twain: Crossing the Pond in Einburgh, Scotland.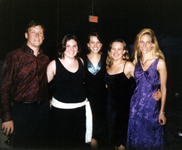 Student Intern Ellen Joffred '07, along with director Karen Kirkham at the opening of Angesl in America at the Pendragon Theatre in Saragnac Lake, New York. Also in the production company were alums Sophia Bushong '98, Nora Turnham '05 and Associate Professor of Music Robert Pound.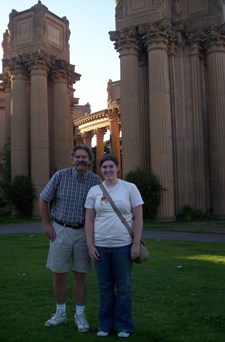 Student Intern; Megan Nussle stage managed Professor Todd Wronski's performance of William Saroyan at the San Francisco Palace of Fine Arts Theatre and for a series of anniversary performances in Saroyan's hometown of Fresno, California.
Professional projects throughout each summer include: one assisting Professor Sherry Harper-McCombs in the design and execution of costumes for the Greenbriar Valley Theatre's season in Virginia, another working as production assistant under Professor Karen Kirkham's supervision at New York's Pendragon Theatre and occasionally, a third assisting Professor Todd Wronski in preparing a performance for revival and tour to California. Many other summers have seen comparable opportunities for students to obtain professional credentials and experience that grows from and complements their on-campus production work.