First-Year Seminars are designed to help you make the transition to college-level academic culture. The First-Year Seminar is basically a crash course in getting you into the mindset needed to dive into our community of thinkers. In every seminar, we'll focus on sharpening your critical thinking, writing, and info-gathering skills.
Student Learning Outcomes
You will learn to:
critically analyze information and ideas
examine issues from multiple perspectives
discuss, debate and defend ideas, including your own views, with clarity and reason
develop discernment, facility and ethical responsibility in using information
create clear academic writing
Choosing a First-Year Seminar
First-Year Seminars are taught by college faculty from across the curriculum who design their seminars around compelling and provocative issues in their fields. With no more than 16 students per class, the small-group format allows for frequent discussion. Most seminars involve college librarians who assist students with the research process and writing associates (classroom-based peer writing tutors) who help navigate the writing process. In addition, many seminars offer field trips, guest speakers and service-learning opportunities.
When choosing a First-Year Seminar, you will select from over 40 options, and you are guaranteed one of your five choices. You are encouraged not just to pick seminars that reflect your current areas of academic interest but also to consider ones with topics that are novel and intriguing. Since First-Year Seminars are not linked to majors, you are welcome to use this opportunity to explore new subjects that you find intriguing.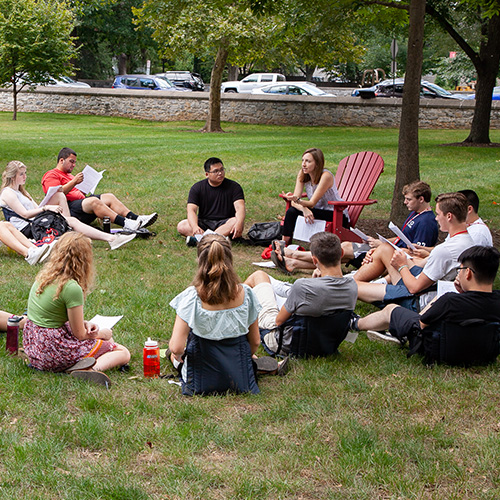 2023 Seminar Options
First-Year Seminar topics vary each year based on the interests and expertise of faculty elected to teach them. View the full list of titles and descriptions for fall 2023.
Learn More
Photo Gallery: Inside the First-Year Seminar