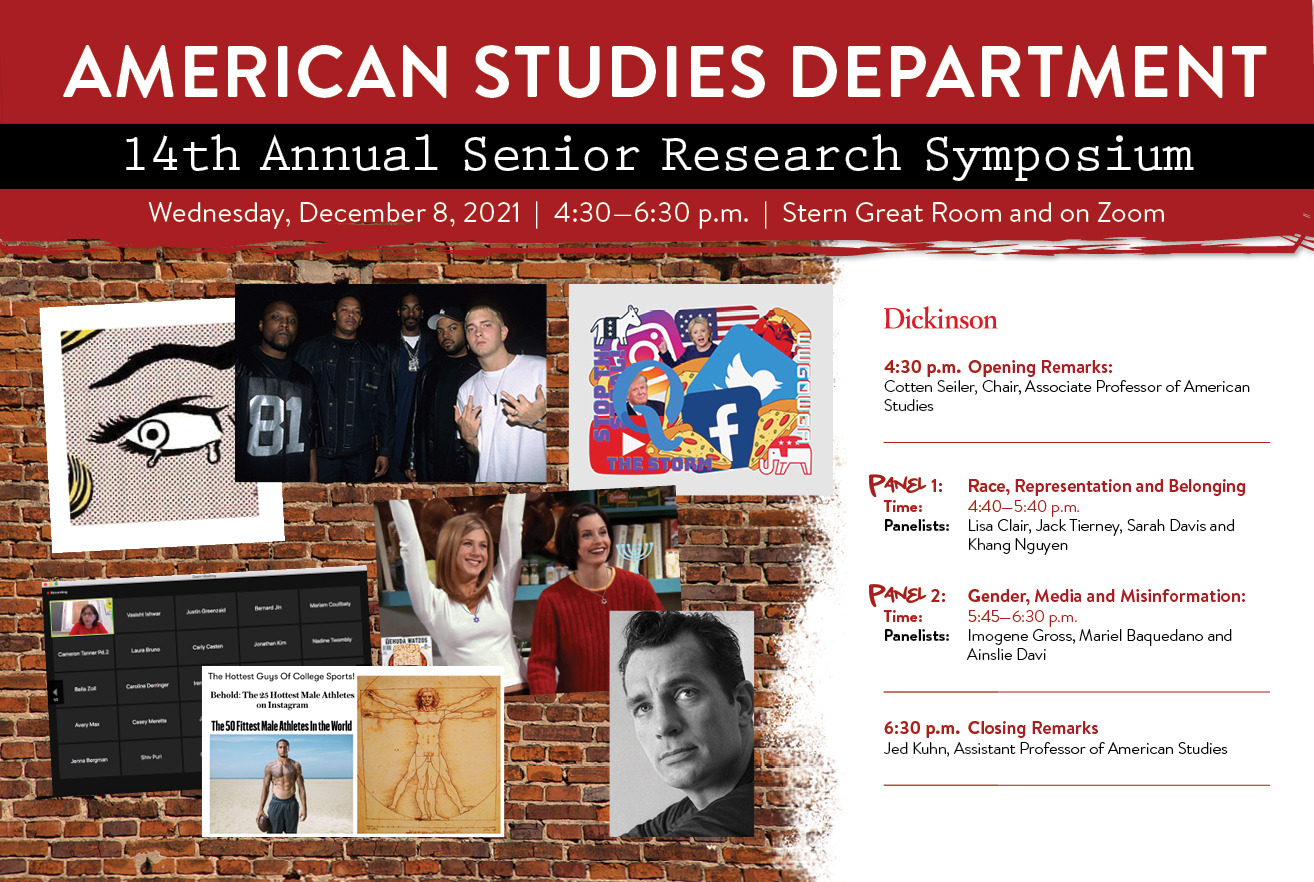 Student Research
Majors culminate their course of study by writing a research thesis on a topic reflecting a particular area of expertise, developed in close consultation with faculty advisors. Specialists in making connections and drawing together different strands of the American experience, American studies majors have pursued careers in public service, politics, law, education, business, and media and journalism. For a list of recent research projects, see below.
Student Research Symposium
Students in American studies write a senior thesis on a topic of their own choosing. The thesis is the capstone of the major. Students do original research with primary sources and draw on American studies scholarship to develop their own insights and arguments. The range of topics is wide, reflecting the varieties of student interest.
Students write a prospectus in the fall semester and in the spring write their theses. As an aid to their scholarship, the department sponsors a senior symposium in March, where students present their research to an audience of faculty, friends and their peers. The feedback students receive gives them new questions to ask and scholarly discoveries to make.
The 2021 American Studies Senior Symposium will be held Thursday, March 11th, 4:00pm on Zoom. If you would like to view the event, please send your request to amstud@dickinson.edu for the Zoom link.
American Studies Research Projects Over the Years
The following list includes current and historic individual student research projects, public presentations from conferences, symposia and exhibitions and peer-reviewed publications. For abstracts on each project see Students as Scholars.
Students can get a list of their projects by going to CLIQ in the Gateway. Under the CLIQ menu, go to Profiles and then My ePortfolio. If you are an alum and would like a copy of your projects, please submit a research project request form.
"Supported by" on Student Conference Presentation records indicates the entity or funding mechanism that supported the student's participation in the conference, e.g., travel expenses, poster costs. For on-campus conferences, the supporting entity is usually the academic department sponsoring the event.
"Supported by" on Student Research Project records indicates the entity or funding mechanism that supported the student's research costs, e.g., supplies, materials, equipment, stipends or local or international research travel.
2021
Student Name
Project
Faculty/Mentor
Emily Elizabeth Benson

Controlling Appearances: Resisting the Male Gaze in Early 1970s Feminist Art


Conference: 13th Annual American Studies Symposium
Supported by: American Studies Department

J Cotten Seiler
Keshawn Tyriq Bostic

"That's Kween with a K 'Cause I'm a King Too": Masculinity, Femininity, and Gender Performance in Contemporary Hip-Hop Culture


Conference: 13th Annual American Studies Symposium
Supported by: American Studies Department

J Cotten Seiler
Keyshana Vonshay Edwards

Healing from Ancestral Trauma: The Effects of Black Spirituality


Conference: 13th Annual American Studies Symposium
Supported by: American Studies Department

J Cotten Seiler
Olivia Ann Riordan

Access and Representation: Early Sesame Street and Social Justice TV


Conference: 13th Annual American Studies Symposium
Supported by: American Studies Department

J Cotten Seiler
Kate Belden Shepherd

Joy of Cooking: White America's Cooking Bible and Guide to Domesticity


Conference: 13th Annual American Studies Symposium
Supported by: American Studies Department

J Cotten Seiler
Hannah Marguerite Spirt-Jones

Stolen Souls and Stifled Voices: The modern genocide of Indigenous women


Conference: 13th Annual American Studies Symposium
Supported by: American Studies Department

J Cotten Seiler
2020
Student Name
Project
Faculty/Mentor
Mackenzie R Brown

Athletes Transcending Race


Conference: American Studies Department 12th Annual Senior Research Symposium
Supported by: American Studies Department

Jerry Philogene
Esme Cricket Cary-Green

"Whities Aren't Gonna Like That:" Night plus Market, Authenticity, and Ethnic Haute Cuisine


Conference: American Studies Department 12th Annual Senior Research Symposium
Supported by: American Studies Department

Jerry Philogene
Susanna Chandlee Fitts

SLACs (Small Liberal Arts Colleges) and Recruiting: Uncovering the Relationships Between Admissions and Diversity on Campus


Conference: American Studies Department 12th Annual Senior Research Symposium
Supported by: American Studies Department

Jerry Philogene
Christian James Foley

Victims of the Sunken Place: Contemporary Bare Life in Get Out


Conference: American Studies Department 12th Annual Senior Research Symposium
Supported by: American Studies Department

Jerry Philogene
Wallis Norma Jean Grant

What Hate Can Uncover: An Investigation of the Carlisle Unity Celebration


Conference: American Studies Department 12th Annual Senior Research Symposium
Supported by: American Studies Department

Jerry Philogene
Caroline Kassas

The Issue With GQ's New Masculinities: How Magazines Reconstruct and Sell Contemporary Representations of Men


Conference: American Studies Department 12th Annual Senior Research Symposium
Supported by: American Studies Department

Jerry Philogene
Claire Cicero MacAulay

Hallmark Movies: Questions of Feminism and Escape in a Modern Era


Conference: American Studies Department 12th Annual Senior Research Symposium
Supported by: American Studies Department

Jerry Philogene
Pema Tashi

Crafting Counterculture: How Cartography and Graphic Design Disrupt Systems of US Benevolence


Conference: American Studies Department 12th Annual Senior Research Symposium
Supported by: American Studies Department

Jerry Philogene
Makeda A White

"Black Waves Black Days" Black Space: Analyzing Solange's "When I Get Home"


Conference: American Studies Department 12th Annual Senior Research Symposium
Supported by: American Studies Department

Jerry Philogene
Andrew Ernest Zaccagnino

An All-Digital Future and its Affect on the Video Game Industry and Culture


Conference: American Studies Department 12th Annual Senior Research Symposium
Supported by: American Studies Department

Jerry Philogene
2019
Student Name
Project
Faculty/Mentor
Keson Torell Bullock-Brown

Does the Dollar Ever Solve the Issue: Examining Black Capitalism as an Insufficient Measure of Freedom


Conference: 2019 Annual Eastern American Studies Association Conference
Supported by: American Studies Department

Nicholle Dragone
Keson Torell Bullock-Brown

Does the Dollar Ever Solve the Issue: Examining Black Capitalism as an Insufficient Measure of Freedom


Conference: 11th Annual American Studies Senior Research Symposium
Supported by: American Studies Department

Nicholle Dragone
Leda Jane Kolbowski Fisher

Bad Niggers and Rich Niggas: The Nigger/a as Counter-Hegemonic Figure


Conference: 11th Annual American Studies Senior Research Symposium
Supported by: American Studies Department

Nicholle Dragone
Hannah Guy-Mozenter

Health Food: White Subjectivity and Femininity


Conference: 11th Annual American Studies Senior Research Symposium
Supported by: American Studies Department

Nicholle Dragone
Eleanor Fairbank Kaestner

Vogue, Nike, and New York Fashion Week: The Intersection of Fashion and Politics in the Trumpian Era


Conference: 11th Annual American Studies Senior Research Symposium
Supported by: American Studies Department

Nicholle Dragone
Fiona Emily Keane

Radical Warriors: Activism, Insurrection, and Native American Vietnam Veteran Involvement in the American Indian Movement.


Conference: 2019 Annual Eastern American Studies Association Conference
Supported by: American Studies Department

Nicholle Dragone
Fiona Emily Keane

War! What is it Good For?: Activism, Insurrection, and Native American Vietnam Veteran Involvement in the American Indian Movement.


Conference: 11th Annual American Studies Senior Research Symposium
Supported by: American Studies Department

Nicholle Dragone
Heidi Elouise Kim

Understanding #AsianAugust and the Modern Conversation About Asian Representation in Hollywood


Conference: 11th Annual American Studies Senior Research Symposium
Supported by: American Studies Department

Nicholle Dragone
Ali Michele Kramer

YouTube, Mass Culture, and the "Fanopticon": An Examination of Social Media's Effect on the Millennial Trademark


Conference: 11th Annual American Studies Senior Research Symposium
Supported by: American Studies Department

Nicholle Dragone
Killian Kueny

Evacuees, Refugees or Internally Displaced Persons: How Labels Perpetuate Dominant Ideological Hierarchies in the Aftermath of Hurricane Katrina


Conference: 2019 Annual Eastern American Studies Association Conference
Supported by: American Studies Department

Nicholle Dragone
Killian Kueny

Hurricane Katrina's Connotative Storm: Exploring the Discrepancies between Labels for American Citizens and their Perpetuation of Institutional Hierarchies


Conference: 11th Annual American Studies Senior Research Symposium
Supported by: American Studies Department

Nicholle Dragone
Tierney A O'Connell

The Destigmatization of Mental Illness as Influenced by the Power of Celebrities


Conference: 11th Annual American Studies Senior Research Symposium
Supported by: American Studies Department

Nicholle Dragone
Julia Eliza Ormond

What's in a Box?: Native American Food Sovereignty and the Food Distribution Program on Indian Reservations.


Conference: 11th Annual American Studies Senior Research Symposium
Supported by: American Studies Department

Nicholle Dragone
Lucy Alison Smith

Obscene Queens: Government Rhetoric, Television Regulations, and Nakedness


Conference: 11th Annual American Studies Senior Research Symposium
Supported by: American Studies Department

Nicholle Dragone
Lauren Weickert

Prison Uprisings in the Era of Mass Incarceration: Isolation and Community Building


Conference: 2019 Annual Eastern American Studies Association Conference
Supported by: American Studies Department

Nicholle Dragone
Lauren Weickert

Prison Uprisings in the Era of Mass Incarceration: Isolation and Community Building


Conference: 11th Annual American Studies Senior Research Symposium
Supported by: American Studies Department

Nicholle Dragone
2018
Student Name
Project
Faculty/Mentor
D'Andre Battle

Queer Black Representations in Sitcom Media


Conference: 10th Annual American Studies Senior Research Symposium
Supported by: American Studies Department

Eric Vazquez
Zachary Carson Blumenstein

A Quest for Authenticity: Gangster Rap's Influence on White Mainstream Culture


Conference: 10th Annual American Studies Senior Research Symposium
Supported by: American Studies Department

Eric Vazquez
Edward Brown

Esther Popel Shaw, Dickinson Housing Policies, and the Origins of Modern Race Relations in America


Conference: 10th Annual American Studies Senior Research Symposium
Supported by: American Studies Department

Eric Vazquez
Sofia Garcia Canning

Fast Tracking U.S. Citizenship: Kenyan Runners as Olympic Hopefuls and Extracted Resources


Conference: 10th Annual American Studies Senior Research Symposium
Supported by: American Studies Department

Eric Vazquez
Sydney Brown Collins

Addressing Divided Feminisms: Intersectionality in Reproductive Justice


Conference: 10th Annual American Studies Senior Research Symposium
Supported by: American Studies Department

Eric Vazquez
Emily Marion Hall

Black Owned, White Controlled: Ebony Magazine and Middle Brow Beauty


Conference: 10th Annual American Studies Senior Research Symposium
Supported by: American Studies Department

Eric Vazquez
Lillian Karl

Patagonia, Environmentalism, and the Great (White) Outdoors


Conference: 10th Annual American Studies Senior Research Symposium
Supported by: American Studies Department

Eric Vazquez
Caroline Grace Smiegal

Progress Through Podcasts: A Cultural Analysis of Sex Positive Feminism in Popular Media


Conference: 10th Annual American Studies Senior Research Symposium
Supported by: American Studies Department

Eric Vazquez
Jade Weiner

Cosmetic Surgery and the Enforcement of the Male Gaze


Conference: 10th Annual American Studies Senior Research Symposium
Supported by: American Studies Department

Eric Vazquez
2017
Student Name
Project
Faculty/Mentor
Erin Louise Andreassi

'The Talented Tenth vs. 'The Precious Ten': Defining Modern Conceptions of Childhood through Class


Conference: 9th Annual American Studies Senior Research Symposium
Supported by: American Studies Department

Amy Farrell
Claire Frances Brigham

Protected by the Turf: Rape Culture on College Campus


Conference: 9th Annual American Studies Senior Research Symposium
Supported by: American Studies Department

Sharon O'Brien
Keson Torell Bullock-Brown

The Resurgence of Scientific Racism in the 1970s


Supported by: R&D Dana Research Assistant
Number of Weeks: 13 weeks

J Cotten Seiler
Kellen Christopher Edmondson

Tempering Flavors for American Palates: The Legend of General Tso's and the Deterioration of Authenticity


Conference: 9th Annual American Studies Senior Research Symposium
Supported by: American Studies Department

J Cotten Seiler
Caitlin Jennifer Farrell

Fashion, Feminism, and the Sartorial Power of Coco Chanel


Conference: 9th Annual American Studies Senior Research Symposium
Supported by: American Studies Department

J Cotten Seiler
Mariah B Finkelstein

Steven Universe: Queering the World of Children's Media


Conference: 9th Annual American Studies Senior Research Symposium
Supported by: American Studies Department

Katherine Schweighofer
Colleen Ann Frerichs

Bitch-Boss or Boss-Bitch: Representations of Postfeminist Working Women in Romantic Comedies


Conference: 9th Annual American Studies Senior Research Symposium
Supported by: American Studies Department

Katherine Schweighofer
Gillian Gerli Horn

The Lens of Visual Freedom: Articulation of Freedom of Speech on Instagram


Conference: 9th Annual American Studies Senior Research Symposium
Supported by: American Studies Department

Katherine Schweighofer
Isabel Anne Lang

A Radical Ticket: 'Unbought and Unbossed', Shirley Chisholm and Intersectional Politics in America


Conference: 9th Annual American Studies Senior Research Symposium
Supported by: American Studies Department

Sharon O'Brien
Matthew Reuben Maitland

The War on Athletes in the Neoliberal Turn


Conference: 9th Annual American Studies Senior Research Symposium
Supported by: American Studies Department

Sharon O'Brien
Hanna C Norman

Pixar's Toy Story: Longings for an American Childhood


Conference: 9th Annual American Studies Senior Research Symposium
Supported by: American Studies Department

Amy Farrell
Lucille Ruth Richman

Quite the Doll-emma: Race and Gender Representations in American Girl Dolls of Color


Conference: 9th Annual American Studies Senior Research Symposium
Supported by: American Studies Department

Amy Farrell
Brian Joseph Thomas

What Makes a Gay Wedding Gay?: The Reconstruction of Gender in White Wedding Rituals


Conference: 9th Annual American Studies Senior Research Symposium
Supported by: American Studies Department

J Cotten Seiler
Sarah Ann Welch

Tan Like Me: Alexander Hamilton and the Spectacle of Raciality


Conference: 9th Annual American Studies Senior Research Symposium
Supported by: American Studies Department

Eric Vazquez
Matthew Wenz

"To be the man, you Gotta Beat the Man": "Othered" Bodies and Normal Masculinity in WWE Wrestling


Conference: 9th Annual American Studies Senior Research Symposium
Supported by: American Studies Department

Eric Vazquez
Aine Mairead Zaniewski

Whiting Up Through Satire: White Chicks, It's Funny, Isn't It?


Conference: 9th Annual American Studies Senior Research Symposium
Supported by: American Studies Department

Eric Vazquez
2016
Student Name
Project
Faculty/Mentor
Harper Lindsay Clark

Carlisle Indian Industrial School: Charles Williams


Conference: Sports Symposium
Supported by: American Studies Department

Katherine Schweighofer
Tyler William Clauson-Wolf

It's Funny Because It's True: Social Commentary in Stand-Up Comedy


Conference: 8th Annual Senior Research Symposium
Supported by: American Studies Department

J Cotten Seiler,Jerry Philogene
Drew Elizabeth Crowley

Purity Balls: Virginity as a Gendered Construct


Conference: 8th Annual Senior Research Symposium
Supported by: American Studies Department

J Cotten Seiler,Jerry Philogene
Jason William Denaburg

21st Century Czar: American Imagination of Russia and Vladimir Putin


Conference: 8th Annual Senior Research Symposium
Supported by: American Studies Department

J Cotten Seiler,Jerry Philogene
Samuel Nathan Drabkin

'Wastin' My Life in Altered States': Death Grips and Avant-Garde Rage


Conference: 8th Annual Senior Research Symposium
Supported by: American Studies Department

J Cotten Seiler,Jerry Philogene
Mariah B Finkelstein

The Perfect Skin: Race, Materiality, and the Spectacular Invention of Visibility


Supported by: R&D Dana Research Assistant
Number of Weeks: 6

Jerry Philogene
Peter Ashbridge Hass

Declarations and Incarcerations: Race, Audibility, and Citizenship in the Postwar US Prison System


Conference: 8th Annual Senior Research Symposium
Supported by: American Studies Department

J Cotten Seiler,Jerry Philogene
Patricia Ann Kotrady

Consuming Authenticity: Deconstructing 'Do-It-Yourself' Punk Rock Ethics in Philadelphia


Conference: 8th Annual Senior Research Symposium
Supported by: American Studies Department

J Cotten Seiler,Jerry Philogene
Jahmel Martin

What Does a Broken Black Body Mean to You?: Digital Spectatorship of Police Brutality


Conference: 8th Annual Senior Research Symposium
Supported by: American Studies Department

J Cotten Seiler
Angela Emer Medrano

East Loves West: Mixed Race Identity and the Filipina-American Marriage Market


Conference: 8th Annual Senior Research Symposium
Supported by: American Studies Department

J Cotten Seiler,Jerry Philogene
Catherine Merle Obrecht

Making a Celebrity: Social Media, Feminism, and the Spectacle of Kim Kardashian


Conference: 8th Annual Senior Research Symposium
Supported by: American Studies Department

J Cotten Seiler,Jerry Philogene
2015
Student Name
Project
Faculty/Mentor
Heather Leigh Bonello

Keeping up with CoverWorld: CoverGirl, Celebrities, and the Marketing of Diversity in Consumer Culture


Conference: 7th Annual Senior Research Symposium
Supported by: American Studies Department

Sharon O'Brien
Quinn Amerling Cotter

Fad Men: The Birth and Evolution of the Playboy Consumer in 1950's America


Conference: 7th Annual Senior Research Symposium
Supported by: American Studies Department

Sharon O'Brien
Katherine Thayer Dilworth

Elite Fitness: Fitbit and the Idealized, Monitored Body


Conference: 7th Annual Senior Research Symposium
Supported by: American Studies Department

Sharon O'Brien
Samuel Nathan Drabkin

The Socially Dead and the "Improbable Citizen": Cultural Transformations of Haitian Citizenship


Supported by: R&D Dana Research Assistant
Number of Weeks: 8

Jerry Philogene
Tyler Martin Drbal

Wham! Pow! Black!: Black Superheroes as an American Studies Lens


Conference: 7th Annual Senior Research Symposium
Supported by: American Studies Department

Sharon O'Brien
Melissa Ann Fallat

Weight Watchers and the Ideology of Thin


Conference: 7th Annual Senior Research Symposium
Supported by: American Studies Department

Sharon O'Brien
Johanna Marie Fleming

Project One: Fat Studies Scholarship; Project Two: Girl Scouts of America


Supported by: R&D Dana Research Assistant
Number of Weeks: 13

Amy Farrell
Johanna Marie Fleming

Pretty Women and Power Tools


Conference: 7th Annual Senior Research Symposium
Supported by: American Studies Department

Gregory Kaliss
Hannah Shanis Glick

Digitally Dating: Lusting or Loving in a Digital Age


Conference: 7th Annual Senior Research Symposium
Supported by: American Studies Department

Marisol LeBron
Fabian Alberto Hernandez

Meztizo Consciousness and the Liminality of Borders


Conference: 7th Annual Senior Research Symposium
Supported by: American Studies Department

Sharon O'Brien
Celeste Cianna Hippolyte

Reconciling with Voicelessness: Black Twitter as an Emergent Cultural Practice


Conference: 7th Annual Senior Research Symposium
Supported by: American Studies Department

Marisol LeBron
Aaron Stuart Hock

Trans*-scending Drag: How RuPaul's Drag Race Evades the Trans* Politics of Drag Performance


Conference: 7th Annual Senior Research Symposium
Supported by: American Studies Department

Sharon O'Brien
Aaron Stuart Hock

The Socially Dead and the "Dead Citizen": Cultural Contestations of Haitian Citizenship


Supported by: R&D Dana Research Assistant
Number of Weeks: 13

Jerry Philogene
Lawrence Xavier Jolon

Masculinity and Vulnerability: Men's Memoirs Destigmatizing Anxiety and Expanding Representations of Masculinity


Conference: 7th Annual Senior Research Symposium
Supported by: American Studies Department

Gregory Kaliss
Suzannah Tallman May

Liked: The Phenomenon of the Food Instagram


Conference: 7th Annual Senior Research Symposium
Supported by: American Studies Department

Marisol LeBron
Grace Margaret Morelli

Representation of Italian Americans in Film


Conference: 7th Annual Senior Research Symposium
Supported by: American Studies Department

Sharon O'Brien
Meaghan Patrice Quirin

Anti-Vietnam Protest at Dickinson College: An Ethnography


Conference: 7th Annual Senior Research Symposium
Supported by: American Studies Department

Jerry Philogene
Sasha Parmet Reagan

Dams and Damnation


Conference: 7th Annual Senior Research Symposium
Supported by: American Studies Department

Jerry Philogene
Rebecca Gould Winsor

Tiny Houses: Is America Moving Out of the Home?


Conference: 7th Annual Senior Research Symposium
Supported by: American Studies Department

Jerry Philogene
Alexandra Elizabeth Young

Same Position, Different Style: U.S. Women's Soccer Stars and the Gender Binary


Conference: 7th Annual Senior Research Symposium
Supported by: American Studies Department

Sharon O'Brien
2014
Student Name
Project
Faculty/Mentor
Jenny Catherine Barrett

The Italian-American Self: A Double-Identity Struggle


Conference: American Studies Senior Research Symposium
Supported by: American Studies Department

Amy Farrell
Abigail Poore Bowman

Cosmopolitan-isms: The Relationship between Gender, Class, Nationality, Universalism, and Consumerism in American and Indian Cosmopolitan Magazine


Conference: American Studies Senior Research Symposium
Supported by: American Studies Department

J Cotten Seiler
Elizabeth Ayres Bruno

The Rise of a Female Fitness Culture in America: America's Obsession with the "toned" Female Form


Conference: American Studies Senior Research Symposium
Supported by: American Studies Department

Sharon O'Brien
Sarah Jessica Koch

The Great American Memory Lapse: How Dr. King and Mr. Carmichael Saw Alike, 1964-66


Conference: American Studies Senior Research Symposium
Supported by: American Studies Department

Amy Farrell
Dana Kathryn Metcalf

Understanding Invisible Disability: The Gender Divide in American ADHD Culture


Conference: American Studies Senior Research Symposium
Supported by: American Studies Department

Marisol LeBron
Elizabeth Emily Mudge

Narrating Death in a Culture of Denial


Conference: American Studies Senior Research Symposium
Supported by: American Studies Department

Marisol LeBron
Alan Pederson Nick

Post Traumatic Stress Disorder: The Invisible Wounds of War


Conference: American Studies Senior Research Symposium
Supported by: American Studies Department

Marisol LeBron
Zara Eliza O'Brien

The Aesthetic Gaze of a Plastic Surgeon: Their influence on American Conceptions of Beauty


Conference: American Studies Senior Research Symposium
Supported by: American Studies Department

Sharon O'Brien
Alicia Marie Reynolds

The Plus-Size Industry: A Fashion Industry Of Its Own?


Conference: American Studies Senior Research Symposium
Supported by: American Studies Department

Sharon O'Brien
Leah Judith Shafer

A 'Delightfully Incorrigible Ham': The Popularity and Gendered Constructs of Julia Child


Conference: American Studies Senior Research Symposium
Supported by: American Studies Department

J Cotten Seiler
Peter Oskar Shapiro

When Liberal Arts Doesn't Mean Liberal Minds: Offering LGBTQ Support to Students on a College Campus


Conference: American Studies Senior Research Symposium
Supported by: American Studies Department

Amy Farrell
Maretta Rose Sonn

Project One: Fat Studies Scholarship; Project Two: Girl Scouts of America


Supported by: R&D Dana Research Assistant
Number of Weeks: 13

Amy Farrell
Caroline Takacs Taylor

Michelle Obama and Representations of First Ladies


Conference: American Studies Senior Research Symposium
Supported by: American Studies Department

J Cotten Seiler
2013
Student Name
Project
Faculty/Mentor
Laura May Bartell

Who Are We?: A Critical Analysis of the Family in the Display of Bumper Stickers


Conference: American Studies Senior Research Symposium
Supported by: American Studies Department

Alexandra Michaell Boorse

Miss America: Constructing the American Ideal of Womanhood


Conference: American Studies Senior Research Symposium
Supported by: American Studies Department

Sharon O'Brien
Annina Darrahville Boyd

Large and Not in Charge: A Critical Analysis of "The Biggest Loser" and U.S. Ideas of Bodily Citizenship


Conference: American Studies Senior Research Symposium
Supported by: American Studies Department

Amy Farrell
Melissa Alice Canu

From the 'Dream House' to the White House: Barbie, Femininity, and Power in the United States


Conference: American Studies Senior Research Symposium
Supported by: American Studies Department

Sharon O'Brien
Ashley Ann Davis

Cosmopolitan Magazine: The Male Issue


Conference: American Studies Senior Research Symposium
Supported by: American Studies Department

Sharon O'Brien
Giancarlo Daniel Duffy

Visual Cultures of Internet Islamophobia: Transnational Memes and International Politics


Supported by: R&D Dana Research Assistant
Number of Weeks: 13

Perin Gurel
Julie Brooke Elias

Radical Laughter?: Bridesmaids and the Limits of Gender Subversion in Film Comedy


Conference: American Studies Senior Research Symposium
Supported by: American Studies Department

Sharon O'Brien
Nasim Fekrat

Visual Cultures of Internet Islamophobia: Transnational Memes and International Politics


Supported by: R&D Dana Research Assistant
Number of Weeks: 13

Perin Gurel
Samantha Emily Fertel

Challenging Rape Culture: Can Student Activism Effectively Change a College Campus?


Conference: American Studies Senior Research Symposium
Supported by: American Studies Department

Laura Catherine Garbarino

Alcoholism and Binge Drinking in Hollywood Films


Conference: American Studies Senior Research Symposium
Supported by: American Studies Department

Amy Farrell
Sarah Ann Gray

Queer Women Artists and the Implications of the Gaze: Activism, Sexuality, and the Body


Conference: American Studies Senior Research Symposium
Supported by: American Studies Department

Ivan Gutierrez

Hegemonic Masculinity: Way of Life or Racial Boundary?


Conference: American Studies Senior Research Symposium
Supported by: American Studies Department

Andrew C Hill

LeBron James & The Infrapolitics of a Working Class Athlete


Conference: American Studies Senior Research Symposium
Supported by: American Studies Department

Jerry Philogene
Marcy Cara Isaacson

Patriotic Fervor and the Symbol of the American Flag in a Post-9/11 America


Conference: American Studies Senior Research Symposium
Supported by: American Studies Department

Alexis Ellyn Kuzma

Empowering or Subjugating?: A Feminist Analysis of the Hot Mom Trend


Conference: American Studies Senior Research Symposium
Supported by: American Studies Department

Emily Bolotin Magida

Sensationalism in Cable Television News: The Blurred Line Between News and Entertainment


Conference: American Studies Senior Research Symposium
Supported by: American Studies Department

Amy Farrell
Thomas M Omalley

Chinese Immigration: Chinatown in New York and San Francisco in the Early 1900s


Conference: American Studies Senior Research Symposium
Supported by: American Studies Department

Jerry Philogene
Brian William Schwartz

The Power of the News Media


Conference: American Studies Senior Research Symposium
Supported by: American Studies Department

Amy Farrell
Connor Edwards Sheehan

The Use of Mental Illness to Safeguard Consent in the Extended 1950s (1947-1963)


Conference: American Studies Senior Research Symposium
Supported by: American Studies Department

Leah A Silver

A Romanticized Reality: The Fallacy of the American Dream for African Americans in the United States


Conference: American Studies Senior Research Symposium
Supported by: American Studies Department

Jerry Philogene
Alison Loveland Snyder

Deviant Possession: Hoarding and its Participation in Unveiling the Processes of Capitalism, Consumerism and Citizenship


Conference: American Studies Senior Research Symposium
Supported by: American Studies Department

Amy Farrell
Mary Kathryn Sullivan

Tanning Temptations in the United States


Conference: American Studies Senior Research Symposium
Supported by: American Studies Department

Sharon O'Brien
Christopher Jacek Szymanski

Forget Fly, I Am Fashion


Conference: American Studies Senior Research Symposium
Supported by: American Studies Department

Jerry Philogene
Molly Elizabeth Welch

The Dissemination of Fat Discrimination in America


Conference: American Studies Senior Research Symposium
Supported by: American Studies Department

2012
Student Name
Project
Faculty/Mentor
Juliani Acosta

Smoke: Redefining Women in the '20s through Cigarette Consumption


Conference: American Studies Senior Research Symposium
Supported by: American Studies Department

Jonathan Baez

Community vs. Commodity: Gentrification and Resistance in Spanish Harlem


Conference: American Studies Senior Research Symposium
Supported by: American Studies Department

Caroline Emily Dukmejian

Ain't We Lucky We Got 'Em? An Analysis of the Situation Comedy Good Times and African American Representation in the 1970s


Conference: American Studies Senior Research Symposium
Supported by: American Studies Department

Mary Ann Eggers

Visual Cultures of Internet Islamophobia


Supported by: R&D Dana Research Assistant
Number of Weeks: 13

Perin Gurel
Alexandra Brynn Gerstley

The History of Imprisonment in Carlisle


Conference: American Studies Senior Research Symposium
Supported by: American Studies Department

Amy Farrell
Melissa Kay Gurdon

Rap Musicians as Organic Intellectuals: Re-Educating America from the 1990's to the Present


Conference: American Studies Senior Research Symposium
Supported by: American Studies Department

Molly McDonald Heus

The Christian Diet Industry: Sin, Morality, and the Perpetuation of Fat Stigma


Conference: American Studies Senior Research Symposium
Supported by: American Studies Department

Amy Farrell
Kaitlyn Anne Hoza

Bringing the Battle Home: The Unseen Wounds of PTSD in Iraq and Afghanistan Veterans


Conference: American Studies Senior Research Symposium
Supported by: American Studies Department

Sharon O'Brien
Laura Mariel Kassen

Oy Vey: Gertrude Berg and Representations of Jewishness on The Goldbergs


Conference: American Studies Senior Research Symposium
Supported by: American Studies Department

Kathryn Wittman Mersky

Housewife Culture: A Contemporary Look into the Franchise, the Women, and the Viewer Response of Bravo TV's The Real Housewives


Conference: American Studies Senior Research Symposium
Supported by: American Studies Department

Sharon O'Brien
Jossie Munoz

The Inclusion of Minorities in Higher Education


Conference: American Studies Senior Research Symposium
Supported by: American Studies Department

Amy Farrell
William Tyler Perry

Deconstructing the MLB: Neocolonialist Practices and Latino Baseball Players


Conference: American Studies Senior Research Symposium
Supported by: American Studies Department

Leah Judith Shafer

A Difference That Makes No Difference: Making Race Not Matter in Postwar America


Supported by: R&D Dana Research Assistant
Number of Weeks: 13

J Cotten Seiler
Abigail Robyn Sharaf

Dating, Dining, and Dancing: Popular Social Etiquette on College Campuses During the Great Depression


Conference: American Studies Senior Research Symposium
Supported by: American Studies Department

Sharon O'Brien
David Torres

Social Networking and Privacy


Conference: American Studies Senior Research Symposium
Supported by: American Studies Department

Sharon O'Brien
Gaven Dajay Trinidad

The Millennium Approaches: Mainstream American Theater's Role in the Normalization of HIV/AIDS and Gay and Lesbian Cultures


Conference: American Studies Senior Research Symposium
Supported by: American Studies Department

Amy Farrell
Abigail Israel Tufts

Jewish Whiteness: Hank Greenberg, Sandy Koufax, and Assimilation through Sports


Conference: American Studies Senior Research Symposium
Supported by: American Studies Department

Katharine Joy Weintraub

'In the future, everybody will be famous for 15 minutes': Andy Warhol and the Commodification of Celebrity


Conference: American Studies Senior Research Symposium
Supported by: American Studies Department

2011
Student Name
Project
Faculty/Mentor
Perrin C Allen

The Shift from American Jazz from Low to High Culture


Conference: American Studies Senior Research Symposium
Supported by: American Studies Department

Sarah Elizabeth Barr

Manuscript revision project: "Home and Other Myths: A Lexicon of Queer Inhabitation"


Supported by: R&D Dana Research Assistant
Number of Weeks: 8

Laura Grappo
Trey Terrell Boone

Representations of Lynching: A Visual Phenomenon Deeply Rooted in American History


Conference: American Studies Senior Research Symposium
Supported by: American Studies Department

Jerry Philogene
Anthony Michael Bush

Silencing an Experience: The Pervasive Notion of No Homo in Hip Hop


Conference: American Studies Senior Research Symposium
Supported by: American Studies Department

Sharon O'Brien
Alyssa Jordan Constad

It's Complicated being Green: The Culture of The Muppets in Postmodernist America


Conference: American Studies Senior Research Symposium
Supported by: American Studies Department

Kenya Aisha Dyer

Juxtaposition of Natural Disaster and Social Turmoil


Conference: American Studies Senior Research Symposium
Supported by: American Studies Department

Lucas Truman Garrison

The Reasoning of Rape: How Masculine & Feminine Culture Contribute to the Crisis of Rape


Conference: American Studies Senior Research Symposium
Supported by: American Studies Department

Sharon O'Brien
Helen Kiley Goldstein

Debutante Balls: Perpetuating Female Gender Roles within the Upper Class


Conference: American Studies Senior Research Symposium
Supported by: American Studies Department

Sharon O'Brien
Anisah Khurshid Hashmi

Reclaiming American Islam: The Development of Islamic Feminism in the United States


Conference: American Studies Senior Research Symposium
Supported by: American Studies Department

Sharon O'Brien
Leah Melanie Kaplan

The 1930s Student Movement: A Forgotten History


Conference: American Studies Senior Research Symposium
Supported by: American Studies Department

Mary Elizabeth Kinman

Digesting Soul: Class Identity and Soul Food in 1940s and 1960s


Conference: American Studies Senior Research Symposium
Supported by: American Studies Department

Tara Deanne Lieberman

Online Social Networking in the 21st Century: Redefining America's Social Fabric


Conference: American Studies Senior Research Symposium
Supported by: American Studies Department

Jerry Philogene
Demere Elizabeth Meeker

Unpaid Work: Representations of the 1950's American Housewife


Conference: American Studies Senior Research Symposium
Supported by: American Studies Department

Sharon O'Brien
Aidan Brown O'Shea

Honoring to Control: The Public Memory of Martin Luther King, Jr. & the American Political Right


Conference: American Studies Senior Research Symposium
Supported by: American Studies Department

Aidan Brown O'Shea

Norwich Humanities, (American studies)


Conference: 2010 International Student Research Symposium
Supported by: Center for Global Study and Engagement

Amanda Elizabeth Power

Basketball as Choreography


Conference: American Studies Senior Research Symposium
Supported by: American Studies Department

Jerry Philogene
Timothy William Rahauser

White Power Structures involved in Division I-A College Football Coaching Jobs


Conference: American Studies Senior Research Symposium
Supported by: American Studies Department

Julia Gray Rosen

Dictated by the Digital: The Dangerous Effects of Digital Manipulation on Women's Body Image


Conference: American Studies Senior Research Symposium
Supported by: American Studies Department

Jerry Philogene
Michelle Angelina Sanchez

Contemporary Latina Identity


Conference: American Studies Senior Research Symposium
Supported by: American Studies Department

Jerry Philogene
Steven William Seland

The Tohono O'odham & Cultural Revitalization as a Means of Resistance to Colonial Subjugation


Conference: American Studies Senior Research Symposium
Supported by: American Studies Department

Lindsey Prince Slade

The Demise of Karen Carpenter: A Cultural Analysis of Anorexia Nervosa in the 1970s


Conference: American Studies Senior Research Symposium
Supported by: American Studies Department

Flosha Tejada

If not "Super[wo]man, then what?"


Conference: American Studies Senior Research Symposium
Supported by: American Studies Department

Andrew Daniel Wade

Extreme Sports: The Mainstreaming of a Counter Culture


Conference: American Studies Senior Research Symposium
Supported by: American Studies Department

Elvira Yanez

The Spanglish Dialect in the United States


Conference: American Studies Senior Research Symposium
Supported by: American Studies Department

2010
Student Name
Project
Faculty/Mentor
Katharine Victoria Atkins-Pattenson

"How Much Rubber Does a Woman Need to Buy Before She's Been Bought?": Sex Toy Parties in the 21st Century


Conference: American Studies Senior Research Symposium
Supported by: American Studies Department

Sharon O'Brien
Alison Paige Brant

Sex Toys: Accessories for Pleasure and Patriarchy


Conference: American Studies Senior Research Symposium
Supported by: American Studies Department

J Cotten Seiler
Andrew Thomas Ciukurescu

Dear Mr. Fantasy: Fantasy Football and Masculinity in the U.S.


Conference: American Studies Senior Research Symposium
Supported by: American Studies Department

J Cotten Seiler
Remy O'Neill Cook

Hip Hop Response to Hurricane Katrina


Conference: American Studies Senior Research Symposium
Supported by: American Studies Department

Emerita Lonna Malmsheimer
Daron Symmes Dey

American Indian History and Memory: Primitive in the Past or Prevailing in the Present?


Conference: American Studies Senior Research Symposium
Supported by: American Studies Department

Amy Farrell
Brett D Friedman

Michael Jordan: Nike's Unclassified American Ideal


Conference: American Studies Senior Research Symposium
Supported by: American Studies Department

Amy Farrell
Ariel Fuchs

Historical and Contemporary Representations of African American Step Dancing


Conference: American Studies Senior Research Symposium
Supported by: American Studies Department

Sharon O'Brien
Ryan Abel Koons

Localizing the Global: Dickinson's Mosaic Programs


Conference: Oral History Association

Kim Rogers,Susan Rose
Samara Michele Lampert

Female Strippers: The Power Struggle


Conference: American Studies Senior Research Symposium
Supported by: American Studies Department

J Cotten Seiler
Tiffany Mane

The Acquisition of an African and an American Identity through Music: Dominican-Americans and Merengue Hip- Hop


Conference: American Studies Senior Research Symposium
Supported by: American Studies Department

Sharon O'Brien
Tyler Hilton Meade

The Interplay of Christian and Capitalist Ethics at Project Share


Conference: American Studies Senior Research Symposium
Supported by: American Studies Department

Emerita Lonna Malmsheimer
Clarissa Robinson Moorhead

Life Magazine: A Glimpse of the Definitive Gender Roles in Post World War II America


Conference: American Studies Senior Research Symposium
Supported by: American Studies Department

Amy Farrell
Margaret Nicholas-Alexander

Deconstructing Fatness: Poverty and Obesity in America


Conference: American Studies Senior Research Symposium
Supported by: American Studies Department

Sharon O'Brien
Elizabeth S Romano

The Marketing and Construction of The Jamaican Tourism Industry For Middle-Class White Americans


Conference: American Studies Senior Research Symposium
Supported by: American Studies Department

Amy Farrell
Erin Elizabeth Schweinsburg

How the U.S. Fails African-American Students


Conference: American Studies Senior Research Symposium
Supported by: American Studies Department

Emerita Lonna Malmsheimer
Gregory Raymond Smart

Bottled Water: Class Signifier in the U.S.


Conference: American Studies Senior Research Symposium
Supported by: American Studies Department

Sharon O'Brien
Damaris Villafana

Looney Tunes and Post-War American Ideology


Conference: American Studies Senior Research Symposium
Supported by: American Studies Department

Emerita Lonna Malmsheimer
Wuji Zeng

Chinese Automobility and U.S. Rhetorics of Identicality


Supported by: R&D Dana Research Assistant
Number of Weeks: 13

J Cotten Seiler
2009
Student Name
Project
Faculty/Mentor
Rachel Frances Bradburd

Caffe Americano: Contextualizing Colonialism, Coffee Consumption and Fair Trade


Conference: American Studies Senior Research Symposium
Supported by: American Studies Department

Sharon O'Brien
Alison Paige Brant

Hush, Hush surrounding what makes us go Oh, Oh


Conference: ROWS - Research on Women by Students
Supported by: Women's, Gender & Sexuality Studies Department

Alyssa K Crowley

The Dove Campaign: An Attempt to Redefine Female Beauty


Conference: American Studies Senior Research Symposium
Supported by: American Studies Department

Sharon O'Brien
Grace Leigh Daniel

Empowering Images: Media Representations of the Female Athlete


Conference: American Studies Senior Research Symposium
Supported by: American Studies Department

Sharon O'Brien
Amanda Lynn Dodson

American Values and the Changing Face of Motherhood: A Case Study of Dickinson College's Child Care Center


Conference: American Studies Senior Research Symposium
Supported by: American Studies Department

Sharon O'Brien
Gregg Shattls Freeburn

My Life Through Your Eyes: Facebook and the Creation of Self


Conference: American Studies Senior Research Symposium
Supported by: American Studies Department

Sharon O'Brien
Alexis Damaris Henry

Can You See Me Now? Cultivating a Better Learning Environment for Students of Color


Conference: 2009 Senior Research Symposium
Supported by: Academic Affairs

Jerry Philogene
Justin Edward Melvin

No Corners Left Behind: An Analysis of The Wire in Comparison to Realistic Events in Baltimore


Conference: American Studies Senior Research Symposium
Supported by: American Studies Department

Sharon O'Brien
Eric David Rahauser

Muhammad Ali: The Controversial Life of Today's Most Powerful Sports Icon


Conference: American Studies Senior Research Symposium
Supported by: American Studies Department

Shaka Mali Tafari

Gordy's Blueprint: An Introspective Look at the Black Entrepreneur


Conference: American Studies Senior Research Symposium
Supported by: American Studies Department

Christina Torres

'Composites of Two Worlds': The exploration of Puerto Rican identity formation through the work of Judith Oritz Cofer


Conference: American Studies Senior Research Symposium
Supported by: American Studies Department

Yazmin Monet Watkins

Performance Poetry: Activism Through Spoken Word


Conference: American Studies Senior Research Symposium
Supported by: American Studies Department

2008
Student Name
Project
Faculty/Mentor
Catherine Martina Creme-Henry

From Silence to Pink: Deconstructing the Popular Discourse of Breast Cancer


Conference: ROWS - Research on Women by Students
Supported by: Women's, Gender & Sexuality Studies Department

James Yarnall Watson-Krips

The Impact of Automobility on Chinese Society, 1920-Present


Supported by: R&D Dana Research Assistant
Number of Weeks: 13

J Cotten Seiler
2007
Student Name
Project
Faculty/Mentor
Catherine Martina Creme-Henry

The Politics of Pink: The Real and Imaginary Worlds of Breast Cancer


Conference: ROWS - Research on Women by Students
Supported by: Women's, Gender & Sexuality Studies Department

2004
Student Name
Project
Faculty/Mentor
Gretchen Kemp Mielke

Fat America: A Cultural Study of Stigma, Weight Loss and the Fat Acceptance Movement


Supported by: R&D Dana Research Assistant
Number of Weeks: 26

Amy Farrell
2003
Student Name
Project
Faculty/Mentor
Jillian Audrey Smith

Republic of Drivers: Automobility and the Formation of the American Self


Supported by: R&D Dana Research Assistant
Number of Weeks: 8

J Cotten Seiler
Rebecca Leigh Spiering

Norton Critical Edition of "O Pioneers!"


Supported by: R&D Dana Research Assistant
Number of Weeks: 8

Sharon O'Brien
2002
Student Name
Project
Faculty/Mentor
Hannah Elizabeth Huber

No Blame: A Mother/Daughter Story of Teenage Pregnancy and Adoption


Conference: The 9th Annual Research on Women by Students Symposium (ROWS)
Supported by: Women's, Gender & Sexuality Studies Department

Sharon O'Brien
1992
Student Name
Project
Faculty/Mentor
John Edward Costango

Student Co-direction of the Writing Component of the FOCUS program


Supported by: A.W. Mellon Foundation Student Faculty Research Endowment Award
Number of Weeks: 8

John Bloom