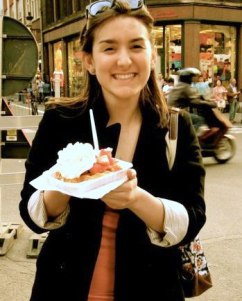 UEA Linkage
"The opportunities that Dickinson provides for global exploration and engagement as an undergraduate student is a well known and amazing feature of the college. Without it, I never would have had the chance to go to England and fall in love with it. But the truly special aspect of Dickinson's global education is that it actively prepares and encourages its students to form experiences abroad even beyond graduation. Not only did the linkage program inspire me to continue my education in England, but the incredibly supportive and knowledgeable staff at the Career Center also made the confusing and often frustrating process of applying to an international institution easy and painless. I owe so much of who I am, the relationships I've developed, and the experiences I've had to Dickinson, UEA, and to the linkage between them."
- Emily Rogers '12

---
What law school is really like
"The first semester of law school is difficult largely because no one in the 1L class has any idea what methods lead to success. The difficulty with this uncertainty leads everyone to feel anxious until grades are released following the examination period for the first semester. I remember feeling as if I was not truly a law student until I had that validation of the methods I adopted throughout the first semester. Furthermore, since law school traditionally only has one graded item per class - the final exam - one's anxiety crescendos leading up to and following the exam period. However, once those grades come in, a weight is lifted from you and you can then adjust your methodology to attain your desired level of success. I found (fortunately) that the methods and procedures I implemented throughout the first year were successful and, more importantly, left me feeling as though I truly understood the area of law covered during a given course. Nevertheless, everyone has a particular style and tempo to law school and it is incumbent on the law student to find what methodology works best for him or her. The quicker this is hammered down, the better (and less anxiety-ridden) law school becomes."
- Michael Dalton: '09, JD '16 from Villanova University School of Law, Judicial Law Clerk, Superior Court of Delaware
---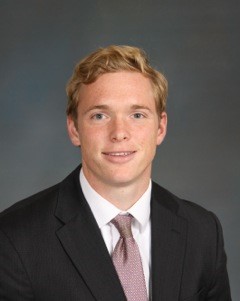 Value of Dickinson Education in Law School
There are those who say that a liberal arts education is unsuited for those seeking to practice a profession, especially one like the legal profession which requires such a great depth of particularized training and specialization. Yet, as we Dickinsonians so often do, it is useful to look to the words of our founder, Dr. Benjamin Rush, for guidance.

In Dr. Rush's 1785 Plan of Education, he set forth his commitment to build an institution that would provide a "useful liberal education" for the first generation of Americans. That dedication to providing a "useful" education in the liberal arts is alive and well at Dickinson today, and it is the reason why I have done so well in law school.
In the first year curriculum of law schools across the country, there exists a class that seeks to teach students how to "think like a lawyer." At first blush, "thinking like a lawyer" seems wholly incongruent with thinking like a liberal arts student—it requires unyielding attention to minutia; memorization of stale, Latin principles of construction; and the composition of formulaic memorandums in a rigid structure.

In truth, anybody can "think like a lawyer." It just takes practice. But the best lawyers are able to do more. Truly skilled attorneys are able to reach across seemingly unrelated areas of law and forge novel arguments. They are trusted to exercise ethical judgment in telling their client when a proposed course of action is lawful, but awful. They can meet a new client with a patent claim in biological engineering and grasp the particulars of a field entirely unknown to them. But the most important talent of a lawyer is being able to simultaneously see both sides of the same argument and appreciate the merits of both positions. It is this latter set of skills that has set me apart in my legal education.

While anybody can "think like a lawyer," it is the rare few who have the skills that are learned through a liberal arts education like the one I gained from Dickinson College—in the classroom, in the dormitory, and in the crucible of community discussion.

- Jake Sternberger: '12, JD '15 from Penn State Dickinson School of Law, Attorney, Morgan & Morgan
---