Africana Studies is a multidisciplinary, intellectual field that examines the diverse experiences of African people worldwide, focusing especially but not exclusively on African, African American and Caribbean affairs and cultures. Using the tools of the social sciences and humanities, we investigate the political, social, economic, and historical structures that shape the lives of citizens of African origin in Africa and its Diaspora. Our mission is thus to advance the systematic study and understanding of the cultural, ideological, and social connections that maintain among these communities.
Upcoming Events:
Africana Studies Mixer
When: Thursday, October 17 from 12PM-1PM
Where: Hub Side Room 201.
Come learn about Africana Studies from students and faculty in the major!
Thursday Café
When: Thursday, October 31 from 12pm-1pm
Where: Hartman House.
Come hang out with fellow majors, minors, and faculty in the program. This is a time to unwind and connect with others – bring your lunch and bring a friend!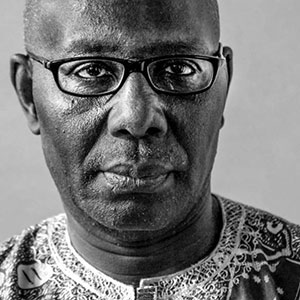 BORIS DIOP
Born in Dakar, Boubacar Boris Diop is a prolific, award-winning Senegalese novelist and journalist. He is widely recognized as one of the most artistically and philosophically serious writers of his generation, with works that
are characterized by exploration and reflection on the postcolonial condition in Africa. His 2000 novel Murambi: the Book of Bones has been called "a miracle" by Toni Morrison. He is currently a professor of creative writing at the American University of Nigeria.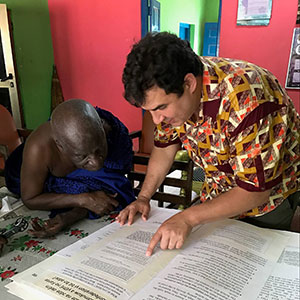 TREVOR GETZ
Trevor Getz is a historian of African and global history, and author of numerous books including the award-winning Oxford University Press graphic history Abina and the Important Men and, most recently, the Duke University Press A Primer for Teaching African History. He is passionate about bringing historical research into the classroom,
and currently serves as Principal Content Development and Evaluation Manager for the Gates Ventures On World History Project.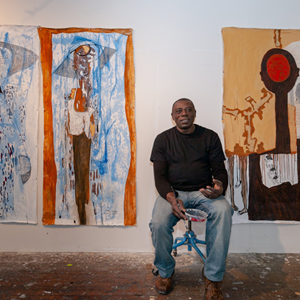 Max Lyonga
Max Lyonga is a contemporary Cameroonian painter and visiting Artist in Residence at Dickinson College. A self-taught artist, his "mokwe Style'' is a mix of abstract as well as impressionism; he paints with acrylic as well as local painting materials. Max believes that painting should be an instrument used to take people to a journey full of hope and joy.
"Art without Boundaries" is a collection of some of his paintings done before the English speaking crisis and those produced after moving to the French speaking area. It is like a journey in two mental states of inspiration.