Exercise and Walking Options

Walking, running, individual and team sports, and exercise in any form can be fun fitness options while reducing your stress and increasing your wellbeing. The college offers many fitness opportunities within our regularly scheduled wellness programs and activities, but there are also other options held in the local community. Some programs are open to employees as well as friends and families! Considering what to do to increase your exercise minutes? See the list below for activities, programs and ideas you may enjoy:
Arbor Walk (also available as a self-guided walking tour): Wednesday, April 5 from noon-1 p.m. Complete this as a self-guided walking tour or by joining us for a guided walking tour at the Hurwitz Green near the Benjamin Rush statue on the John Dickinson campus to enjoy a spring walk and learn about the beautiful trees on campus! Registration is now open in CLIQ via the Gateway.
Spring Into Fitness Kick-off Walk: Thursday, March 23 from 2:15-2:45 p.m. Meet at the Benjamin Rush Statue. Registration is now open in CLIQ via the Gateway! Registration is not mandatory, but helps us to know who plans to participate.
Run for Hope 5K: Sunday, April 2 beginning at 1 p.m. at the Kline Center. Benefits the Carlisle YWCA Rape Crisis Services. This is a family friendly event and all registrants get a t-shirt or hope bracelet while supplies last. You can register online (see link below) with a credit card or in the HUB from 11:30 a.m.-1:30 p.m. Monday through Friday, March 20-31 with cash or declining/charge. We encourage you to share this information with your colleagues, students, and friends to invite their participation in the Run. For questions or more information, please contact Kelly Wilt at wiltk@dickinson.edu.
Cumberland County's 16th Annual Crime Victim's Rights Rally: Monday, April 3 from 6-8 p.m. Meet at the Old Carlisle Courthouse on the Square for a rally and one mile walk. The public is invited to rally and, following a program of guest speakers and awards, will walk 1 mile through Carlisle in the hopes of bringing awareness to the community, remembering victims, and honoring survivors. There is no requirement to register. For more information, please call 717-240-6220 or emailing victims@ccpa.net. Registration is available on Facebook at https://www.facebook.com/events/1791760264457943/
National Walking Day: Wednesday, April 5. The American Heart Association hosts this national event annually, encouraging all to get out and walk for at least 30 minutes to promote health & wellbeing! Join us for an Arbor Walk with Eric Vorodi, director of grounds and landscaping to learn more about our beautiful campus and the trees that surround us.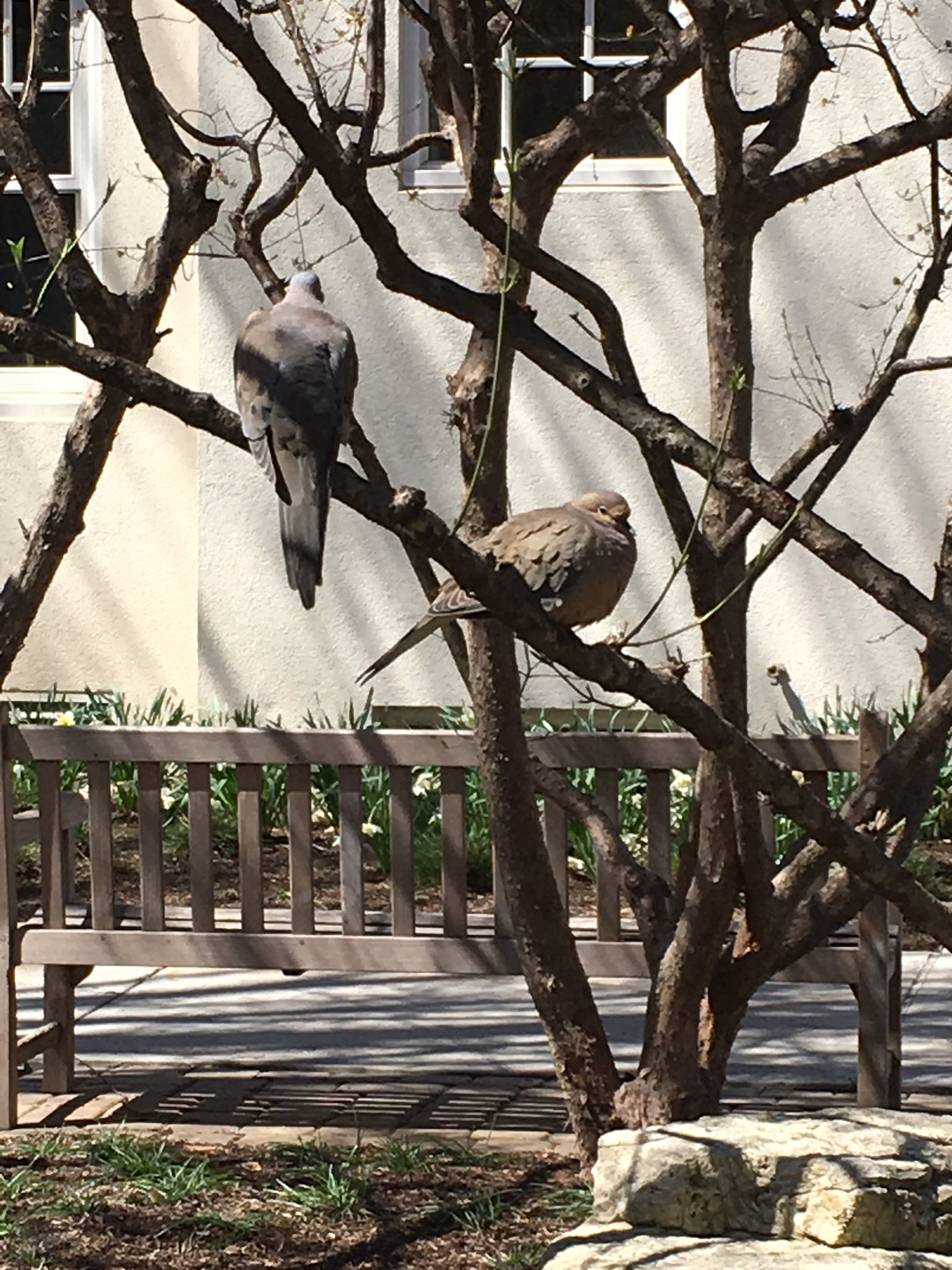 Arbor Walk on National Walking Day had a few birds among the trees enjoying the fresh air and sunshine. Photo by Dennette Moul, April 5, 2017
The Most Amazing Race: Saturday, April 8 at the Carlisle Fairgrounds. Click to Register! This event benefits the Salvation Army.
Step-Up Challenge: Week of April 10-14* Looking for a bit more of a fitness challenge rather than a traditional walk across campus or around town? Click the Step Up Challenge link to learn details of this new Challenge for all Dickinsonians! Walking across campus just became a STEP more fitting and also will give some trivia to build your intellectual fitness as well. Look for posters to guide you along the tour route that begins at the Waidner~Spahr Library and ends at Bosler, starting Monday, April 10.
*Register now via CLIQ in the Gateway for the Step-Up Challenge scheduled for Friday, April 14 beginning at 8 a.m.
Dodgeball Tournament: Saturday, April 15 - Details to be announced!
Disc Golf: Wednesday, April 19 from 5:30-7:30 p.m. at South Middleton Park. Join us for this fun new activity during the 2017 Challenge!!! Learn how to disc golf (also known as frisbee golf or frolf). We'll head to South Middleton Park in Boiling Springs to play on their 9-hole course. Instruction will be provided and discs will be available to use. No experience necessary! Get outside for some walking and fresh air! Transportation provided for those who need it (15 people max). Meet at DPS at 5 p.m. If driving yourself, meet at park at 5:30 p.m.Space is limited ~ Click here to Register now!
Wellness Fun Run Walk: Friday, April 21 from 11:30 a.m. - 1:30 p.m. at Britton Plaza (Rain Date: Friday, April 28) ~ Register soon in CLIQ via the Gateway!
Cumberland Valley Rails to Trails Council ~ 11th Annual Race, Run, Ride & Ramble: Sunday, April 23 starting at 9 a.m. Join the Cumberland Valley Rail-to-Trail Council at the 11th annual Race, Run, Ride & Ramble trail festival held on the Cumberland Valley Rail-Trail. The series of events held throughout the day will be based at the Shippensburg Township Park and will traverse 9.3 miles of completed rail-trail between the park and Newville. Enjoy live music and lunch along with 2 running races, a hike and a bike ride. All proceeds from the event will benefit the Cumberland Valley Rail-to-Trails Council (CVRTC) and will be used for maintaining the current trail along with extending the trail into Shippensburg and Carlisle. Visit the CVRTC website for registration and details!
Day of Giving - Week of Philanthropy Scavenger Hunt Tour! Beginning Tuesday, April 25 ~ Complete this walk and learn more about Dickinson's History of Giving Back! Click this Philanthropy Scavenger Hunt link to get started and enjoy!
Dickinson College Historical Walking Tour: Thursday, April 27 from noon-1 p.m. Meet at the Benjamin Rush Statue by noon to join this tour! Registration is now open and available in CLIQ!
Learn to Orienteer (Orienteering: Map & Compass Workshop): Friday, April 28 from 4-8 p.m. at Kings Gap ~ Register now!
More fun activities to be announced as Spring Into Fitness continues through Saturday, April 29!
Check for free Wellness Week activities on the monthly posters and in Vitality.