Pflaum Lecturers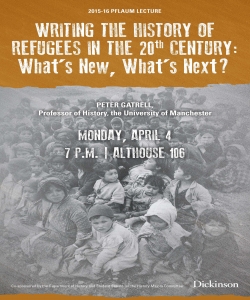 PFLAUM LECTURES
1971-72 Bell Wiley (Emory University) - "Johnny Reb and Billy Yank"
1972-73 Warren Hassler (Pennsylvania State University) - "McClellan"
1973-74 Willie Lee Rose (Johns Hopkins University) - "The Domestication of Domestic Slavery"
1974-75 John Shy (University of Michigan) - "Hearts and Minds in the American Revolution"
1975-76 Steven Riess (Northeastern Illinois University) - "Professional Baseball and American Culture"
1976-77 Samuel F. Scott (Wayne State) - "Army and Revolution in France, 1789-92"
1977-78 Alfred Rieber (University of Pennsylvania) - "The Structure of Politics in Tsarist Russia"
1978-79 None
1979-80 None
1980-81 Michael Zuckerman (University of Pennsylvania) - "Fate, Flux, and Good Fellowship: An Early Virginia Design for the Dilemma of American Business"
1981-82 Harold Deutsch (US Army War College) - "The Effect of the Ultra Secret on World War II"
1982-83 (Oct) C. Edward Skeen (Memphis State University) - "The Compensation Act of 1816 and the Problem of the Rise of the Second Party System"
(Apr) Kenneth Short (Westminster College) - "How to Love the British in 126 Minutes"
1983-84 John Modell (Carnegie-Mellon University) - "Women Drivers"
1984-85 Edward Peters (University of Pennsylvania) - "The Fall of Hermogenes: Sorcery, Witchcraft, and the Visual Arts, 1400-1800"
1985-86 Immanuel Geiss (University of Bremen) - "The German Question and World War I"
1986-87 Richard J. Sommers (US Military History Institute) - "Grant and Lee at Petersburg"
1987-88 Robert I. Weiner (Lafayette College) - "French Jewry Since World War II"
1988-89 Jay Luvaas (US Army War College) - "Europeans and the American Civil War"
1989-90 Charles J. Herber (George Washington University) - "German Unification: Past and Present"
1990-91 Francis Jennings (Director Emeritus of the D'Arcy McNickle Center for the History of the American Indian at the Newberry Library, Chicago) - "Indians Discover the New World: The Susquehannocks and the European Encounter"
1991-92 James Muldoon (Professor of History, Rutgers University) - "Christopher Columbus: The Man and the Myth"
1992-93 Dr. Noble E. Cunningham, Jr. (Curators' Professor of History, University of Missouri-Columbia) - "Thomas Jefferson after 250 Years"
1993-94 Dr. Clifford McClain Foust (Professor of History, University of Maryland) - "The Drug of Choice in the 18th Century"
1994-95 Dr. Raymond W. Smock (Historian of the US House of Representatives) - "History and How We Use It"
1995-96 Dr. John Voll (Deputy Director, Center for Muslim-Christian Understanding, Georgetown University) - "Who Owns History"
1996-97 Dr. Graydon Tunstall (Executive Secretary-Treasurer, Phi Alpha Theta) - "The Historian as Detective: How to Rewrite the History of the Origins of World War"
1997-98 Dr. Edward Acton (Professor of Modern History, University of East Anglia, Norwich, England) - "Nazism and Stalinism: A Suitable Comparison"
1998-99 Dr. Mercedes Vilanova (Professor of Contemporary Spanish History, University of Barcelona, Spain) - "Grassroots Politics in Barcelona During the Spanish Civil War: Illiteracy, Workers' Movements, and Women"
1999-2000 Dr. Harold Sanders (Director of International Affairs, Charles F. Kettering Foundation) - "The Birth of the Arab-Israeli Peace Process: Roots of a New Paradigm for International Relations in the Twenty-first Century"
2000-01 Dr. Bertram Wyatt-Brown (Richard J. Milbauer Professor of History, University of Florida) - "The Last Famous Duel in South Carolina, 1880"
2001-02 Dr. Samuel Baily (Professor of History, Rutgers University) - "Immigrants in the Lands of Promise: A Comparative Analysis of the Italian Experience in the Americas"
2002-03 William J. Burns (Assistant Secretary of State for Near Eastern Affairs) - "Undoing the Gordian Knot: Iraq, Terrorism, Arab-Israeli Violence and Regional Reform in the Middle East"
2003-04 Dr. Jean Harvey Baker (Professor of History, Goucher College) - "Revisiting the Buchanan Presidency"
2004-05 Dr. Donna Gabaccia (Mellon Professor of History, University of Pittsburgh) – "Nations of Immigrants"
2005-06 Geoffrey R. Stone, Esq. (University of Chicago Law School) - "Civil Liberties in Wartime" - 2005 Constitution Address & Pflaum Lecture
2006-07 Dr. Lamin Sanneh (Yale University) – "In a Post 9/11 World, is Religion Safe?"
2007-08 Dr. (LTC Ret.) Conrad Crane (Director, US Military History Institute, US Army War College) - "Wandering in the Desert: An Historian's Attempt to Influence the War in Iraq"
2008-09 Dr. Brian Donahue (Associate Professor of Environmental Studies, Department of American Studies) - "Sustainable Suburbia? Making Connections Among Land, History, Education and Community"
2009-10 Dr. Thomas Hull (Ambassador Sierre Leone 2004-07; Warburg Chair in International Relations, Simmons College) - "Confronting Africa's Anguish"
2010-11 Dr. Daniel Walker Howe (Professor Emeritus of History, UCLA) Winner of 2008 Pulitzer Prize in History - "What Hath God Wrought: The Communication Revolution of 19th Century America"
2011-12 Dr. Zachary Lockman (Professor of Middle Eastern and Islamic Studies, New York University) - "The Arab Uprisings: Burdens of the Past, Hopes for the Future"
2012-13 Dr. Michael Katz (Walter H. Annenberg Professor of History, University of Pennsylvania) - "Why Don't American Cities Burn Very Often?"
2014-15 Dr Michael Adas (Abraham E. Voorhees Professor of History, Rutgers University) - "War of the Empires: The Great War and the Demise of the European World Order"
2015-16 Dr Peter Gatrell (Professor of History, the University of Manchester) - "Writing the History of Refugees in the 20th Century: What's New, What's Next?"