Overview
Our departmental lecture series, begun during the 1971-72 academic year, is named in honor of John C. Pflaum (1904-1975) who was a member of the History faculty from 1946 to 1972. Thanks to the generosity of his former students and colleagues, each spring a distinguished scholar is invited to campus to speak on a significant issue in history.
About John C. Pflaum
John C. Pflaum (1904-1975) was a professor of history with special interests in the Civil War, the European origins of the First World War, and early Carlisle. He held the Lindback Award for Distinguished Teaching in recognition of his popularity with students during his Dickinson tenure which began in 1946. He received his master's degree from the University of Pennsylvania where he also taught for three years after spending six years on the faculty of Temple University. During his lifetime, he was a most voracious reader–especially a devourer of history, memoirs, biography, and prose literature. Above all, John Pflaum was a born teacher who inspired fanatical devotion in several generations of Dickinsonians. His teaching placed an emphasis upon precision and fact and evidenced love of conventional art and literature. His enthusiasm and dedication are best described in his own words, "The sheer pleasure of teaching, the fun I've had in the average class--this is what I remember more than anything else. My heart is in the lecture room. It's almost a shame to take the money."
2018 Pflaum Lecture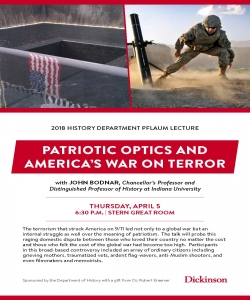 The 2018 Pflaum Lecture is titled "Patriotic Optics and America's War on Terror" and will be delivered by Prof. John Bodnar of Indiana University. It will take place on Thursday, April 5 at 6:30 pm in the Stern Great Room. Read more here.