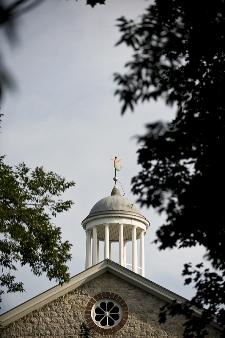 The cupola and mermaid atop Old West.
No doubt about it. You hear a lot about Early Decision from the press, peers and your parents. So, how do you know if Early Decision is right for you?
At some point in their college search, many competitive high-school students consider applying to a college under the Early Decision (ED) plan. At Dickinson, applying Early Decision is recommended for students who, through careful reflection and research, have identified Dickinson College as their first choice. If this is you, consider applying early decision by Nov. 15 for Early Decision I or Jan. 15 for Early Decision II.
Why I Chose Dickinson
We invite you to read about how some of our current students decided on Dickinson in our Why I Chose Dickinson feature. If you think you are right for Dickinson and would like to consider applying Early Decision, contact the Dickinson admissions counselor in your region.
Top 4 Reasons Early Decision is Encouraged
We want students who have determined that our unique brand of the liberal arts is what they want. We're looking for students who are excited about our global community, being part of our commitment to environmental sustainability and are excited to learn and grow in our collaborative environment. We want students who are ready and willing to commit to Dickinson and to productive lives during their college years and beyond.
Finding the right match between student and college is the most important part of any admissions process. Because Early Decision applicants number in the hundreds instead of the thousands as in Early Action or Regular Decision, the admissions staff has more time to really get to know you and to make certain that both you and Dickinson are right for each other.
You will learn early in your college planning if you have been admitted to Dickinson College.
Due to the smaller size of the Early Decision applicant pool, you will be evaluated based upon your own merits rather than in competition with and in comparison to other applicants.
Top 3 Myths about Early Decision

Students who apply Early Decision can "slack off" in their academic work during the second semester of their senior year. Selective colleges can and do withdraw admission offers from a student if his or her academic performance declines significantly.
Students diminish their chances of receiving academic scholarships on the theory that since they already are committed to a college, it will have less incentive to award them scholarships as an inducement to enroll. This is not true at Dickinson. A student who would have received an academic scholarship in the Early Action or Regular Decision processes will be awarded one in Early Decision.
Students who require need-based financial aid should not consider applying for Early Decision. At Dickinson, we are committed to providing students who apply Early Decision with the same amount of aid that they would receive if applying in Early Action or Regular Decision.

Advice about Applying Early Decision

Do your homework and know why you are applying to a particular school, especially if you plan to apply ED.
Do not give in to pressure to apply ED to a school simply for the sake of applying ED.
Be honest with yourself: If you are not yet ready to commit, then do not apply ED to any school.
Do not apply ED as a strategy to "get in."
If you are applying for need-based financial aid in ED or any application program, have a conversation about what your family can reasonably invest in your college education.

Apply
Ready to take the next step and apply to Dickinson in Early Decision? Apply online using the Common Application and include a signed Early Decision Agreement Form.