Ted Merwin, Ph.D.
Director of the Asbell Center for Jewish Life
Associate Professor of Religion & Judaic Studies
merwin@dickinson.edu
Phone: 717-245-1636
Office: Second floor, Asbell Center
Ted Merwin joined the Dickinson community in 2000. In addition to directing the Asbell Center, he is an associate professor of religion and Judaic studies. He teaches courses on American Jewish history, Jewish masculinity, Jewish food, Jewish theater and film, and secular Judaism. Ted graduated from Amherst College in 1990 and went on to a Ph.D. in theater from the City University of New York Graduate Center. For the past decade, he has written a weekly theater column for The (New York) Jewish Week. His articles have also appeared in the The New York Times, Washington Post, Moment, Hadassah, Sondheim Review and many other publications. Ted's first book, In their Own Image: New York Jews in Jazz Age Popular Culture, focuses on 1920s Jewish culture in New York. He is at work on his second book, a history of the New York Jewish delicatessen. Ted is a frequent lecturer on American Jewish culture. To read more on Ted Merwin, please view his website at http://www.tedmerwin.com/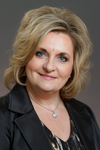 Lori Loudon Administrative Assistant
loudonl@dickinson.edu
Phone: 717-254-8963
Office: Second floor, Asbell Center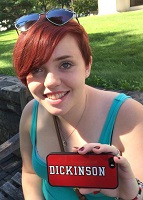 Amy Isaacson
Pincus Engagement Intern
Phone: 717-254-8963
Office: 2nd Floor, Asbell Center
Hi! My name is Amy Isaacson and I am originally from Winnetka, Illinios (right out side of Chicago). I am a sophomore at Dickinson College majoring in Judaic Studies. I have been involved in Hillel since my Freshman year and I am currently the PINCUS Engagement Intern at the Asbell Center for Jewish Life. I am also a part of the Dickinson Infernos, a Co-Ed A Capella group on campus. I spent this past summer in Israel at Tel Aviv University participating in a Hebrew Intensive course. I look forward to an amazing year!
Jessica Herrmann
Student Assistant
Phone: 717-254-8963
Office: 2nd Floor, Asbell Center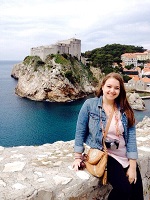 Hannah Feinberg
Outreach Coordinator
Phone: 717-254-8963
Office: 2nd Floor, Asbell Center
My name is Hannah Feinberg and I'm a senior from Sudbury, Massachusetts. I am an International Studies major and Italian minor. Before becoming the Community Outreach Coordinator for Jewish Life, I served for two years on the Hillel Board. On campus, I am also a Global Ambassador to the Dickinson in Bologna program and a member of Kappa Alpha Theta.