The Center for Service, Spirituality, and Social Justice provides support for students during a time when decisions about life's meaning, living in a community of pluralism, and religious beliefs are explored and shaped. The Center provides spaces for students to learn about other faith traditions, question, and articulate hopes, decisions, and meaning. Working with many partners on campus and in the community, the Center is a resource for students (both individually and within groups) to delve into one's religious tradition, practice various new religious traditions, and support leaders of religious groups. We welcome conversations with students (religious and non-religious) interested in exploring faith traditions.
Visit us on Facebook, Instagram, and Twitter to learn about our latest events!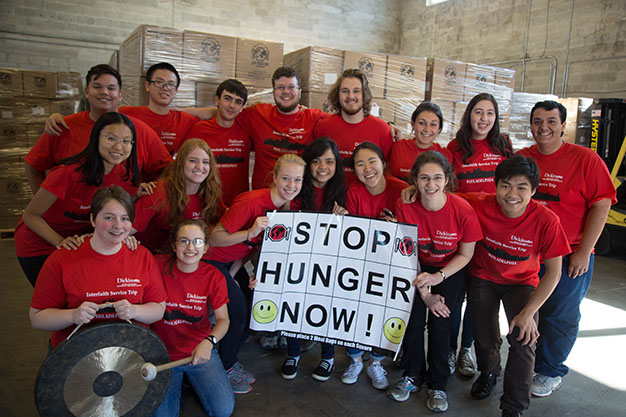 Students participated in the 2015 Interfaith Service Trip to Philadelphia.
The Center for Service, Spirituality, and Social Justice currently runs these interfaith programs:
Beliefs and Big Questions. The Beliefs and Big Questions BBQs focus on bringing students of different beliefs and faiths, and across different grades and social groups, together to take part in a meal and an open dialogue about beliefs and faith traditions.
Interfaith Service Trip. The Interfaith Service Trip travels to Philadelphia, PA to both explore different faith traditions and serve the community.
This I Believe. This I Believe is a bi-monthly column printed in the Dickinsonian, in-which students have the opportunity to take their beliefs and ground it in the events of their life. Based off of an international organization of essays and radio spots started in 1950 on NPR, students write about something meaningful to them, inviting everyone from the campus community to learn and engage in the conversation.
What Matters Most. What Matters Most dinners are small group discussions that give students the opportunity to engage with faculty and administrators in conversations centered on what matters most to them. The concept and purpose for the dinners are based off of the "Last Lecture" given by the late Randy Pausch, a computer science professor at Carnegie Mellon. The dinner allows hosts to share what matters most, whether it relates to their professional positions at Dickinson and/or personal interests, experiences, hobbies, etc. The desire for this series is to spark this same type of exploration within the students who attend the dinners and for them to connect the things that are important to them to their actions while at Dickinson and beyond.
Women of Faith Night. A night dedicated to discussing what it means to be a woman of faith on the Dickinson College campus. Gathering in the Asbell Center for Jewish Life, women of different faith backgrounds come together for a few hours to eat, discuss, and connect with each other.