"The best way to find yourself is to lose yourself in the service of others" -Ghandi

Service in college is about engaging our community to learn about the community, our neighbors, and ourselves. At Dickinson we intentionally take time to hit the pause button and reflect. We pause to take time to think about our service and make connections with current class work, future vocations, and larger social justice issues within the community.

Neighbors to Neighbors liasons, Bernadette Brandt '13 and Heather Geist '15 with the Adams and Drayer Neighborhood members volunteering on a community day clean up.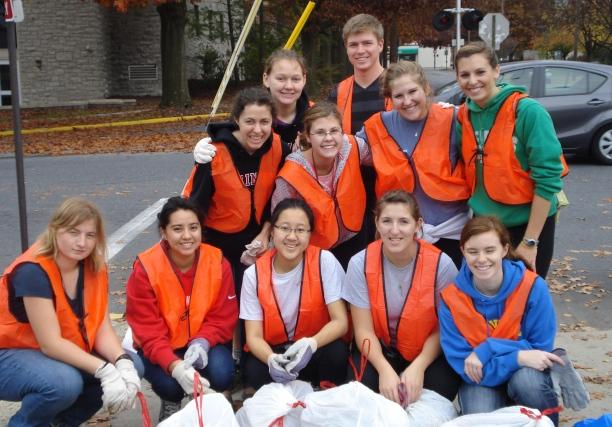 Neighbors to Neighbors liaisons, Bernadette Brandt '13 and Heather Geist '15 with the Adams and Drayer Neighborhood members volunteering on a community day clean up
RECENT REFLECTION

Neighbors to Neighbors Liaisons' reflections

The Neighbors to Neighbors program is a fairly new program which recruits first-year students and introduces them to the various types of community service activities available within the Dickinson and Carlisle Community. The three liaisons of the Neighbors to Neighbors program are Bernadette Brandt '13, Alejandra Chavez '14, and Heather Geist '15. Below you will find a quick blurb from the liaisons about their amazing experiences they have had working alongside the Dickinson community. We would like to extend a tremendous "Thank you!" to all the volunteers and the liaisons for making this program so successful!

Bernadette Brandt'13

"The Adams Neighborhood works with Downtown Neighborhood Connection (DNC), a local nonprofit that works to strengthen residential neighborhoods, with an emphasis on encouraging home ownership, rehabilitating older buildings, improving older neighborhoods and avoiding blight. Past projects for students have included working in community gardens, community cleanup days, and painting recycling bins for the borough to use."

Alejandra Chavez '14

"As one of the liaisons for N2N I have worked alongside Bosler's Children's library tutoring middle school students with Quads Neighborhood first-years residents. It has been an amazing experience building a community within the first years through service."

Heather Geist '15

"Being a liaison between Drayer Hall and the Thornwald Home has been such a rewarding experience. Not only have I been able to connect and get to know the first-year students, but I have also had the pleasure of getting to know all the residents and staff at Thornwald. Both students and residents agree that a few hours spent at Thornwald on Wednesday nights if fun for all, whether we are bowling, playing shuffle board, or helping out with a craft. The enthusiasm and positive attitude of the Dickinson students has really made an impression on our community partner and I hope it is a relationship that continues to grow!"



James George reflects upon the his experience on the New Orleans 2013 service trip.

James George '15

We are on the last flight back to Harrisburg and everyone is exhausted. We had a great week of service in Slidell.
I have never engaged in this type of service before and I am very thankful for having the opportunity to do so. Before considering going on a Dickinson Service Trip, I sporadically volunteered for other charity organizations and really enjoyed the experiences, but this service trip felt incredibly productive and influential. I loved the group atmosphere and the thoughtful reflection at the end of every day. As an English major, I love to discuss important concepts and ideas. I really enjoyed a lot of the comments and opinions shared in reflection. I felt like everyone took the sessions very seriously and put forth their best effort to push their perspective on the trip and service in general.

Personally, I felt like my perspective on many things have altered throughout the trip; most importantly, service and my Dickinson education.
When I began the trip, I was never surrounded by a group of people that cared very deeply about serving others. I have had friends with similar interests in service but I was never a part of a large group connected by a common goal. It was an amazing experience. Being able to share in a week of service and personal reflection was much needed in my life at this point. Over winter break of this year, I felt compelled to apply for summer jobs/internships and basically figure out my life for the next few years at least. I enjoyed many discussions about study abroad and planning for a productive senior year but I never stopped to breathe. This has been a problem recently – just taking a break and reflecting on the things that really matter to me.

My impression of Dickinson has never been bad – in fact, I rather love it there and I am very grateful to have chosen to enroll. I have experienced a lot and met very interesting people on campus, but engaging with a group of mostly strangers off campus has greatly changed my perspective of Dickinson. Getting to share this great experience with peers and administrators at my own college is ideal because it created an open dialogue about typical Dickinson (college, world, life) problems we are all well aware of. Issues such as social environment, academics, policy, and others were given a lot of thought. I really enjoyed getting an intimate look at perspectives of such a diverse group of students.
After gaining so many positive experiences and relationships on this trip, I feel motivated to fully engage my college community, my local community, and my many future communities in a new and passionate way. I am ready to take every interaction and opportunity head on and gain everything I can from it.
I know it is thanks to this trip that my true Dickinsonian spirit has been more fully realized. I feel compelled to share this enthusiasm and experience to further inspire explorations, growth, and engaged outlooks at Dickinson.

Thank you to everyone on the trip and to everyone that made the trip possible! I love you guys!

Previous Reflections
Service Trip Reflections

Service trips are an intense time of service, bonding with teammates, and engaging a new community. While on service trips our ideals and values are tested, our comfort zones are stretched, and our teams wrestle with privilege, power, and inequities within the host communities.

Each service trip has two types of reflections. Nightly the teams participate in a verbal reflection, sharing their perspectives about how they saw the day, what they experienced, and issues of challenge. Additionally team members write twice in the team journal. These writings help us take a step back and personally remember and reflect on the day, sharing moments that touched or challenged the author. At the end of the trip, these journals are complied and given to each team member.

We find ourselves when we serve others in neighborhoods far from Carlisle. These neighborhoods help us see what a new Carlisle or home communities could be. One day, one weekend, one week can change us.
2016 Service Trip Journal
2015 Service Trip Journals
2014 Service Trip Journals
2013 Service Trip Journals

New Orleans, Winter 2013

South Carolina, Spring 2013

Alabama, Spring 2013
2012 Service Trip Journals

Dominican Republic, January 2012

South Carolina, March 2012

Alabama, March 2012

New Orleans, March 2012

Alabama, May 2012
2011 Service Trip Journals

Serve the World: Nashville TN, January 2011

Alternative Spring Break: Arizona, March 2011

Habitat for Humanity: Miami FL, March 2011

Serve the World: New Orleans LA, March 2011
2010 Service Trip Journals

Serve the World: Guatemala, January 2010

Serve the World Bonner Leaders: New Orleans Alumni Trip, May 2010