September 21, 2018 (Every day)
Prepare to experience this gripping story in a truly immersive way, as Frank Galati's 1988 Tony Award-winning adaptation of this classic by John Steinbeck comes to the College Farm.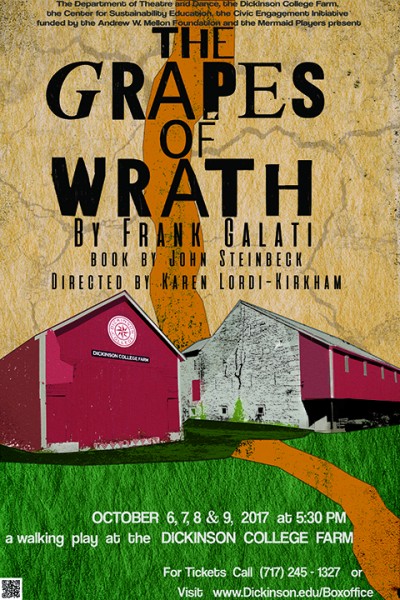 Audience members will follow along with the actors, on foot, as they depict the Joad family's flight from the Dust Bowl to California. While penning his Depression-era novel, Steinbeck wrote, "I want to put a tag of shame on the greedy bastards who are responsible for [the Great Depression]." He also famously said, "I've done my damnedest to rip a reader's nerves to rags." – Directed by Karen Lordi-Kirkham. Due to the lack of parking, all audience members will ride on a bus to the College Farm. Please arrive at the Anita Tuvin Schlechter parking lot on W. Louther Street at 4:45 p.m. Buses leave at 5 p.m. sharp. Please dress for the weather, bring a flashlight and a portable (bag) chair if desired to accommodate the walking tour. All questions can be directed to Jenny Rhoads or 717-245-1239.
Further information