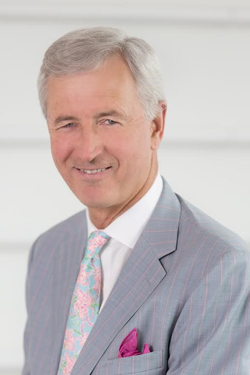 Scott Beaumont '75
Scott Beaumont '75 graduated from Dickinson College with a double major in English and economics and a minor in mathematics. From 1993 through 2016, Scott was the co-founder, chairman and CEO of Lilly Pulitzer®, which designs, markets and manufactures women's apparel, featuring happy custom prints, targeted toward the Resort market. He was the director of CSS Industries, Inc., a NYSE company, from 2005 through 2018, including the Audit Committee as well as the Nominating and Governance Committee. From 2012 through 2019, he served as the co-founder and trustee of Chester Charter Scholars Academy, a K-12 charter school in Chester, PA serving more than 650 students.
Beaumont retired from full time work and lives in Haverford, Pennsylvania, His current board roles include:
chair, Nth Round, Inc. a start-up founded in 2018 providing shareholder and equity management software as well as liquidity for private businesses
director, Burch Barrel LLC, a start-up founded in 2019 with innovation in the outdoor, social grilling business
and director, Operation Warm, a nonprofit providing new winter coats to school children who need a coat to be able to go to school.
Acknowledging that the apparel business is an interesting mix of aesthetics and analytics, Beaumont became interested in the Data Analytics Initiative through the Revolutionary Challenge.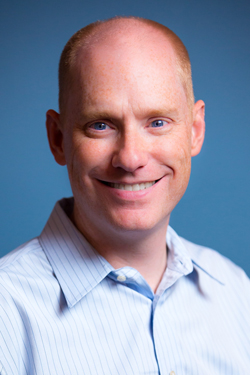 Rob Borden '91
Rob Borden '91 is the strategic advisor to the Postal Regulatory Commission. Prior to his current position, he was the chief of staff of the U.S. General Services Administration. Before this, Borden worked in the U.S. House of Representatives for more than 20 years in a number of positions including director of oversight for the speaker and majority leader, general counsel and deputy staff director for the House Oversight Committee, and general counsel for the House Education and Labor Committee. During his career, Borden has worked on a number of open government initiatives including the Digital Accountability and Transparency Act of 2014 and the OPEN Government Data Act of 2018.
Borden graduated from Dickinson College in 1991 and from American University's Washington College of Law in 1994. He lives in Northern Virginia with his wife, whom he met at Dickinson, and two daughters.
Gretchen Brigden '89
Gretchen Brigden '89 is co-founder and chief operating officer at MI2 Partners, a leading macroeconomic research firm, serving investors including hedge funds, global asset managers and private wealth managers since 2011. She is responsible for managing legal, compliance, regulatory, marketing and sales, as well as administrative functions. Gretchen brings over 30 years of professional experience in finance to the firm, including extensive work as a banker in Structured Finance.
Before MI2 Partners, Brigden served as the director at Guggenheim Partners where she managed a $10 billion portfolio and was responsible for identifying and managing financing opportunities at bulge bracket financial institutions. She has also held senior-level transaction-leading positions in structured finance at Ambac, as a portfolio manager at Merrill Lynch Bank and in structured finance at Deutsche Bank, as well as at First Union Capital Market. Brigden serves on the Board of Trustees of Dickinson College and as the vice chair of the Investment Committee. She graduated from Duke University in 1995 with an MBA and earned a BA in economics from Dickinson College in 1989. She lives in Vail, Colorado, with her daughter.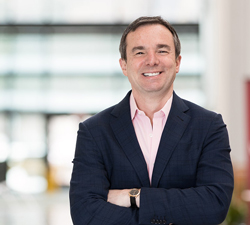 Mike Capone '88
As the CEO of Qlik, Mike Capone '88 leads Qlik's mission to create a data-literate world, one where people, businesses, organizations and governments tackle their most complex challenges with data. He has firsthand experience in leveraging the power of data through analytics to transform businesses and entire industries.
In addition to his extensive experience in high-growth SaaS companies, Capone was the COO of Medidata Solutions, a publicly traded provider of SaaS analytics solutions to the healthcare, life sciences and pharma markets. There, he played a significant role in the company's product development, data science, professional services and go-to-market operations, guiding its strategy to provide a comprehensive cloud platform that leverages data and analytics to transform clinical trials.
Prior to Medidata, Capone held senior leadership positions at ADP, including corporate vice president of product development & CIO, and SVP & General Manager of ADP's global outsourcing business. He was also head of product development and technology operations for ADP, one of the world's largest B2B cloud services providers, delivering critical services to over 600,000 companies and 39 million of their staff members worldwide.
Capone holds a B.S. in computer science from Dickinson College and an MBA in finance from Pace University.
Tom '78 & Judianne Hare P'22
Tom Hare '78, P'22, graduated from Dickinson College in 1978 with a major in biology and a minor in psychology. He was a member of the men's varsity basketball and baseball teams. Following his graduation, Hare attended the University of Delaware, where he received a master of science degree in exercise physiology and biomechanics. He then went on to complete a fellowship in cardiovascular medicine and cardiopulmonary rehabilitation.
Tom started his career at Hahnemann Hospital in Philadelphia, where he was responsible for the development, implementation and management of a cardiopulmonary rehabilitation program. He worked in this field for the next 10 years until getting the opportunity to transition into the biopharmaceutical industry where he continues to work. During his career, Tom has worked at large biopharmaceutical companies and built and developed small to mid-sized companies in the biotechnology space. He is currently the senior vice president of clinical management at Madrigal Pharmaceuticals. In this role, he is responsible for the oversight of clinical research studies whose primary objective is to collect and submit data to the FDA to obtain approval for new investigational drugs.
He lives in Pennington, New Jersey, with Judianne, his wife, Charlotte, a rising first-year student attending Salisbury University, Cole, a rising junior attending Dickinson, and the family's dogs, Jetta and Chase.
Judianne Hare's career at Bristol-Myers Squibb spans over 30 years with strong global experiences across R&D in all phases of drug development and clinical operations. In 2014 she joined Medical as the U.S. market strategy and operations lead and in 2016 became vice president of medical capabilities and medical affairs. In this role, she manages an operating budget of $125 million and leads a global team of more than 300 employees providing expertise and compliance in scientific communications, clinical data generation, strategic collaborations with global academic centers, field medical excellence, and medical information, adverse event reporting, and product quality complaints supporting health care provider's commitment to providing quality patient care.
Judianne has developed a proven track record for building high performing diversified teams. She is the Bristol Myers-Squibb executive sponsor for the Pan-Asia People and Business Resource Group and the recipient of the Jack Grebb Award for excellence in leadership. She is a strong advocate for diversity and inclusion and a sought-after mentor. She spent several years in the clinical setting specializing in cardiac intensive care, end-stage heart failure and cardiac transplant prior to making the career move to the pharmaceutical industry.
Judianne earned a bachelor of science degree in nursing from Villanova University. Outside of work, she enjoys family time with her husband, son, daughter and two dogs at the beach and being an enthusiastic supporting spectator at her children's college baseball and soccer games.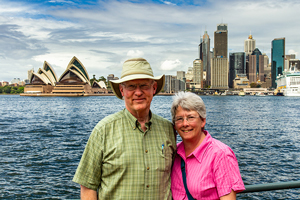 Dave '74 & Sue '75 Souerwine
Dave '74 and Sue '75 Souerwine both graduated from Dickinson College with majors in mathematics and minors in economics. Dave has an MBA from the University of Rochester with a major in computer and information systems.
Dave is an accomplished senior executive who worked in the healthcare field during his career, mostly in medical devices and medical technology. Sue worked for a decade at Eastman Kodak Co. in Rochester, New York, as a computer programmer and systems analyst. Subsequently, Sue raised three sons while managing the home.
Dave grew up in Connecticut, Sue grew up in New Jersey, and both have lived most of their lives in the Northeast. For the past 10 years, the couple has lived in Georgia. They have three grown sons and travel extensively, having been to 71 countries and all the states and Canadian provinces. When not traveling, Dave devotes time to photography, woodworking, and music and Sue enjoys reading, cooking and gardening.