Councils
Panhellenic Association
The Dickinson Panhellenic Association supports women's Greek-letter organizations by promoting values, education, leadership, friendship, cooperation and citizenship, in cooperation with the National Panhellenic Conference. The council hosts primary recruitment in January, participates in Love Your Body Week and Wellness Week, and hosts social and service events for all sorority women. Contact us by email (panhel@dickinson.edu) or on Instagram (@DickinsonPanhellenic).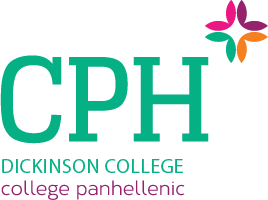 Council of Fraternities
The Council of Fraternities represents the three national fraternities on Dickinson's campus. COF serves to advocate the needs of its member fraternities through enrichment of the fraternity experience; advancement and growth of the fraternity community; and enhancement of the educational mission of Dickinson College.