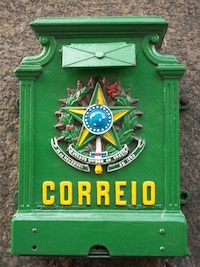 For further information, please also refer to the Portuguese Club Blog or the Portuguese Club Facebook Page.
Afro-Brazilian Funk
Monday, April 11, 2016 Open to everyone!

Percussion Workshop:
Dendê will teach you timbal technique, exercises, timbal rhythms and breaks from bands like Timbalada, Ilê Aiyê and Olodum, improvisations and soloing
Location: Allison Great Hall
Time: 4:30pm
Open to everyone!


Live Show:
Dendê & Banda
Dendê is a percussionist, singer, composer, bandleader, teacher, and multi-instrumentalist. He's been a professional musician since the age of 14, when he appeared in the frontline of Timbalada, Carlinhos Brown's superstar percussion ensemble. Since 2001, he's been developing his solo career, splitting his time between the US and Bahia in Brazil. Now on their second album, Dendê & Band have cultivated a unique sound where Afro-Brazilian traditions like samba de roda and candomble have been seamlessly melded with world rhythms like rumba, afrobeat and mbalax.
Location: Allison Community Center
Time: 7:30pm
Open to everyone!
Emanuelle Oliveira-Monte
Associate Professor of Portuguese of Luso-Brazilian and Afro-Brazilian Literature, Vanderbilt University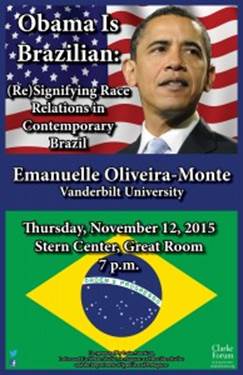 Obama is Brazilian: (Re)Signifying Race Relations in Contemporary Brazil
Barack Obama's election to the American presidency in 2009 sparked a renewed interest in the theme of race in the Americas, and worldwide. The sight of an African American as President of the United States led analysts to declare that North America was living in a post-racial era. But Obama's election also had a tremendous impact on the imaginary of the African Diaspora. This lecture will examine his characterizations in the Brazilian media, especially in examples of political humor, such as cartoons and memes.
Thursday, November 12th, 2015, 7PM - Stern Center, Great Room
This program is sponsored by the Clarke Forum for Contemporary Issues and co-sponsored by Latin American, Latino and Caribbean studies, Portuguese and Brazilian studies and the department of Spanish and Portuguese.
Jerry Davila
Lemann Professor of Brazilian History, University of Illinois, Urbana-Champaign
Do Brazilian Quotas and Affirmative Action Challenge us to Re-Think the History of Race Relations?
Friday, April 24th, 2015. 4PM - Weiss 235
After the lecture, join the Portuguese Club for a nice Rango brasileiro with lots of Brazilian sweets, pão de queijo and guaraná. Sponsored by the Portuguese and Brazilian Studies and Latin American, Latino, and Caribbean Studies, and the Portuguese Club.
Janice Perlman
Founder and President, The Mega-Cities Project: Innovations for Urban Life
FAVELA: Four Decades of Research in Rio
Thursday, October 10, 2013
Stern Center, Great Room, 7 p.m.
Perlman, author of the recent book FAVELA, will share her experience, findings, and photographs from field research in Brazil, starting as a student and continuing until the present.
The event is sponsored in partnership with The Clarke Forum for Contemporary Issues and the Student Senate Public Affairs Committee. The event is also co-sponsored by the Bruce R. Andrews Fund, Portuguese and Brazilian Studies, Center for Sustainability Education and the Departments of Sociology, Policy Studies and the Community Studies Center. It is also part of the Clarke Forum's Leadership in an Age of Uncertainty Series.
Churrasco!
Join us for a Brazilian Dinner and BBQ (churrasco) on Thursday, May 2nd from 5pm until 8pm, at the Althouse Trellis (behind the Quarry). We will have a variety of grilled meats (beef and chicken), side dishes, and desserts. We will also have pão de queijo and guaraná!
Event sponsored by the Portuguese and Brazilian Studies Minor and the Portuguese Club.
Brazilian Dinner
February 8, 2013
Organized by the Gastronomy Club and the Portuguese Club.
Brazilian Independence Day!
September 7, 2012
Britton Plaza 5-7pm
Joins us for Brazilian snacks, fruits, and non-alcoholic drinks.
Organized by the Portuguese Club.