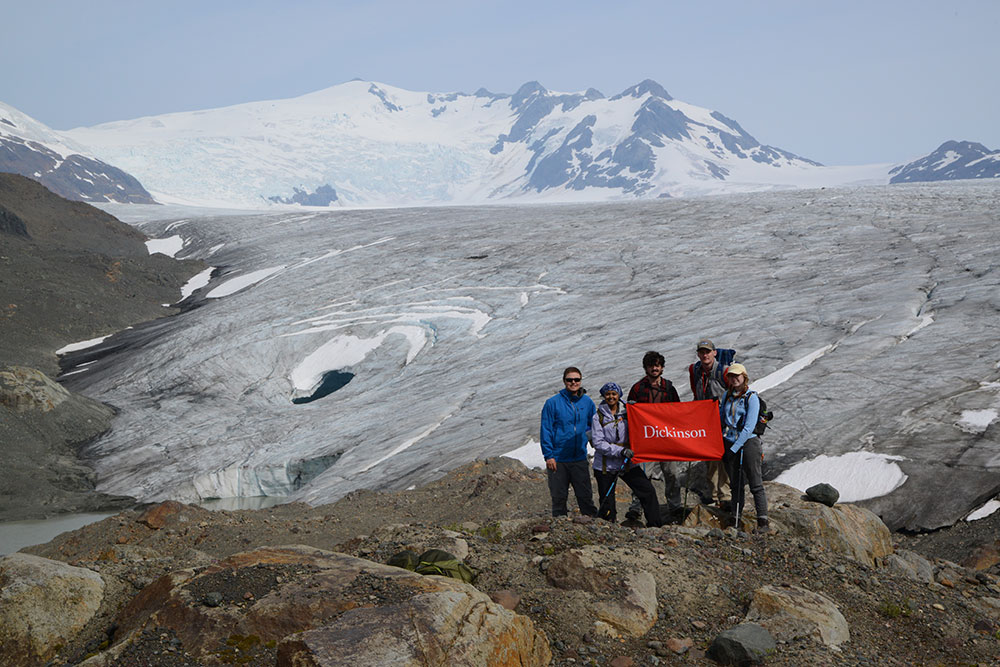 Dickinson's Arctic & Alpine Climate Change Research Program has successfully taken more than 30 Dickinsonians into arctic and alpine environments to learn field technical skills for documenting climate change, to see the impacts of changes in these fragile environments and to interact with the people who live with and experience these changes first-hand.
What started in 2013 as a generous offer for a small group to accompany alumni on a trip to northern Baffin Island for a geo-tour has expanded into a fledgling new academic experience at Dickinson, with a dedicated Arctic course (ERSC 250, Introduction to Arctic Studies), a permanent Arctic photographic display in Waidner-Spahr Library and annual summer research experience trips. To date, 35 people have participated in trips to Alaska, British Columbia, Greenland, Iceland, Baffin Island and Ellesmere Island. We have presented data collected on trips at national and international scientific conferences, have three manuscripts in preparation for submission to scientific journals and have almost reached 80˚N at Eureka in 2018!
We are also establishing connections with the Smithsonian Museum of Natural History Arctic Studies Center and the University of Ottawa's glaciology research group and are working with existing connections at the University of Maine Climate Change Institute. In 2019 we continued with our long-established Iceland program, working on glaciovolcanic histories near Reykjavik and near Ok volcano and continuing work on understanding how Gigjokull and Steinholtsjokull glaciers on the south coast of Iceland are being impacted by warming climate.
We also returned to Grise Fiord with the largest Dickinson student group yet in the High Arctic. For this program we focused mainly on documenting glacier retreat at the southern edge of Ellesmere Island, Nunavut, Canada. While at Grise we worked worked with local guides, sampling "country foods" and began to establish longer term community ties that might allow us to set Grise Fiord as a more permanent High Arctic climate change research location for future trips. In many ways it is ideally situated, with commercial air service, local glaciers, permafrost and sea ice. We also explored the possibilities of using Grise as a base for trips to Devon Island, immediately south of Grise Fiord across Jones Sound, for future lake and permafrost research expeditions.