Welcome to the Homepage of the Dickinson College Chapter of Alpha Lambda Delta (ALD), a national academic honor society for first-year college students. We hope you'll find this website to be a great source of information on ALD here on campus whether you are a member looking to see what new and upcoming events have been planned or if you're simply curious about what ALD is about.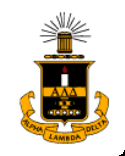 Pages you may be interested in:
Alpha Lambda Delta national chapter
ALD Facebook Group: Be sure to join our group so you can stay up to date with everything we're doing! We've got many great ideas for community service projects as well as other fun activities and events.