You will be asked to create a new password at your first login. Note, too, that your username will always be the email address you have on file with DAVS. The same email address will not be able to be used for another DAVS member.
You'll notice the following information:
Your own profile information (with the option to provide updates using the "Edit Profile" form)
Interviews tab with any interview requests within twenty miles of you (or, if you've indicated a willingness to conduct interviews via Skype, candidates at a greater distance)
Interview Days tab listing attendees at any Interview Days in your area that you have signed up to help with
College Fairs tab with available college fairs within twenty miles of you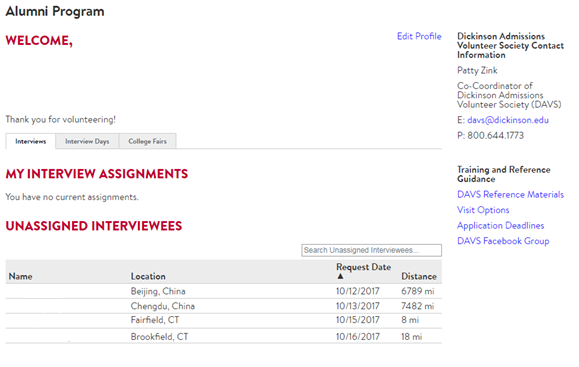 Interviews
"My Interview Assignments" includes interviews that you have completed or are confirmed to conduct since May 2017.
"Unassigned Interviewees" includes students who requested an interview but have not yet been "claimed" within a 20 mile radius of you.
If you specified that you can help with Skype interviews, you will see international interviews here as well.
Claiming an Interview
Select the student's name then select "Claim". Please contact the student within three days.
Email DAVS if you're unable to reach the student after multiple attempts.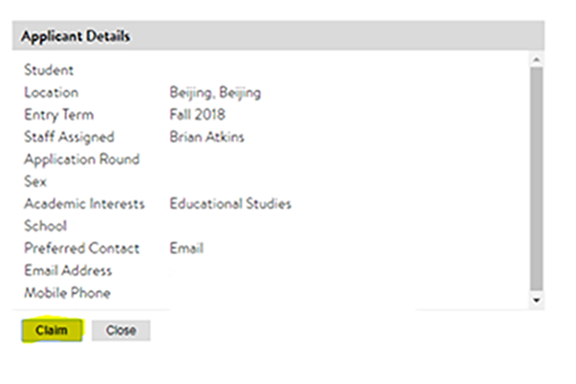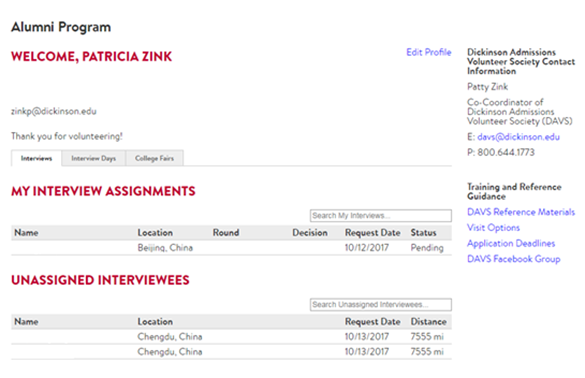 Completing an Interview
When you have completed the student's interview, select the student and scroll down to "File Report."
Complete the report form and submit your evaluation from here.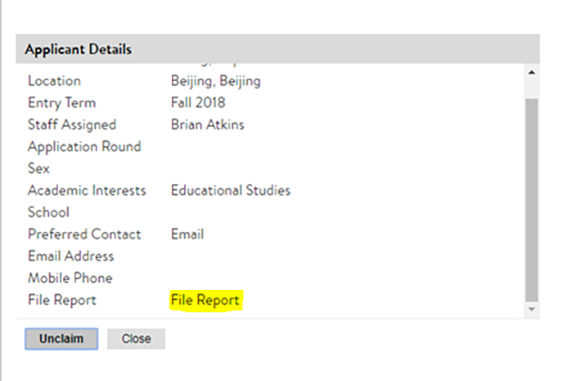 College Fair
"My College Fairs" lists any college fair that you have completed or are confirmed to attend.
"Available College Fairs" are fairs in your area that are still in need of coverage.
We ask that most fairs be claimed and attended by two volunteers so, if you see a fair with a count of "1," please do claim that fair so that we have full coverage.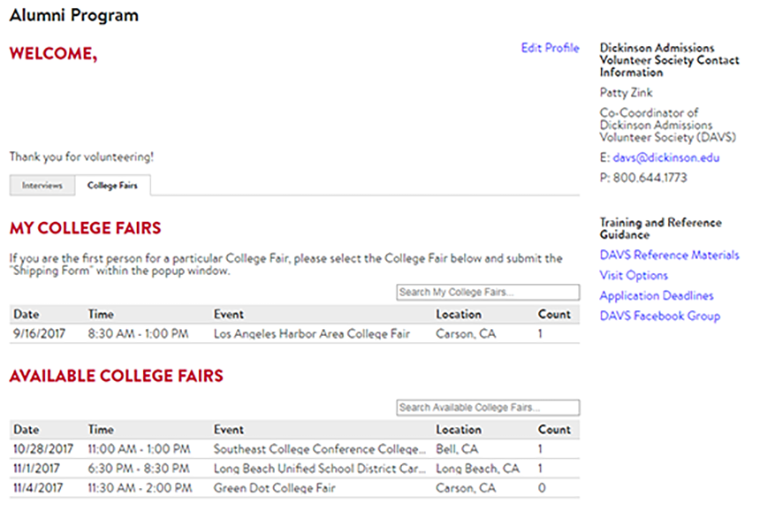 If you are the first person to "Claim" the fair, please select the fair from under "My College Fairs" and complete the "Shipping Form."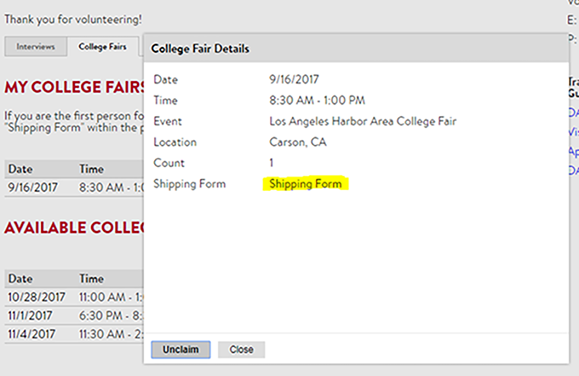 Interview Days
If you live in an area that has an Interview Day and you have signed up to help, you will see the "Interview Days" tab.
Select the tab, locate the Interview Day you attended and search for your interviewee's name.
Next, select the student that you interviewed and file the interview report from here.