Study Abroad in Brazil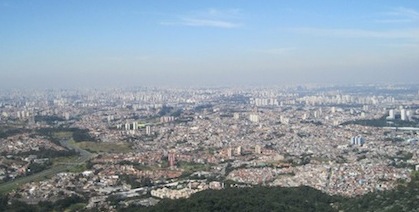 CIEE is our partner program in São Paulo, Brazil. Currently, we offer two tracks: Liberal Arts and Business + Culture
Liberal Arts
The Liberal Arts track is intended for students with at least two years of college-level Spanish or Intermediate Portuguese (or the equivalent). The program is affiliated with the Catholic University of São Paulo, and students have access there to a full range of courses in Latin American studies, social sciences, and culture and literature. All classes are taught in Portuguese. During the semester, students also take Portuguese language classes and a Brazilian Realities class at CIEE. Enrollment at the university is preceded by an intensive five-week language and culture program and orientation, and students have the opportunity to enroll in the program for the fall, spring, or full academic year.
Business + Culture
The Business + Culture track is affiliated with the economics school of the Fundação Getulio Vargas, one of the most prestigious business schools in Latin America, and the ESPM, the Escola Superior de Propaganda e Marketing. This program neither requires previous knowledge of Portuguese nor Spanish, as students take classes in English with international students. Students that speak Portuguese fluently have the opportunity to take classes in Portuguese with Brazilian students. Before the beginning of the semester, students can (is optional) enroll in the month-long intensive Portuguese language class. Students take a Portuguese language class at CIEE during the semester. Students have the opportunity to enroll in this program for the fall, spring, or full academic year.
For more information, contact:
Prof. Carolina Castellanos, On-Campus Coordinator
castellc@dickinson.edu or visit the Center for Global Study and Engagement
A big advantage of studying in Brazil!
Studying in Brazil has many benefits! In addition to allowing students to learn (more) about the many incredible aspects of this great multicultural country, it allows students to apply for Fulbright scholarships. Melissa (Missy) Reif '13 and Benjamin (Ben) West '14 have won Fulbright English Teaching Assistantships! They both studied in São Paulo with the Liberal Arts track.