Middle East Studies Class Projects and Senior Capstone Research
Each Middle East Studies major is required to write a capstone research paper to demonstrate the ability to synthesize and apply the skills and knowledge gained from courses across the curriculum.
Capstone Research Topics by Middle East Studies majors:

2013:
Charlie Carroll: Education in the Arab World fails to unify societies, legitimize national narratives, and create a
national identity
Giancarlo Duffy: Piracy, Slavery, Tribute and War: The Restructure of the Barbary States' Economies and their Downfalls
Alexander D. Egner: The Stability Effects of Religious Minorities: Seven Case Studies on the Middle East
Megan Franco: Palestinian effect on Host States Syria, Lebanon and Jordan, 1948-1994
Sara Markowitz: Shared Water Resources in the Arab-Israeli Conflict
Christopher Patrick: Shiite Politics in Iraq: Part Institutionalization and the 2009 Provincial Elections
Noah Segal: Adaptable Monarchies: Morocco and Jordan
2012:
James Franklin: The Lernaean Hydra: Corruption, Conflict and Crime
Sara Hatch: Jordan and the Arab Spring
Adam Itkoff: New Media and Arab Uprisings in Tunisia and Egypt
Terri Soifer: Iranian Jewish Identity in Relation to the History of Modern Day Iran
Zachary Steinborn: Saving the Sick Man: The Cause of the Crimean War
2011:
Nadia ElFallah: Examination of Libyan Nationalism under Muammar Gaddafi (1969-Present)
Sara Glas: Royalist Islam and the Future of Moroccan Democracy
Monica Grandy: Belly Dance as an American Phenomenon
Jacob Grossman: Maimonides' Epistle to Yemen: A Reading Employing the Cairo Geniza Documents and Max Weber's Theory of Legitimacy
Anum Khan: Travel and Tourism to Israel
Emily "Katie" Kiraly: "Gs up along with Muhammad and Jesus": Images of Islam in American Hip-Hop
Alexander Leese: Nationalism and its Effects on Religious Minorities: A Comparison of the Ahmadis of Pakistan and the Alevis of Turkey
Sean Lyness: Tradition in Transition: The Egyptian Film Industry and the State
Ian Mandell: Zionist Insurgency and the British Withdrawal from Palestine
Max Paschall: Tunisia 1970-2011: State, Media, and Economy in Revolution

Professor Naima Bary's fall 2010 Media Arabic Class 360-01 class produced Aswaatna, a magazine in Arabic. The course exposed students to media in the Arab World, and focused on mastering basic vocabulary commonly used in Arab print and electronic media. The course explored a variety of media, its representations, and its role in shaping Arab thought.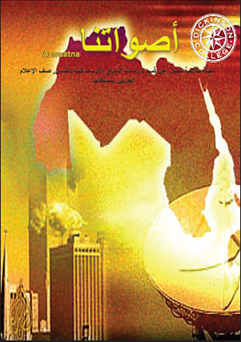 Aswaatna, Media Arabic magazine