Package Pickup
Package Pickup is located on the lower level of the Holland Union Building (HUB).
This location is where articles that cannot be placed in a student mailbox will be processed and held, for example perishable items (ie: gift bags, flowers, basket arrangements etc…) or packages too large for a hub box, are processed. To ensure that students receive only their package they must have received an email notification and have their Dickinson College ID. Packages will not be given to a recipient without their College ID. If we are unable to identify who is to receive an individual package it will held for 48 hours and then returned to sender.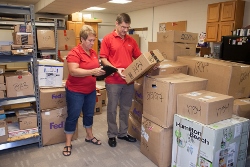 Students receiving on campus packages or any letters, papers or magazines that are too large for a student's mailbox will receive an email notification to pick up items in Package Pickup. Because of storage, or the lack of, we recommend you send packages no more than two weeks prior to the start of a semester. It is very important that all mail for a student have their first name, middle initial and last name and be sure to always include the student HUB box number.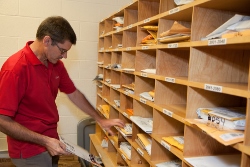 Please contact Zair Ulsh, ulshz@dickinson.edu or (717) 245-1298 or Lisa Ellerman, ellermal@dickinson.edu or (717) 245-1210 with any questions.
FAS Mail Center Hours:
Monday - Friday: 9:00 am - 4:30 pm
Phone: 717-245-1210
Package Pickup
Monday - Friday: 10:00 am - 6:00 pm
Saturday 10 am - 2 pm
Zair Ulsh: 717-245-1298
Phone: 717-245-1973
All offices are CLOSED on Sunday
Hours may vary during exams, breaks and holidays