Applications for the Navajo Nation trip in May are now available! The trip will be from May 21-31, 2018. Complete the application here! Applications are due Friday, March 23 by 4pm online or to Landis House! Information Session is March 20th, 7:00pm Althouse 110.
PAID LEADERSHIP POSITIONS
Applications for our 2018-2019 office staff are now available! We are hiring student coordinators for all of our programs (Day of Service, Justice is Served, CommServ, Service Trips, Montgomery Service Leaders, Religious Life, Media Relations, and Volunteer Clearances Assistant). You can view the position descriptions here.
For new applicants, please complete the full application here and return it to Landis House or to Kim Sallie at salliek@dickinson.edu. If you are a returning staff member, please complete this application instead.
Applications are due Wednesday, March 28 at 12pm. Interviews will be held April 3rd through 6th at the times indicated in the application.
Welcome to the Center for Service, Spirituality and Social Justice!
Social justice is defined as "promoting a just society by challenging injustice and valuing diversity." It exists when "all people share a common humanity and therefore have a right to equitable treatment, support for their human rights, and a fair allocation of community resources." In conditions of social justice, people are "not to be discriminated against, nor their welfare and well-being constrained or prejudiced on the basis of gender, sexuality, religion, political affiliations, age, race, belief, disability, location, social class, socioeconomic circumstances, or other characteristics of background or group membership" (Toowoomba Catholic Education, 2006). CSSS seeks not only to expose students to the opportunities for service and experiencing differences in faith but also to encourage students to understand what it means to challenge injustice, support human rights and work to bring about a just society.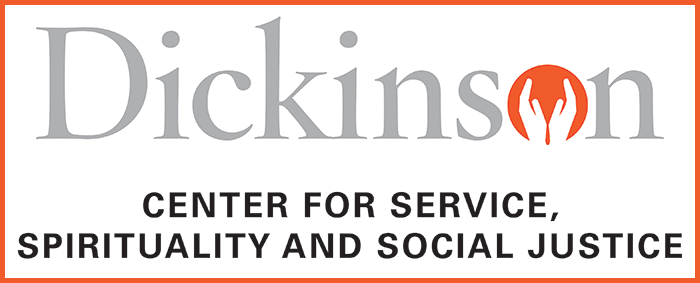 Orange is the color of CSSS and you might wonder, "why orange?"
The color psychology of orange is optimistic and uplifting, rejuvenating the spirit. In fact orange is so optimistic and uplifting that we should all find ways to use it in our everyday life, even if it is just an orange colored pen.
The color orange relates to social communication, stimulating two-way conversations. A warm and inviting color, it is both physically and mentally stimulating, so it gets people thinking and talking!
Orange aids in the assimilation of new ideas and frees the spirit of its limitations, giving us the freedom to be ourselves. At the same time it encourages self-respect and respect of others.