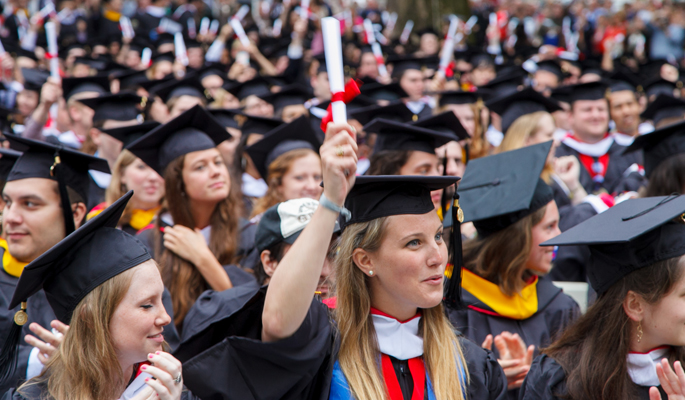 This is a list of students who earned departmental honors at graduation.
Africana Studies
Alexandra Uka Amaka Agiliga ( 2013)
Reclaiming and Asserting Sexual Agency: Black Women in Sadomasochism
Reginald James Glosson ( 2014)
No Vote, No Freedom: The Black Existential Problematization of Voter ID Laws
Grace Perry ( 2011)
Resisting the Machine: Toward a Theory of Transnational Feminist Anti-Capitalism
Elizabeth Anne Stuhr ( 2012)
A New Kind of Self-Interest: Africanist Approaches to Aid in West Africa
American Studies
Melissa Alice Canu ( 2013)
From the Dreamhouse to the Whitehouse: Barbie, Femininity and Power in the United States
Catherine Martina Creme-Henry ( 2008)
Pink Noise: Deconstructing the Popular Discourse of Breast Cancer
Ashley Ann Davis ( 2013)
Cosmopolitan Magazine Exposed: Exploitation, Sexuality, and False Liberation
Jason William Denaburg ( 2016)
A Gun to Our Head? American Imagination of the Russian Character Since 1946
Lauren Ayn Diamond ( 2010)
"Never Underestimate the Power of a Big Gold Frame": Deconstructing the Ideological Powers of the Museum and Understanding the Development of the Curatorial Profession
Leah Melanie Kaplan ( 2011)
A Forgotten History: the 1930s student movement
Patricia Ann Kotrady ( 2016)
Consuming Authenticity: Deconstructing "Do-It-Yourself" Punk Rock Ethics in Philadelphia
Alexis Ellyn Kuzma ( 2013)
Challenging the Oppression of Motherhood and Preserving Normative Femininity: Women's Agency in the Hot Mom Trend
Elizabeth Emily Mudge ( 2014)
Narrating Death in a Culture of Denial: Stage IV Cancer Narratives Told Through Blogs and Memoirs
Aidan Brown O'Shea ( 2011)
Worshipping to Control: The Public Memory of Martin Luther King, Jr. and the American Political Right
Leah Judith Shafer ( 2014)
'A Joy to Watch': How Julia Child Reimagined Domesticity and the Domestic Space
Lauren Michelle Zazenski ( 2007)
The Social Construction of Cocaine: Examining the Dueling Identities of Crack Cocaine and Powder Cocaine as Presented in American Film, Laws, and Religion
Anthropology
Anabella Giselle Atach ( 2008)
The National Institute of Anthropology and History and "The Others": Different Perspectives on Issues of Patrimony
Cynthia Louise Baur ( 2016)
An Analysis of the Local Food Movement in Carlisle, Pennsylvania
Kaitlin Mae Irvine ( 2010)
Starting from Scratch: Building College Cultural Capital for First-Generation College Students at Dickinson
Karen Elizabeth Kirner de Chazelles ( 2008)
Perspectives Among Farmers and the General Public of the Economic and Environmental Impacts of Biodiesel and Ethanol Development in Carlisle, Pennsylvania
Virginia Kopacki ( 2017)
"Passing Muster" Negotiating the Racialized and Gendered 'Mythology' of Reenactment"
Laura Rose Major ( 2008)
Schmorl's Nodes and Osteophytosis at Early Bronze Age II/III Bab edh-Dhra', Jordan
Rachel Elizabeth Provazza ( 2016)
A Comparative Study of the Glenohumeral Joint in New World Monkeys
Justin Michael Reamer ( 2015)
Investigating the Indigenous History of Camp Michaux, Pennsylvania
Nalani Noel Saito ( 2017)
Away from the Plantation: An Ethnography of Hawai'i Japanese American Identity in Honolulu, Hawai'i
Emily Louise Vooris ( 2017)
The Role of Partnership in Agricultural Research Development Investigating Moral Obligation and Neoliberal Governmentalities
Sarah Marie Zaleski ( 2010)
Age and Sex Estimates of Subadult Ilia from Charnel House A22, Bab-edh-Dahr': A Model for Determining Subadult Sex
Archaeology
Victoria Anne Cacchione ( 2015)
Archaeology of North American Farmsteads: A Case Study of Bunker Hill Farm, Camp Michaux
Art & Art History
Kathryn Elizabeth Cargill ( 2016)
Outstanding Achievement in Studio Practice
Kimberly Tyler Drexler ( 2015)
The Hidden Life of Trash: An Examination of the Landfill by Six Contemporary Artists
Louise Howard Feder ( 2010)
New Deal Murals in the Pittsburgh Post Office and Courthouse
Willa Burton Hut ( 2017)
Investigation of Color, Space, and Light in the Landscape
Lucas Amadeus Kang ( 2016)
Outstanding Achievement in Studio Practice
Christian Dominick Meade ( 2008)
Public Outdoor Sculpture at the Dickinson Farm
Emily Hadden Rother ( 2012)
A Confluence of Worlds: Balinese Paintings from the 1930s
Stephan Michael Sieg ( 2016)
Outstanding Achievement in Studio Practice
Noah S Thompson ( 2017)
Recontextualizing a Queer Past
Biochemistry & Molecular Biology
Grace Elizabeth Crossland ( 2018)
Reprogramming Leukemia Cells Toward Cell Cycle Arrest
Ryan David Deeds ( 2010)
Microarray Analysis of the Transcriptional Changes in Phorbol 12-Myristate 13-Acetate-induced Differentiation of HL-60 Cells
Gabriel J DiNatale ( 2014)
Effects on alkynyl-parthenolide on human leukemia cells, THP-1
Alice Ann Duchon ( 2011)
Synthesis of a copper-binding distamycin conjugate as a potential anti-cancer therapeutic compound
Courtney M Gamache ( 2018)
The Taming of the Yeast: Domestication of Saccharomyces cerevisiae and Saccharomyces paradoxus Yeasts
Michele Anne Gortakowski ( 2007)
Oxidative Signaling in the Metamorphosis of Crepidula fornicata
Meredith Johnson ( 2018)
Probing the tetrameric structure of Leishmania major Pteridine Reductase (PTR1) with point mutations and interface-derived peptides
Andrew Shriver McGowan ( 2016)
Investigating the effects of coastal acidification on Phenolic Production in Zostera Marina from South Bay, VA
Allison Margaret Murawski ( 2012)
Use of in vivo genetic selection reveals sequence and length flexibility of the 5' portion of Turnip crinkle virus satellite RNA C
Alissa Resnikoff ( 2018)
Selective reactions of cysteine perfluoroaryl thioethers
Tulley Shofner ( 2018)
The Role of MafB in Reverting the Transformed Phenotype of Human Acute Myeloid Leukemia Cells
Sadie Ann Signorella ( 2018)
Characterizing expression of the protein Yorkie in the Drosophila embryo.
Emily Marie Swain ( 2010)
An Integrative Study of Gene Expression of PMA Induced Differentiation in HL-60 Cells by DNA Microarray Analysis
Amy Louise Williamson ( 2010)
Changes to Gene Expression During Human Acute Myleloid Leukemia Cell Differentiation with Phorbol 12-myristate 13-acetate (PMA)
Biology
Susan Anne Blasi ( 2010)
Biogenic Amine Receptor Expression in the Developing Ventral Nerve Cord in "Drosophila melanogaster"
Samuel Neill Bogan ( 2016)
Do effects of ocean acidification and nutrition persist across the life history of a marine gastropod?
Surya Mackenzie Brown-Moffitt ( 2017)
Kinematics of feeding behavior in the American toad (Anaxyrus americanus): Vertical limits of prey capture
Catherine Bridget Campbell ( 2012)
The Role of EGR/NAB Gene Expression in Human Leukemia
John George Capano ( 2013)
The Biomechanics of Ventilation in Boa Constrictor
Christine Yun-Hee Choi ( 2016)
Effects of ocean acidification and flow on neural correlates of settlement in larvae of a marine gastropod
Jack Michael Colicchio ( 2011)
Transgenerational Epigenetics and Phenotypic Plasticity in Response to Variable Light Levels
Mary Christine DiGiorgio ( 2014)
An Assessment of a Painted Turtle Population and an Error Analysis of Community Generated Data
Madison Catherine Etchberger ( 2017)
Amphibians beware: Batrachochytrium dendrobatidis in the Cumberland Valley
Allison Elizabeth Hall ( 2010)
Pressure and Duration of Constriction in Boa constrictor is influenced by a Simulated Prey Heartbeat
Kaitlin Mary Harrigan ( 2008)
Investigating Hemlock Stand Resistance to Hemlock Woolly Adelgid Infestations
Scott William Hoffman ( 2012)
Design and Implementation of Pest-Control Hubs on an Organic Farm
Cassandra Elizabeth Holbert ( 2016)
The Role of BCL-2 Family Member MCL-1 in Acute Myeloid Leukemia
Trevor Thomas Hollinger ( 2016)
Murine hypometabolism: a putative signaling pathway
Amanda Hildur Jimcosky ( 2017)
The Computational Analysis of Yeast Environmental Stress Response
Christopher James Katalinas ( 2013)
Climate Change Effects on Marine Ecosystems
Keith Kleinman ( 2009)
Getting a Grip on Death by a Squeeze: An Analysis of Constriction in Population of Boa.constrictor
Jennifer Reine Lloyd Langston ( 2008)
Catecholamines in the Metamorphosis of Larvae of Polychaete Annelid Capitella Sp.I
Abby Christine Larson ( 2010)
Gene Expression Analysis of Human Leukemia
Hannah Marie Leahey ( 2012)
Effects of Ocean Acidification on Production of Protective Phenolics
Elizabeth Leigh Lewis ( 2010)
Neurochemical and Sensory Regulation of Metamorphosis in a Gastropod Mollusk
Rosabeth Ivory Link ( 2014)
Factors Influencing the Distribution of the Hemlock Woolly Aldelgid (Adelges tusga)
Lisa Irene Maas ( 2007)
Investigating hemlock (tsuga canadensis (L.) carriere) stand resistance to hemlock woolly adelgid (HWA; adelges tsugae annand) infestations
Antonio David Marrero ( 2013)
Lovastatin Treatment Leads to Increased CD14 mRNA Levels in Murine Macrophages and Human Monocytes
Katelyn Josephine McCann ( 2011)
Analyzing a predator-prey interaction: muscular performance in Boas (Boa constrictor) and cardiovascular response in rats during constriction
Mary Kathryn McClellan ( 2007)
Characterization of bipolar spindle structure in ammonia activated eggs and maturing oocytes of the sea urchin
Julia Brumbaugh McMahon ( 2015)
Effects of Ocean Acidification and Nutrition on Growth and Metamorphosis in Larvae of a Marine Snail
Cheyenne L Moore ( 2018)
Plant communities in eastern hemlock (Tsuga canadensis) stands impacted by hemlock woolly adelgid (Adelges tsugae)
Kayla Jordan Muirhead ( 2015)
This gut's got character: Utilizing comparative genomics to characterize the phylogenetic relationship of Ascomycete yeasts found in detritivorous beetle guts
Davia Marie Palmeri ( 2009)
Carbohydrate Translocation After Herbivore Attack in Tobacco Plants
Mairi Kaia Phyllis Poisson ( 2016)
Characterization of the diet of the American toad (Anaxyrus americanus) in a disturbed land-use system
Lauren Carel Saunders ( 2010)
Iron Pathology of Erythrocyte Pyruvate Kinase Deficiency in the Old Order Amish of Pennsylvania
Kayla Christine Simpson ( 2018)
Impacts of insect growth regulator pesticides on populations of beneficial dung beetles in Pennsylvania agroecosystems
Katelyn Maria Swade ( 2015)
Isoprenoid Depletion Alters Expression of Inflammatory Markers in Monocytes and Macrophages
Rulaiha Elizabeth Taylor ( 2018)
Effects of Acidification and Salinity Stress on Development in Larvae and Juveniles of a Marine Gastropod
Evan Joseph Templeton ( 2007)
Honors in Biology
Meagen Kathleen Voss ( 2007)
Morphological study of BDM stimulated structures in sea urchin coelomocytes
Chemistry
Laura Ashley Bahorich ( 2007)
A Kinetic Study of n²- Coordinated Arene Displacement from Rhenium and Manganese Centers
Allyson Jane Boyington ( 2015)
Microwave-accelerated Deprotection of Aryl Silyl Ethers
Melissa Renee Dean ( 2010)
Synthesis and Reactivity of Two NAMI-A Derivatives
Zev Joshua Greenberg ( 2016)
Chemical Characterization of Sealcoat Composition at Three Sites in Central PA
Amanda Kale ( 2017)
Catalytic Applications of Bio-reduced Ultrasmall Copper Nanoparticles
Minh Huu Nguyen ( 2011)
Analysis of Polycyclic Aromatic Hydrocarbons (PAHs) and Oxygenated PAHs in the Stream Sediments along an increasingly Urbanized Land-Use Gradient
Amy Grunbeck Perea ( 2007)
The Influence of Electronic and Steric Factors on the Reactivity of the N6-C6H5CF3CR(CO)2-n2-arene Bond
Jeffrey M Rodgers ( 2010)
The Pyridine-Formic Acid Interaction: A Matrix Isolation and Polymer Soft-Landing Study
Katelyn Ann Uribe ( 2012)
Synthesis and Characterization of Fluorescent Bio-reduced Copper Oxide Nanoparticles
Olivia Harper Wilkins ( 2015)
Analysis of Polycyclic Aromatice Hydrocarbon (PAH) Concentrations and Source Profiles from Sealcoated Pavements at Two Commercial Lots in Carlisle, Pennsylvania
Classical Studies
Lucy Anne McInerney ( 2015)
"Dives avis, sed non genus omnibus unum: Ethnic Diversity in Vergil's Rome."
Daniel Plekhov ( 2014)
Ethnicity, Nomima, and Identity: A Study of the Multi-Ethnic Cities of Himera and Gela
Computer Science
Matthew Knapp Bachmann ( 2009)
The Effects of Network Structure and Fitness Sharing on the Evolutionary Dynamics of Iterated Prisoner's Dilemma Strategies
Jake Charles Beley ( 2018)
Secure and Lightweight Communication in Heterogeneous IoT Environments
James Andrew Doyle ( 2010)
PathFinder in CUDA
Fabio Ariel Drucker ( 2011)
Adding support for specification and generic use to the krakatoa/why platform
Michael Patrick Keating ( 2010)
Executing Formal Specifications via Constraint Programming: Enhancing the jmle Tool
Samuel Livingston Kelly ( 2014)
AST Indexing: A Near-Constant Time Solution to the Get-Descendants-by-Type Problem
Adrian Demetrius Kostrubiak ( 2009)
Integration of Java Generics Into the jmle Tool Within the Eclipse IDE
Hieu Kinh Le ( 2016)
Applying Novelty Search to the Construction of Ensemble Systems
James David Midkiff ( 2017)
Solution Approaches to Nonlinear 0-1 Knapsack Problem
My Nguyen Tra ( 2016)
A Case Study on Modeling Social Network Privacy Policies Using Event-B
Richard Ray Rast ( 2009)
Automated Interpretation of Arithmetic in First-Order Theories
Peixin Sun ( 2017)
Construction of Test Problems for the 0-1 Quadratic Knapsack Problem
Russell Charles Toris ( 2011)
Evolving Robotic Desires: A New Approach to Bridging the Reality Gap
Katherine Marie Veil ( 2012)
Improving the jmle tool's constraint solving on sets
Mark Christopher Veronda ( 2008)
Applying a Genetic Algorithm to the Localization Problem Using an Extremely Sensing Limited Robot
Graham Peter Williams ( 2016)
Pain management: Formal verification of an Android Application Using Event B2SQL
Danni Yu ( 2011)
Translating B Machines to JML Specifications
Ryan Eric Zeigler ( 2008)
A New Approach for Evolving Robotic Curriculum
Ke Zhou ( 2009)
Improving the Two Color Image Prior Bayesian Demosaicing Algorithm
Earth Sciences
James Andrew Fisher ( 2018)
Unraveling the Central Appalachians: Construction of a Balanced Cross Section through the Pennsylvania Salient
William Hardy Kochtitzky ( 2016)
Short-term climate cycles, recent climate changes, and volcano-ice hazards: Nevado Coropuna, Arequipa, Peru
William Lyle Seward ( 2012)
Growth of Rye in Icelandic Volcanic Ash
Ellen Hope Was ( 2014)
Thermal Evolution of Subglacial Pillow Lava
East Asian Studies
Anya Olga-Frances Aboud ( 2016)
Departmental honors in East Asian Studies
Nicholas Johnston Adams ( 2011)
The So-Called New Women: The Evolution of the Seitō Organization and their Discourses on New Women and Sexual Liberation
Sarah D Brand ( 2017)
Rationalizing Neglect: How Asia-Pacific Countries Escaped Responsibility - Sharing the Refugee Crisis
Shumei Chen ( 2009)
Western-Educated Chinese in China's Economic Decision-Making: Haigui's Increasing Inflluence in Chinese Politics; with senior INBM case analysis presentation
Amanda Ruth Drummond ( 2009)
Medical Malaise in the PRC: Deficiencies in Social Trust, professionalism and the physician-patient relationship in post-deng China
Patrick J Griffin ( 2012)
The rise & fall of Taiwanese identity politics
Micah Yoder Hostetter ( 2008)
Reactions to Resettlement: Protest in China's Three Gorges Region
Brandon Michael Howard ( 2011)
A Yōkai Parade Through Time in Japan
Sean Kyle Hutchinson ( 2009)
Supervision from Below: Sousveillance Through New Media as a Force for Political Change in China
Christopher Sean Ivimey ( 2015)
Japanese Naturalist Literature and 'Nature'
Kendahl Marie Lester ( 2010)
The Current State of the Right to Remain Silent in Japan
Madison Lee Levitan ( 2008)
Unspoken Words: Constructions of Lesbianism in Nananan Kiriko's Blue and Murakami Haruki's Sputnik Sweetheart
Lina-Marie Lindboe Malone ( 2017)
Marketing K-Pop and J-Pop in the 21st Century
Chloe Autumn Mandell ( 2009)
Perceptions of Japanese Honorific Language (Keigo) Use in Japan Today: A Reflection of Personal and National Reputation at Stake
Brianna Margaret McFarland ( 2016)
Departmental honors in East Asian Studies
Leigh Anne Parrott ( 2018)
Reaching for the Stars: Fictional Women, Female Researchers, and the Importance of Role Models in Japan's Aerospace Fields
Anna Catherine Pusack ( 2010)
The Place of the Globalized World: Nishida Kitaro and Japanese Ultra-nationalism
Sean Alexander Rhoads ( 2007)
Godzilla the social critic: Kaiju eiga and 1970s Japanese environmentalism
Anna Beth Roach-Howell ( 2014)
Who Cares? Japanese Male Caregivers and Shifting Cultural Scripts on Family, Gender, and Care
Kyle C Serra ( 2013)
A Reised History: National and International Archeological Interpretations of Protohistoric Japan-Korea Relations
James Yarnall Watson-Krips ( 2010)
The Soundtrack of a City: Jazz, Modernity, and Urban Life in Republican Shanghai (1927-1949)
Courtney Brooke Weatherby ( 2012)
Damming the World: Burma as a Case Study for Chinese Exportation of Hydropower
Jeffrey Scott Wilson ( 2009)
Hataraki-Man: Gender and Success in the Workplace
Economics
Emmanuel Essah Acquaah ( 2007)
The Connection Between Property Rights to Land and Microfinance Expansion
Chris Aaron Dumbroski ( 2007)
Keyes and Ohlin: The Transfer Debate
Jason Robert Foltin ( 2008)
Establishing a Contextual Model Explaining the Relationship Between Income and Happiness
Nolan Alexander Funchion ( 2014)
Risk-Based IPO Underpricing in the U.S. Post-Dotcom Era: Evidence from Asymmetric Information & Uncertainty in the Pre-IPO Process
Misha Garg ( 2012)
Education in India and South Korea: A comparative analysis from a Gender and Development Perspective
Jason Allen Gates ( 2015)
Fees and Fairness: Medicaid Reimbursements and Patient Outcomes
Johnathan Titus Jones ( 2015)
Gender and the Great Recession: A Critical Look at the Causes, Outcomes, and Policy Responses
Jenna Wrae Long ( 2012)
Comparative Analysis of Modern Recessions: Explaining the Less-Than-Great Recovery from the Great Recession
Emily Robin Meuwissen ( 2008)
The Adoption of the U.S. Minimum Wage: Economic, Social, and Political Considerations
Joana Peixoto Nunes ( 2017)
The Effect of Sporting Public Expenditures on Medal Share at the Summer Olympic Games: A Study of the Differential Impact by Sport and Gender
Devin Philip Quinn ( 2012)
The Role of Military in the U.S. Economy
Chandan Sapkota ( 2009)
Growth Diagnostics and its Application to the Nepalese Economy
Manuel Ignacio Saralegui ( 2009)
Towards a new "locus enunciacionis": The Dependency Debate in Latin America
Yuanxiaoyue Yang ( 2017)
Econometric Analysis of NOx Trading Programs in Pennsylvania
English
Marissa Leigh Calfe ( 2008)
"The Over-Passing of the Bound": Analyzing the Influence of Dante's Francesca da Rimini on Milton's Revolutionary Eve
Elizabeth Evelyn Campbell ( 2012)
Finding Austen: the covert gender politics in Emma's marriage plots
Rachel Faith Chesley ( 2011)
"Tainted with the Blood of the Oppressor": Womanism, Black Power, and the Treatment of the Mulatto in Alice Walker's "The Color Purple"
Julia Grace Feerrar ( 2012)
H.D., Epistolary Poet: Bridging "Schism(s) in Consciousness" in Trilogy
Christopher Michael Gross ( 2009)
Historicizing Gender: Masculine Dissolution and Female Dominance in Chris Ware's "Jimmy Corrigan the Smartest Kid on Earth"
Laura Elizabeth Harbold ( 2007)
Reconfiguration of the Male Body in British Trench Poetry of the First World War
John Anderson Kneisley ( 2016)
"A Shadow of a Magnitude": The Condition of Artwork in John Keats's Ekphrastic Poetry
Megan Natoli Liberty ( 2011)
"But the Return to the Pictures": The Forgotten Photograph of Gertrude Stein's The Autobiography of Alice B. Toklas
John Isaac Lingan ( 2007)
Reanimating the store of gold: reason, sentiment, and failure in Tristram Shandy
Samantha Rae Moyer ( 2015)
"Fit to govern?" Charismatic and Traditional Kingship in Richard III, RIchard II, and Macbeth
Mary Katherine Naydan ( 2015)
Modernist Mythmaking: A Comparative Study of J.R.R. Tolkien and Ezra Pound
Eliza Rose Park ( 2011)
"Become as Little Children": A Study of the Subversion of the Cult of Domesticity in Two Sentimental Texts
Caroline Anne Peri ( 2010)
"The Taint of Effeminacy": Questioning Normative Masculinity in E.M. Forster's "The Other Boat" and Youssef Idris' "Leader of Men"
Janel Pineda ( 2018)
The War Is or Isn't Over, But Coffee Still Brews": The Salvadoran Civil War, Transnational Migration, and Navigating Legacies of Trauma in Javier Zamora's Unaccompanied
Kaitlyn Marie Plummer ( 2009)
"Who Wants Cocoanut?": The Construction of Desire and the Demise of Empire in E.M. Forster's "The Other Boat"
Anna Dempsey Robinette ( 2017)
Bilingual and Bimodal Expression: The Creolization in Edwidge Danticat's Oeuvre
Leah Judith Shafer ( 2014)
A Day When It Was Dangerous to Play: War and Gender in Stein's Children's Books
Meredith L Smith ( 2008)
Transexual Memoir: Breaking the Silence in Deirdre N. McCloskey's "Crossing: A Memoir" and Jennifer Finney Boylan's "She's Not There: A Life in Two Genders"
Christina Michele Socci ( 2013)
"Learn My Language": Exploring Translation as a Critique of National Identity in Vikram Seth's "A Suitable Boy"
Emily Mae Stokes-Hallett ( 2011)
Steinbeck's Subversive Cultural Capital: The Grapes of Wrath and the Problematic Canonization of the Lower Classes
Jessie Paton Strasbaugh ( 2010)
What She's "Supposed to Do": The Lunar Erotic Poetics of Elizabeth Bishop and Brenda Shaughnessy
Environmental Science
Emily Ann Bowie ( 2014)
Natural Sheep Medicine
Christine Josephine Burns ( 2014)
Deer as agents of seed dispersal in forests of differing vertical structure
Jill Marie Hautaniemi ( 2014)
Hemlock Woolly Adelgid and Pennsylvania Forests
Anna Elizabeth McGinn ( 2014)
A Study of Ecological Literacy of First Year College Students
Elizabeth Harrity de la Reguera ( 2014)
The Nitrogen Footprint of Dickinson College
Environmental Studies
Madison Grace Beehler ( 2015)
The Impact of the Built Environment on Youth Mentorship
Lily Margaret Bieber-Ham ( 2011)
Population and Nesting Ecology of Painted Turtles (Chrysemys Picta) in Pennsylvania
Tiffany Lee Chin ( 2016)
Effects of Environmental Changes on Phytoplankton Communities in Lakes
Danielle Marie Cioce Ferguson ( 2008)
The Patterns of Distribution of Organochlorine Pesticides in Sediment in the Letort Spring Run, Cumberland County, Pennsylvania
Max Carlos Egener ( 2016)
Extreme Rain Events and Their Effects on Reservoir Ecology
Anna Rose Farb ( 2012)
Effects of Vermicompost in Potting Soils and Extract Foliar Sprays on Plant Health and Productivity
Audrey Jean Fisher-Pedersen ( 2007)
Cultures of Farming in Perry County: Implications for Agro-environmental Management
Nicholas Gabuzda ( 2018)
Size distribution in eastern hemlock (Tsuga canadensis) populations, Cumberland Valley, Pennsylvania
Caroline Rachel Kanaskie ( 2017)
Foliar Chemistry of the Eastern Hemlock
Junxing Lan ( 2012)
Evaluation of Impact of Precipitation and Land-Use Change on Stream Flow in Monocacy Creek
Junxing Lan ( 2009)
Evaluation of the relationship between land use and physical characteristics in Hogestown Run, PA
Maunette Gabriela Makowski ( 2010)
Metals from Legacy Sediment Sites and Their Impact on Macroinvertebrates in the Yellow Breeches Creek Watershed, Cumberland County, PA
Kerstin Elisabeth Martin ( 2011)
The effects of an altered forest composition due to white-tailed deer herbivory on the condition of a Pennsylvania headwater stream ecosystem within the Chesapeake Bay Watershed, Perry County, PA
Natalie B McNeill ( 2017)
Aquatic citizen scientist motivations: implications for recruitment and retention
Robert Francis Page ( 2017)
The Influence of Soil Characteristics on Nest Site Selection in Painted Turtles (Chrysemys picta) at an Anthropogenic Site
Alexandra Gabrielle Raczka ( 2015)
Privilege and the Food Environment in Carlisle, Pennsylvania
Annaliese Marie Ramthun ( 2013)
Assessment IPM Hub Strategy on the Dickinson College Farm
Helen Claire Schlimm ( 2017)
Exploring a Century of Climate-induced Changes in the Plankton of West Greenland Lakes
Rachael Anne Sclafani ( 2016)
Garlic Mustard: Impacts on Understory Diversity and Competitive interactions
Caryn Marie Sennett ( 2015)
Disproportionate Environment Burden: Flame Retardant Exposure and Socioeconomic Status
Joan Marie Smedinghoff ( 2015)
Implementing Public Transit in Town: A Case Study of the Carlisle Circulator
Kaitlin Marie Soriano ( 2015)
Agroecology and the Dickinson College farm: a weed's place in a human manipulated environment
Kathryn Scott Tomsho ( 2012)
A Case Study of Grass Roots Mobilization in the Marcellus Shale Region
Taylor Marie Wilmot ( 2013)
Community Engagement and Perceptions of Brownfield Redevelopment in Carlisle, PA
Tabea Klassen Zimmermann ( 2015)
Reconstructing the effects of multiple stressors on algal communities in lakes with differing concentrations of dissolved organic carbon
French
Julia Gabrielle Barnes ( 2014)
LaThéorie et la pratique de la traduction d'un roman Haïtien contemporain.
Anna Priscilla Ciriani Dean ( 2012)
La décentralisation culturelle en France: Succès et défis pour l'art contemporain dans la région Midi-Pyrénées
Alyssa Marie Coltrain ( 2011)
"Ab votz d'angel": la voix des troubadours pendant la croisade Albigeoise
Anna Catherine Cumbie ( 2008)
Comment la politique linguistique française influence-t-elle et définit-elle l'identité occitane contemporaine? [English title: How does French language policy influence and define contemporary Occitan identity?]
Molly Elizabeth DiLeonardi ( 2015)
Manifestations of Linguistic Hegemony in Francophone Africa
Alicia Anne LeBlanc ( 2007)
Le mouvement ni putes ni soumises: le pouvoir d'améliorer la vie des jeunes femmes dans les banlieues françaises
Joojo Odomfoneba Ocran ( 2017)
La Françafrique: L'Ombre de la France sur l'Afrique
French and Francophone Studies
Jillian Paffenbarger ( 2018)
Construction of Washington, D.C. and Modern Paris: Cultural Ideologies  Reflected in Capital Cities
Geology
Michael Edward Burns ( 2007)
Taxonomic Utility of Ankylosaur (Dinosauria, Ornithischia) Osteoderms: Glyptodontopelta Mimus Ford, 2000- a test case
Gwen Elizabeth Dunnington ( 2010)
Recurrence and Flow Direction of Glaciers across the Kawdy Plateau, northern British Columbia
Breana Marquette Hashman ( 2012)
Organic-poor Neoarchean Banded Iron Formations From the Slave and the North China Cratons
Courtney Elizabeth Haynes ( 2009)
Geochemical Analysis and Comparison of Two Legacy Sediment Sites Within the Yellow Breeches Creek Watershed, Cumberland County, PA
Margaret Scott Jackson ( 2007)
Kinematics of the Susquehanna River Valley
Alexander Saylor Lloyd ( 2007)
Plagioclase Growth Rates in Pillow Basalts: A Study in Crystal Size Distribution and Thermal Modelling
Christine Miller ( 2010)
Homogeneity of the Lithospheric Mantle Beneath the Canadian Cordillera: Petrographic Study of Xenoliths from Craven Lake, BC
Marci Allison Wills ( 2010)
A Study of Progressive Deformation in the Hinge of the Pennsylvania Salient; Southern Valley and Ridge Province, Perry County, PA
German
Joshua Ben Eisen ( 2014)
"Konvergenz der Musik und Kunst: die Entwicklung von Atonalität und Abstraktion in der Moderne"
Peter Robin Hechler ( 2014)
"Der richtige Einfluss Nietzsches"
Sarah Jane Heim ( 2007)
Meinungs Freiheit in Deutschland
Julie Phillips King ( 2012)
Erneuerbare Energien eines umweltbewussten Landes: politische und historische Zusammenhänge einer Wende in Deutschland
Rachel Lynne Schilling ( 2016)
Bauer statt Prinzessinnen: Das Volk Als Thema und seine Darstellung in den Kinder-und Hausmärchen
History
Darcy Colleen Benson ( 2014)
Communist, Foreigner, Résistant? Post-war Commemoration of Missak Manouchian and Marcel Langer
Denise Rose Del Gaudio ( 2010)
"I have not told the worst by any means. It could not be put in print": The Transatlantic Voyage of Euro-Immigrants to the United States, 1841-1900
Leah Adair Foran ( 2007)
The Fugitive Slave Crisis and Personal Liberty Laws in Pennsylvania: The Breakdown of Comity in Antebellum America and the Coming of the Civil War
Sarah Michal Goldberg ( 2018)
In the Hands of Its Mothers: Georgia Swift King, Temperance, and the Challenges of African American Progressivism
Krista Lauren Gray ( 2009)
An Embrace of Ritual: Holy Communion Handbooks in Restoration England
Patrick Sidney Kelly ( 2009)
Carlisle Awakened: A Study of Revival, Reform, & Retreat in a Pennsylvania town, 1815-1848
Kathleen Jane Lange ( 2015)
Child's Play? The Role of Children in the 1918 Influenza Epidemic in New Zealand
Anna Lovett ( 2010)
Found in Translation: Dr. Julia Morgan and the Adaptation of Protestant Missions in China
Rachel Elizabeth McCool ( 2007)
When the papists were there rampant: Catholics and Anti-Catholicism in the English Popular Prints, 1660-1688
Joanne Leigh Phillips ( 2009)
Godless, Deluded, and Without Integrity: The American Board of Commissioners for Foreign Missions' Representations of Islam and American Indian Religions during the Nineteenth Century
Sarah Marie Poole ( 2011)
Picturing the Modern Woman: American Women's Magazines, 1890-1910
Caroline E Radesky ( 2009)
"Man's Domain": Shifting Notions of White Elite Masculinity at Dickinson College, 1878-1910
Donald Eugene Sailer ( 2009)
Piedmont Unionists: Harpers Ferry to Fort Sumter
Elizabeth Margaret Schroll ( 2010)
Polemical rhetoric in the American Revolution
Rebecca Burton Solnit ( 2012)
The Forgotten Lobby: Advocates for India in the U.S. during World War II
Eric Matthew Souder ( 2010)
The People's Peasant: Lev Nikolaevich Tolstoy and the Russian Populist Movement
Frank Charles Vitale ( 2016)
"The Beds Are Full But All the Occupants Are Getting Better": An Institutional History of Medicine at the Carlisle Indian School
Victoria Lynne Waldron ( 2015)
Female Playwrights of the Restoration: The Relationship Between Society and Writer
International Business & Management
Cole Edward Ahnell ( 2015)
Honors in International Business & Management
Madison Ali Alley ( 2016)
Departmental Honors in International Business & Management
Ross Morgan Anstaett ( 2011)
A Case Study of the VEJA Corporation
Tara Wallin Black ( 2016)
Departmental Honors in International Business & Management
Adrian Sarah Broderick ( 2008)
Genzyme: The Gaucher Initiative
Jennifer Lynn Bruneau ( 2007)
"Ge Gu": Corporate Strategy in China
Shumei Chen ( 2009)
Honors in International Business & Management
Elisabeth Jean Christino ( 2011)
Veja: Sneakers with a Conscience - A Case Study
Benjamin Russell Fixsen ( 2011)
A Case Study of the VEJA Corporation
Tamoghna Ghosh ( 2007)
"Ge Gu": Corporate Strategy in China
Grant Albert Hastings ( 2008)
Case Analysis Presentation: Genzyme
Steven Kyle Haynes ( 2015)
Honors in International Business & Management
Pia Corinna Holtmeier ( 2016)
Departmental Honors in International Business & Management
Razvan A Isac ( 2010)
Case Study and Analysis of Bunge Limited
Swechha K.C. ( 2012)
Jain Irrigation Systems Limited Business Case Analysis
Benjamin Wilson Klauer ( 2016)
Departmental Honors in International Business & Management
Yelyzaveta Volodymyrivna Konovalova ( 2018)
Departmental Honors in International Business & Management
Zhi Li ( 2017)
Business Case Study
Shuwei Li ( 2015)
Honors in International Business & Management
Yiqun Liu ( 2015)
Honors in International Business & Management
Han Mei ( 2012)
Jain Irrigation Systems Limited Case Analysis
Marian Christian Mueller-Wolf ( 2013)
(No TItle)
My Tra Nguyen ( 2017)
Business Case Study
Hieu Trung Nguyen ( 2013)
(No Title)
Anh Minh Nguyen ( 2010)
Bunge: Food, Fuel and World Markets
Luan Manh Nguyen ( 2010)
Bunge Limited: How BIo-fuel Fits into a Global Agribusiness Business Model
Marie-Noelle Obianuju Nwokolo ( 2016)
Departmental Honors in International Business & Management
Joojo Odomfoneba Ocran ( 2017)
Business Case Study
Berkay Oncel ( 2009)
Grupo Bimbo
Kye Ryong Park ( 2017)
Business Case Study
Catherine Rose Poos ( 2010)
Case Study and Analysis of Bunge Limited
Kiril Konstantinov Popov ( 2008)
Case Analysis Presentation: Genzyme
Benjamin Christopher Rafetto ( 2009)
Grupo Bimbo: Case Analysis
Gregory Jordan Reis ( 2017)
Business Case Study
Jiyuan Ren ( 2015)
Honors in International Business & Management
Megan Helga Salerno ( 2018)
Departmental Honors in International Business & Management
Matthew Neil Schmiemann ( 2011)
Honors in International Business & Management
Rohan Sen ( 2008)
Genzyme's Gaucher Initiative: Global Risk and Responsibility
Tsering Yanji Sherpa ( 2016)
Departmental Honors in International Business & Management
Bryce Andrew Stevenson ( 2013)
(No TItle)
Gerald Philip Stevenson ( 2010)
The Operations of Bunge, an International Agritrade Business
Anton Ivanov Stoyanov ( 2009)
Grupo Bimbo
Michael Nathaniel Supp ( 2011)
Vega Ethical Shoe Company Case Analysis and Department Presentation
Pablo Thaler ( 2007)
"Ge Gu": Corporate Strategy in China
Leah Joan Tremblay ( 2013)
(No Title)
Trang Ha Truong ( 2016)
Departmental Honors in International Business & Management
Katherine N Woodhouse ( 2015)
Honors in International Business & Management
Ouwen Xia ( 2012)
Jain Irrigation Systems Limited Business Case Analysis
Yan Yu ( 2012)
Jain Irrigation Systems Limited Business Case Analysis
Xiaoyu Zhong ( 2012)
Jain Irrigation Systems Limited Business Case Analysis
Zigui Zhou ( 2017)
Business Case Study
International Studies
Zachary Winslow Abbott ( 2016)
Departmental Honors in International Studies
Ellen Lacek Aldin ( 2013)
(No TItle)
Prateek Dayanand Allapur ( 2015)
Honors in International Studies
Tristan Arnold ( 2018)
Departmental Honors in International Studies
Mofeyisayo Ayomidun Ayodele ( 2009)
The Effectiveness of Foreign Aid in Africa
Jenna Saunders Banning ( 2010)
The Role of the European Union in the Middle East Peace Process
Hristo Tanev Banov ( 2008)
Honors in International Studies
Rebecca Saralyn Ben-Amou ( May )
Honors in International Studies
Andrea Lauren Bisbjerg ( 2018)
Departmental Honors in International Studies
Gina Michele Del Tito ( 2010)
AFRICOM: The Militarization of American Foreign Policy, or the "civilianization" of the American military?
Anne Elizabeth Donovan ( 2007)
French Policies of Cultural Protection in the Face of Anglo-American Culture
Austen Ellsworth Dowell ( 2017)
Honors in International Studies
Caroline Erin Elkin ( 2015)
Honors in International Studies
Richard Austin Farneth ( 2012)
Honors in International Studies
Alexandra Elizabeth Farrand ( 2016)
Departmental Honors in International Studies
Richard Todd Fowler ( 2007)
The Folly of Applying Golden Straight Jacket Theory in China
Elitsa Plamenova Gosheva ( 2010)
Honors in International Studies
Keziah Donnocker Groth-Tuft ( 2017)
Honors in International Studies
Meaghan Elaine Gruber ( 2007)
The Consequences of Neoliberal Economic Policy in Nicaragua
Trang Minh Linh Ha ( 2013)
(No Title)
Anna Lisa Hansen ( 2012)
Honors in International Studies
Pauline Hovy ( 2010)
From Separatist Movement to Nation-State: The Influence of Great Powers in South Ossetia, Abkhazia and Kosovo
Zhenhao Huang ( 2018)
Departmental Honors in International Studies
Nicholas Michael Allen Iorio ( 2009)
Honors in International Studies
Michael Patrick Kelley ( 2007)
Marginal Utility: France as a Strategic Partner to the U.S.
Eleanore Kristiane Koontz ( 2008)
The Politics of Brazil - Argentina Economic Integration
Brian Spencer Krusell ( 2011)
Honors in International Studies
Erica Katherine Lally ( 2008)
Siberian Solution? Russian-Iranian Relations and the Iranian Nuclear Question
Grace Hemphill Lange ( 2012)
Honors in International Studies
Anna H Leistikow ( 2015)
Honors in International Studies
Conor James McLaughlin ( 2016)
Departmental Honors in International Studies
Kathryn Wilhite McNamara ( 2011)
Context, cautions, and the way forward: prospects for increased U.S. military cooperation with Algeria and Libya
Catherine Rogers Munger ( 2018)
Departmental Honors in International Studies
Eric David Neumeister ( 2015)
Honors in International Studies
Norma Jean Park ( 2018)
Departmental Honors in International Studies
Joanna Parker ( 2009)
Honors in International Studies
Sara Hilands Ramsay ( 2012)
Honors in International Studies
John Marshall Richards ( 2009)
China's Long March Towards Democracy
Lindsay Marie Robinson ( 2008)
Decentralization in Sub-Saharan Africa: Uganda, Kenya, and Ethiopia in Comparative Perspective
Lauren Amanda Schoneker ( 2011)
The Ideology of Gaullism: The Foundations of European Leash-Slipping
Katherine Elizabeth Shaw ( 2010)
Climate Change & Conflict in Bangladesh and India
Aiste Skardziute ( 2009)
Honors in International Studies
Rebecca Louise Somple ( 2012)
Honors in International Studies
Kim Michele Starfield ( 2012)
Honors in International Studies
Elizabeth D Stokely ( 2008)
Perón, Menem and Kirchner: The Enduring Legacy of Peronist Populism and the Argentine Political Economy
Elizabeth Anne Stuhr ( 2012)
Honors in International Studies
Tiffany Rae Tucker ( 2010)
Honors in International Studies
Catherine Kirkbride Villada ( 2010)
The Effects of Political Islam in Turkish EU Accession
Corinne Elizabeth Waite ( 2012)
Honors in International Studies
Alec Richmond Ward ( 2018)
Departmental Honors in International Studies
Samuel Albert Weisman ( 2018)
Departmental Honors in International Studies
Amanda Cate Wernicke ( 2011)
Complements to the Chef: Europe's Common Security and Defense Policy Interventions and U.S. Interests
Heidi Elizabeth Wissel ( 2010)
Honors in International Studies
Courtney Eve Wojcik ( 2017)
Honors in International Studies
Merin Klingel Yu ( 2011)
Liberalization of the European Union Natural Gas Market: An Internal Solution to an External Problem
Averyann Rose Zuvic ( 2013)
(No TItle)
Italian Studies
Thera Dal Pra Iversen ( 2017)
Contro i margini: L'amica geniale tra dimensione personale e narrativa.
Delphine Dall'Agata ( 2017)
L'orto in città:​ dalle radici storiche alle pratiche ​contemporanee. Agricoltura, pedagogia, recupero urbano e interculturalità in quattro casi di studio nel contesto bolognese.
Ashton Elizabeth Fiucci ( 2015)
L'immigrazione e le questioni irrisolte: gli efetti giuridici sulla condizione degli immigrati nel cinema
Natalie B McNeill ( 2017)
Il Parco del Mincio: Un caso di studio interculturale. Dall'organizzazione del Parco e regolamentazione del volontariato alla definizione e creazione di un watershed
Vivian F Sicilia ( 2015)
'L'infiltrata:' il caso di Ksenia Rappoport, una donna straniera nel cinema italiano
Judaic Studies
Terri Leah Soifer ( 2012)
From Ocean Parkway to Rodeo Drive: The Communal Organization of the Syrian and Iranian American Jewish Communities
Latin American, Latino & Caribbean Studies
Elizabeth Marin ( 2018)
Echándole ganas: Identity and Resilience in Oral Histories of Women of Mexican Descent at Dickinson College
Amanda Jo E Wildey ( 2013)
The Local and the Global in Andean Agriculture: Technical Changes and Rural Economy in Coporaque, Peru
Latin American, Latino, & Caribbean Studies
Olivia Greer Migliori ( 2017)
Prayers of Peace and Protest: The Relationship between the Catholic Church and Chile's Socialist and Military Governments (1970-1990)
Polly Warner Terzian ( 2017)
The Ni Una Menos Movement in 21st Century Argentina: Combating More than Femicide
Law & Policy
Terra Renee Barrett ( 2007)
The Law and Policy of No Child Left Behind
Mitchell Aaron Bashur ( 2008)
On the Role of the Public Defender in the Juvenile Justice System
Megan Elizabeth Burke ( 2007)
Women and Sexual Crime in Pennsylvania: An Evaluation of Efficacy of the Law
Jessica Ann Colliver ( 2011)
The law will not go behind the curtain: Battered Woman Syndrome, Feminist Legal Theory, and Reasonable Sex Equality in the Law
Ashley Kaye Damewood ( 2008)
Justice on the Grass: The Failures of International Law and the Emergence of Post-conflict Legal Responses in Africa
Amy Marie Fly ( 2015)
Systematic Pre-Execution Delay: Both a Source of and a Protection against the Arbitrary Administration of the Death Penalty in the U.S.
Stacey Leigh Foltz ( 2007)
Divorce in the 21st Century
Eleanor Grace Frame ( 2009)
A Better IDEA: Evaluating and Improving Legal Standards for Special Needs Education
Jenna Wrae Long ( 2012)
Rebalancing Labor Negotiations: The Implications of Enacting Righ-to-Work Laws
Jia Ma ( 2016)
The Legal and Political Implications of the NYPD's Counterterrorism Operations Overseas: The International Liaison Program
Kaitlyn Roddy Maxwell ( 2007)
The Future of Brownfield Sites: An Examination of the Effectiveness of the Small Business Liability Relief and Brownfields Revitalization Act in Promoting Redevelopment of Brownfield Sites
Vicki Jaye Morris ( 2011)
Diagnosing Delinquency: A Study of the Overrepresentation of Children with Disabilities in the Juvenile Justice System
Jillian Paffenbarger ( 2018)
Separating Church and State: A Comparative Legal Analysis of Religious Freedom in France and the United States
Sarah Catherine Smith ( 2009)
Is the Peace Sustainable? The Legal Failure of the Good Friday Agreement in Northern Ireland
Mathematics
Fabio Ariel Drucker ( 2011)
Symbolic dynamics with overlapping partitions and cocyclic subshifts
Simon N Feeman ( 2014)
Dynamics of a Family of Eighth-Degree Complex Polynomials
Arthur Jeffrey Goldsmith ( 2007)
Dynamics of the Derivative of the Weierstrass Elliptic Function
Christian R Millichap ( 2008)
Topology of Discretized Configuration Spaces
Ritwik Kumar Niyogi ( 2009)
Dynamical effects of non-linearities and time-varying gain modulation in neurally plausible network models of perceptual decision-making
Katherine Anne Roy ( 2015)
Dynamics of the Real Weierstrass Elliptic Function
Kathryn Anna McAndrew Schlechtweg ( 2014)
On the Generalized Symmetric Spaces of the Semidihedral Groups
Thanh Thien To ( 2011)
Mathematical Techniques for Assigniing First-Year Seminars
Haosong Wang ( 2012)
Dynamics of the Complex Hyperbolic Cosine-Root Family
Paul John Winkler ( 2007)
Circle Maps
Yujia Zhou ( 2013)
Classification of symbolic dynamics for one-dimensional dynamical systems with overlapping regions
Mathematics & Computer Science
Jared A Lease ( 2007)
Coefficient Shifting to Improve Glover's Linearization of the Heaviest K-subgraph Problem
Scott Joseph McHugh ( 2007)
Small World Structures in Evolved Neural Networks
Medieval & Early Modern Studies
David Robert Baron ( 2007)
Foreign Humanity: Frankish-Muslim Relations Around the Time of the First Crusade
Thomas Bradley Elrod ( 2008)
"And All the Court Laughed Loud": Colonialism and Satire in "Sir Gawain and the Green Knight"
Amy Michelle Hall ( 2012)
Honors in Medieval & Early Modern Studies
Christopher Samuel Striker ( 2013)
Saints' Bones or Sinner's Words?: Rhetorical Destabilization, Chaucer's Pardoner, and Boccaccio's Frate Cipolla
Music
Morgan M Bates ( 2018)
Statements and Songs: A Senior Recital
Alicia Tessa Bazell ( 2018)
A Senior Flute Recital
George Gray Bowerman ( 2012)
Music Performance in Piano
Isabel I Burlingame ( 2015)
Performance Studies Recital
Michael Philip Daniel ( 2017)
Honors in Music
Ann Ruth Fogler ( 2015)
Performance Studies Recital
Michael Williamson Hoke ( 2012)
Music Performance in Voice
Katya Renn Hrichak ( 2017)
Honors in Music
Elizabeth Eleanor Johnsen ( 2017)
Honors in Music
Ryan Thomas Karr ( 2013)
Clarinet performance: senior recital
Holly Clare Kelly ( 2015)
Performance Studies Recital
Ryan Abel Koons ( 2010)
Dancing Breath: A Study of Music, Dance, and Cosmology at Tvlwv Pvlcekolv
Skylar L Mead ( 2017)
Honors in Music
Matthew Samuel Orwitz ( 2013)
French horn performance: senior recital
Edwin Jordan Padilla ( 2016)
Departmental Honors in Music
Elyssa Faye Plotkin ( 2009)
Senior Music Performance Recital (clarinet)
Ilana Rainero-de Haan ( 2012)
Enter: Life, a composition for tenor and seven instruments
Stephen Andrew Reale ( 2014)
The Eldritch Dark
Brian Douglas Reid ( 2017)
Honors in Music
Eric Daniel Rosenstein ( 2011)
A symbol and tool of hybridity: the organ and its role in reform Judaism
Megan Elizabeth Sarno ( 2009)
Returning to Oneself: Debussy, French Nationalism, and "Le Culte de Moi"
Cailin K Smith ( 2018)
Heard and Not Seen: A Senior Recital
Rachael Marie Smith ( 2016)
Departmental Honors in Music
Henry Joel Usher ( 2007)
Sea Tides
Shuchang Yang ( 2016)
Departmental Honors in Music
Neuroscience
Sterling Pacifica Arjona ( 2016)
Histology and Anatomy of the Faveolar and Saccular Lung in Boa Constrictors
Jessica L Bell ( 2018)
Carbon Dioxide-Induced C-Fos Expression in Central Respiratory Chemoreceptors and Development of Respiratory Behavior in Embryonic Mice
Gabrielle Bernstein Frenkel ( 2016)
Cognitive and Social Treatments in a Model of Alzheimer's Disease
Rodney D Jones ( 2017)
Neural and Physiologic Correlates of Health-Related Social Identity Threat
Tiffany Nicole Kimbrough ( 2007)
The Effects of Learning and Stress
Zhen Li ( 2011)
The Relationship of Protein Kinase C and Nitric Oxide Signaling in Metamorphosis of Marine Gastropod Larvae, Crepidula fornicata
Li-Yu Liu ( 2011)
Exploring Cell Dissociation in Larval Metamorphosis of the Gastropod Crepidula fornicata
Kelly Marie Lohr ( 2010)
Sex Differences in Carbon Dioxide-Driven Activation of the Retrotrapezoid Nucleus in Fos-Tau-LacZ Mice
Stacey Kathryn Mardekian ( 2008)
Assessment of the Cholinergic and Dopaminergic Systems in Mediating the Acquisition and Expression of Nicotine Conditioned Taste Aversion
Ritwik Kumar Niyogi ( 2009)
Honors in Neuroscience
Madison Anna Parks ( 2017)
Functional Development of Central Chemoreceptors & Onset of Fetal Breathing Movements in Mice
Sara Stokes Patterson ( 2014)
Blue Color Vision Sensitivity in Attention Deficit Hyperactivity Disorder
Kristen Ashley Ratner ( 2012)
The effect of SCH 23390 on extinction of conditioned hyperactivity in Swiss Webster mice
Elizabeth Carney Thorsteinson ( 2009)
C-fos Expression Increases Significantly in the Cerebellar Fastigial Nucleus Following Exposure to 10% Crbon Dioxide in FTL Mice
Andre O'Neil White ( 2011)
Prazosin Disrupts Drug-Memory Consolidation
Songhui Zhao ( 2013)
Mechanosensory regulation of metamorphosis in a marine larva
Philosophy
Andrew Joseph Barron ( 2011)
The Empirical Untenability of Sentient Artificial Intelligence
Adam Laufer Berman ( 2014)
Blameless Resentment: A Critique of Strawson
Chaney Brinkman Burlin ( 2013)
A Defense of Michael Williams' Theoretical Diagnosis of Skepticism
Alexander Chester Cameron ( 2008)
Elevating the Discourse: There is no "I" in Team
Kirsten Rose Dedrickson ( 2015)
Moral Realism and Moral Disagreement
Caitlin Marie Doak ( 2016)
Queer Ecology
Zachary George Garrett ( 2017)
Conjoined Twinning: Answers from Animalism
Paul Joseph Gaver ( 2015)
Constructivism in Meta-Ethics
Matthew Douglas Hartwig ( 2011)
A Critique of Kymlock's Liberal Multiculturalism in Philosophy
Amanda Ruth Lagji ( 2009)
"Willing Liberates": Nietzschean Heroism in Tsitsi Dangarembga's "Nervous Conditions"
Amanda Ruth Lagji ( 2009)
The Postcolonial Feminist Nietzschean Heroism in Tsitsi Dangarembga's "Nervous Conditions"
John Walter Leibundgut ( 2018)
Explaining the Referent of "We": An Explanatory Answer to Olsen's Question
Molly Kathleen Mullane ( 2015)
Philosophy and Advising the Sciences: Determining if Non-Human Animals Attribute Mental States
Lanea Elaine Pearson ( 2017)
Omnipotence in a Physical World
Claire Louise Pizzurro ( 2012)
How Kierkegaard and Dewey's Philosophical Conceptions of The Public Are Manifested through Social Media
Anna Catherine Pusack ( 2010)
The Place of the Globalized World: Nishida Kitaro and Japanese Ultra-nationalism
Jeffrey Christopher Reese ( 2007)
Illumination in Saints Augustine and Maximus the Confessor: Differing Emphases within a Common Neoplatonic Heritage
Annamaria Vicenta Santini ( 2013)
Reliabilism and Context
Cara Maria Sgobba ( 2008)
A Virtue Situationist Approach to Business Ethics
Alexandra Jenny Shapiro ( 2015)
Authenticity
Alison Ann Springle ( 2011)
Wittgenstein Thesis
Marguerite Stevenson ( 2015)
Philosophy and Literature
Jessica Anne Sykes ( 2016)
The Akan Conception of Persons
Wuji Zeng ( 2011)
Epistemology Research
Physics
Daniel Harrison Barnak ( 2010)
Exploration of the Anode Position Parameter in a Closed Drift Hall Thruster
Ritoban Basu Thakur ( 2008)
Experimental Studies of Intrinsic Localized Modes: The Coupled Pendulum Array and Bi-inductance Electrical Lattices
Marc Julien Besson ( 2015)
Stability and Intrinsic Localized Mode formation on Ferromagnetic Lattices
Melia Elizabeth Bonomo ( 2013)
Analyzing the singularities of freezing sessile water droplets
Sean Robert Brannon ( 2008)
Computational Model of Magnetic Field Oscillations in a Closed Drift Hall Thruster
Zachary Lee Carson ( 2010)
Quantum optics: implementing Hardy's Test of Local Realism
Edward Wayne Cramp ( 2007)
The Operation and Preliminary Diagnosis of a Plasma Hall Thruster
Natalie Griffin Ferris ( 2018)
Double-Slit Interference with Partially-Coherent Light
Stuart Russell Flury ( 2012)
X-Ray and Optical Spectral Studies of Compton-thin Seyferts Detected by the Swift/BAT
Christopher Brandon Fritz ( 2017)
Nonlinear Dynamics of Pulsing Oscillators
Nicole Elizabeth Fronsdahl ( 2016)
Investigation of a Solar Air Heater and its Optimal Efficiency
Kristina Teresa Johnson ( 2008)
Exploration of the Coupling Oscillation in a Plasma Hall Thruster
Benjamin Joseph Kimock ( 2015)
A Computational Investigation of Intrinsic Localized Modes in Magnetic Sheets: the Role of Shape-dependent Demagnetizing Fields
Ryan Irwin Lane ( 2014)
Modeling the Evolution of the Cataclysmic Variable V723 Cassiopeia
Kyle Lewis Liss ( 2016)
Anharmonic Coupling in Multi-Dimensional Molecular Dynamics
Michael Kiernan Murphy ( 2008)
Development of a Pulsed Femtosecond Laser Lab and Multiphoton Microscopy Proof of Concept
Ritwik Kumar Niyogi ( 2009)
Synchronization and Hebbian learning in a network of coupled neural phase oscillators
Kristen Ann Recine ( 2011)
Modeling the Evolution of the Cataclysmic Variable V723 Cassiopeia
Tyler Richey-Yowell ( 2017)
Characterizing Short Period Eclipsing Binaries in the Field of NGC 2362
Katherine Anne Roy ( 2015)
Fundamentals and Applications of Ultrasound Imaging
Ryan Alan Stearrett ( 2007)
Experimental Generation of Intrinsic Localized Modes in a Nonlinear Electrical Transmission Line
Liam Timms ( 2013)
Modeling Neural Networks with Kuramoto Oscillators: Spatially Embedding Dynamically Coupled Arrays
Christine Ann Welling ( 2012)
Photometry of Under-Observed RR Lyrae Variable Stars: GM Orionis
Samuel George Wheeler ( 2010)
Experimental Studies of Backwards-Wave Phenomena in a Nonlinear Electrical Lattice
Policy Management
Stephanie Jean Applegate ( 2017)
Policy Solutions for Securing Permanent Housing for the Homeless in Carlisle
Rachel Lynn Berkey ( 2007)
Reformation of the nonprofit sector: how its development has increased the need for regulations and accountability
Policy Studies
Kelly Joyce Rogers ( 2010)
Taxation Policy on Natural Gas Extraction in Pennsylvania
Political Science
Abigail Phillips Adams ( 2011)
Campaigning 2.0: New Media, Messaging, and Grassroots Organization in the 2008 Presidential Election
Peter Charles Backof ( 2007)
Distributing Speech: How the Internet Improves Democratic Access to the Mediated Public Sphere
Brian Bradford Booher ( 2008)
Countering a Global Trend: Popular Responses to Neoliberalism in Chile, France, and Australia
Christopher Lee Bowman ( 2012)
Locke, the Declaration, and the Constitution: Natural Rights, Social Contract theory, and Property and their tension in the Imperfect American Founding
Thomas Matthew Carey ( 2011)
The Emergence and Strategic Orientation of Violent Islamist Movements Examining the Armed Islamic Group, the Islamic Group, and al-Quaeda in the Arabian Peninsula from the Perspective of Social Movement Theory
Rehoboth Ketema Gesese ( 2017)
Taking Consent Seriously: An Anarchist's Critique of Liberalism
Samem Jabarkhail ( 2011)
The Pashtu dilemma: historical lessons in governance and security for contemporary Afghanistan
Anna Katherine Krenkel ( 2012)
Dangerous Diasporas?: A Comparative Analysis of the Impact of Diasporas on Conflict in the Homeland
Emilia Eleanor McManus ( 2015)
Immigration Policy in Southern Europe from 1990-2010: A Comparative Perspective
Meredith Karen Meisenheimer ( 2011)
The Effects of Democratization and Internet Penetration on Terrorist Recruitment
Benjamin Abraham Midanek ( 2008)
Developing Democracy: A Probabilistic Framework for Assessing Preconditions to Democracy in Later-Developing Countries
Caitlin Elizabeth Moriarty ( 2013)
Electoral Authoritarianism in Russia
Celina Marie Natzic ( 2018)
Effects of Armed Conflict on Women's Political Participation: A Study of Selected Civil Wars in the Arab World.
Darrell Ian Pacheco ( 2012)
Interest Group Branding and the Private Donation Habits of Lobbyists
Cynthia Lynn Polasko ( 2010)
Judicial Reasoning Has No Expiration Date: An Analysis of the Natural Cycle Theory as Applied to the Supreme Court of the United States
Abigail May Preston ( 2016)
Speech or Sex: The Porn Debate and American Politics
Emily Louise Pryor ( 2014)
Democrats and the Death Penalty: An Analysis of State Democratic Leaders and Public Opinion
Christopher Albert Roberts ( 2011)
China, Reform, and Economic Development in sub-Saharan Africa
Lindsay Marie Robinson ( 2008)
Decentralization in Sub-Saharan Africa: Uganda, Kenya, and Ethiopia in Comparative Perspective
Zachary Irving Rosenberg ( 2009)
"This is My City": Mayor Richard J. Daley, Chicago, and the Politics of Police Repression
Shayna Elise Solomon ( 2016)
Shifting Discourses of Tolerance: The framing of Muslim minorities in the U.S. and the UK before and after national traumas
Katie Lynn Stewart ( 2010)
Was It the Luck of the Irish? A Comparative Analysis of the Levels of Success Attained by the Irish and Basque Nationalist Movements
Alexander Lawrence Stout ( 2007)
Presidential leadership of Congress: Woodrow Wilson, the New Freedom, and the 63rd Congress, 1913-1915
Kimberly Caitlin Wallace ( 2010)
Riyals, Dinars, and Dirhams: Political Inclusion of Migrant Workers in GCC Member States
Maximilian Weylandt ( 2013)
Decentralization and Political Corruption in Sub Saharan Africa
Aaron Mark Williams ( 2009)
In Theory or in Practice: Legitimizing Characteristics of Judicial Review in England
Psychology
Kelly Marie Anastasi ( 2008)
Can Information About Eating Disorders Improve College Students' Mental Health Literacy and Lower Their Agreement with Eating Disorder Stereotypes?
Peter Andrew Bruland ( 2012)
Effects of Diagnosis and Evidence Type on Insanity Defense Outcomes and Juror Perceptions
Bettina Mariel Cerban ( 2010)
Judging Smokers: How Anger and Disgust Shape Our Moral Beliefs
Jennifer Frances Chmielewski ( 2010)
Lesbian and Bisexual Women's Body Image: Negotiating Intersections of Identity
Elizabeth Catherine Conti ( 2009)
Gender Differences in Motivation, Behavior and Achievement in a Math-related College Course
Katherine Anne DeBroeck ( 2018)
Touch in Sexual Encounters: Perceptions of Partners' Consent
Sarah Helweg DiMuccio ( 2015)
The Precariousness of Manhood and Womanhood in the U.S.
Diliana Blagovestova Funtarova ( 2011)
Phantom effects, or what happens when I can't get what I want
Parisa Renee Kaliush ( 2014)
Disordered Eating in Female Collegiate Athletes: Investigating the Relationships between Coaching and Parenting Styles, Psychological Needs, and Self-Determined Motivation
Alyssa Monika Minnick ( 2013)
An Experimental Investigation of Fat Talk Among College Women
W John Monopoli ( 2011)
Understanding Risks for Conduct Problems
Sara Anne Moss ( 2014)
Rethinking Recovery: Posttraumatic Growth Through Eating Disorder Recovery
Maia Thi Nguyen ( 2012)
Limited Environmental Enrichment Blunts Methamphetamine Sensitization in Young Mice
Loren Juliette Tyson Pease ( 2013)
'What Did You Do Last Night?': How Sharing Hookup Narratives Impacts Friendships and Displays Status Among College Women
Creighton Taylor Putnam-Majarian ( 2011)
Decision-making between Different Sized Choice Sets: How the Number of Available Options Affects Peak Satisfaction
Laura Michelle Rockman ( 2007)
Unconscious semantic processing of visually masked words by third-, fourth-, and fifth-grade children
Maya Caitlin Rose ( 2013)
The Effects of Early Diagnosis and Intervention on Success Among Postsecondary Students with Learning Disabilities
Margaret Rose Tobias ( 2010)
Judging Fatness: The Effects of Emotion on Moral Judgment and Moral Judgment of Emotion
Deana Maryann Vitrano ( 2012)
Comparing Perception and Imagination at the Visual Cortex
Julia West McGinley ( 2008)
Stigma and Beliefs About Eating Disorders in a Sample of College Women
Religion
Ryan Lindsay Corbett ( 2013)
From Liberation to Coexistence: Redefining Palestinian Liberation Theology
Alexander William Froom ( 2008)
Living the Narrative: The Reflection of Navajo Mythology in Navajo Social Institutions
Zachary George Garrett ( 2017)
Death to the World: the Last Punks-Monks
Kathleen Louise Getaz ( 2017)
Religious Actors in Intractable Conflict: Case Studies from the Israel-Palestine Conflict
Amanda Michelle Gvozden ( 2015)
Therapeutic Effects of Spiritual Practice for Individuals with Temporary Lobe Epilepsy
Samantha Kimberle McGovern ( 2010)
Ardhan쒁rїśvara within the God-Image: An Exploration of the Androgynous Deity in Hindu Tantra and Jungian Psychology
Jeffrey Christopher Reese ( 2007)
Illumination in Saints Augustine and Maximus the Confessor: Differing Emphases within a Common Neoplatonic Heritage
Christian Morgan Sweger ( 2018)
Self and Service: The Grounds of the Engaged Spirituality of Thomas Merton and Thich Nhat Hanh
Justin Cassius Wisner ( 2009)
The Resurgence of Enochic Religion
Rebecca Jane Worsham ( 2007)
The Eleusinian Mysteries: The Archaeology of the Ritual
Russian
Margaret Ann Browndorf ( 2008)
The Carnivalesque OBERIU: Poetics of the Body in the 1930s Writings of Nikolai Oleinikov, Aleksandr Vvedensky, and Daniil Kharms
Simon Gaetano Ciccarillo ( 2016)
Russia, Latin America, and the Conflict in Ukraine
Kara Lynn Elder ( 2011)
Utopian Vision, Industrial Realizations, and Dystopian Realities
Caroline Erin Elkin ( 2015)
The Vocabulary of Green Politics through Kazakhstan's Green Economic Policies
Kimberly Ann Ferington ( 2011)
Vrubel's Demon in the Context of Nineteenth-Century Literature
Michael Williamson Hoke ( 2012)
A Nationalist and a Conservative: The Search for a Reconciliation of Apparent Dichotomies in the Art Songs of P.I. Tchaikovsky and S.V. Rachmaninov
Jonathan Gallegos Ontiberos ( 2011)
Honors in Russian
Yvonne Suzanne Robbins ( 2009)
Honors in Russian
Allison E Stroyan ( 2018)
Russian ikan'e and akan'e in Learners with L1 American English
Andrei Nikolas Vernon ( 2012)
Oil in the Russian Federation: An Examination of the Short and Long-term Environmental Impacts of the Komi Oil Spill
Russian Area Studies
Margaret Ann Browndorf ( 2008)
The Carnivalesque OBERIU: Poetics of the Body in the 1930s Writings of Nikolai Oleinikov, Aleksandr Vvedensky, and Daniil Kharms
Self-Developed: Film Studies
Jamie Kathleen Sweeney ( 2013)
Subverting Paradigms of Storytelling in Buffy the Vampire Slayer
Self-Developed: Intellectual History
Alexander Patton Bloom ( 2011)
The Populist Rhetoric of American Politics: Conservative and Democratic Discourse as seen through the Populist and Tea Party Movement
Self-developed: Bioethics
Joshua Ian Lapps ( 2008)
Embryonic Stem Cell Research: An Investment in the Future
Sociology
Airlia Rose Choyce ( 2011)
Bisexual Burdens: Individuals with Nonexclusive Attractions Creating Authentic Identities
Hilary Eliza Collins ( 2010)
Negotiating Identities Within Contemporary American Society: Women of the Indian Community of Central PA
Hannah Elizabeth Farda ( 2011)
Societies at War, the Sexes at Peace
Colin Winthrop Macfarlane ( 2012)
The new racial wealth chasm: Asian, Hispanic and African-American wealth inequality in the twenty-first century
Melissa Lee Moreland ( 2009)
"You Think You're Better Than Me?" Symbolic Violence and Upward Mobility: Working-Class at Dickinson College Go Back Home
Katherine Nicolayev Mosher ( 2007)
Muslim women in the Netherlands and the United States: virginity and identity formation
Margaret Lee O'Brien ( 2011)
Elite Colleges or Colleges for the Elite?: A Qualtative Analysis of Dickinson Students' Perceptions of Privilege
Manuel Ignacio Saralegui ( 2009)
The Revolution Will Not Be Represented: From the Bolivarian Process to a Critique of Social Theory
Michele St. Julien ( 2014)
In Our Own Eyes, Through Our Own Voices: Deconstructing the Silence surrounding Systemic Sexual Violence and Black/African American Women.
Giovania Genevieve Tiarachristie ( 2013)
Race, Class, and Food Justice in South Allison Hill
Sara Aubrey Tyberg ( 2016)
Entitlement and Anguish: An Analysis of Masculinity and Misogyny in American School Shootings
Gabriela Uassouf ( 2010)
Valuing Their Voices: HIV/AIDS Activists in an Era of Professionalization and Public Apathy
Carrie Anna Ovensen Vereide ( 2014)
A Student Body of Global Citizens?" International Students' Perceptions and Experiences of Race on Dickinson's Campus
Spanish
Hannah Rae Bortman ( 2008)
A Study of Religion and Gender in Two Latin American Authors
Alexandria Elizabeth De Aranzeta ( 2007)
De Hipócrates al Condado de Adams: Trazando la medicina humoral en literatura y práctica
Ruth Leslie Dicker ( 2010)
Jorge Luis Borges: Language, Desdivinization, and Immortality
Wendy Lorena Gomez ( 2015)
La "re-presentación" de la voz femenina en los textos testimoniales de la Guerra Civil Salvadorena
Christopher Michael Gross ( 2009)
Corrigiendo la historiografía hegemónica: la narración de resistencia de "The Brief Wondrous Life of Oscar Wao"
Ryan Jeffrey Hollm ( 2007)
Simbolism del ser: "La Novela de Don Sandalio"
Kathryn Lee Hughes ( 2014)
Racism and Xenophobia: Representations of the Asian Community in the Spanish Press
Katherine Yancey Leibel ( 2012)
Cura te ipsum: La mala ciencia del autodiagnóstico en dos textos del Siglo de Oro
Vicki Jaye Morris ( 2011)
Las poetas del siglo XIX: su propio tercer mundo
Joanne Maria Sullivan ( 2007)
Honors in Spanish
JoAnna Noor Waterfall ( 2007)
La busqueda del conocimiento: Sor Juana Inés de la Cruz y René Descartes (The Search for Knowledge: Sor Juana Inés de la Cruz and René Descartes)
Amanda Jo E Wildey ( 2013)
Atreverse a proponer: José Maria Arguedas y el indigenismo antropológico
Megan Leigh Wummer ( 2009)
Spanish 550 Thesis
Sarah Kendrick Young ( 2013)
Entre el clavel y la espada, un patriota sin patria: Como el exilio le convirtió a Rafael Alberti en un gran poeta de la Generación del 27 y del siglo XX
Women's & Gender Studies
Hope Elizabeth Kildea ( 2014)
Sex Trafficking and Prostitution Law in Pennsylvania
Julia Margaret Thompson Mercer ( 2018)
Knowledge (of) Reproduction
Sara Michelle Raab ( 2013)
The Perpetuation and Subversion of Gender-Power Dynamics: An Interview Study of the Central Pennsylvania BDSM Community
Shannon Elizabeth Sullivan ( 2009)
Imagined Communities and Embodied Experience: The Creation of a Feminist? Nationalist Identity in Bosnia and Herzegovina