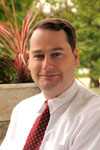 Thank you for taking the time to visit the Dickinson Web site. My name is Michael Montgomery and I am an associate director of admissions at Dickinson.
I see my role less as a "salesman" of the college, but more as a "broker" of information about this excellent school. Through me and my colleagues, students and parents can learn know more about the place that will serve as home, classroom and social cauldron, and about the people who will serve as teachers, mentors and friends for the next few years and beyond. The admission team can help introduce you to Dickinson and the Carlisle area, and also to those who are crucial to the inner workings of the college, who are going to play such important roles in the development of relationships and the overall education embodied by the liberal arts, and specifically at Dickinson. Please let us share with you not just what we know, but whom we know, and please utilize us as conduits for providing information from, making connections to and forging relationships with the college.
Although I am not an alumnus of Dickinson, my undergraduate education and years of prior admission work are at a similar, very selective college, with a strong liberal-arts tradition and a clear understanding of the power of personal connections, civil discourse, responsible (read: sustainable) stewardship and global learning—all of which are hallmarks shared by Dickinson. Ultimately, you may choose to attend Dickinson for these reasons, or because of a host of other intangibles that are difficult to convey without visiting the campus and meeting those who make this such a special place. Our paths are closely paralleled, as I chose to join Dickinson and the admissions staff for all the above reasons. I'm happy to share my insights and experiences, if either may help you navigate through this busy, difficult, but ultimately fulfilling journey.
I would enjoy hearing from you! Please be in touch!
Cheers,

Michael Montgomery
Associate Director of Admissions