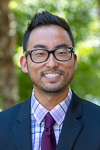 Welcome! I have the pleasure of working with students, families and counselors from Illinois, Northern New Jersey (Bergen, Essex, Hudson, Morris, Passaic and Union counties), Puerto Rico, U.S. Virgin Islands and Southeast Asia.
After living in the Pacific Northwest (Oregon and Washington) for a few years, I recently returned "home" to Central Pennsylvania because I missed the sense of community and working in liberal-arts college environment. Being very intentional about my job search, I ended up choosing Dickinson because of its focus on globalization and sustainability, but also because there was an energy about this place that I just didn't find anywhere else. I appreciate that Dickinson is a place that is unwavering when it comes to its mission and values that keeps students at the center, always.
Why Admissions?

If I could go back and do one thing over in my life, it would have been to approach my college search differently. As a first-generation student, my college search was pretty much non-existent. I only applied to two schools (one being in my hometown).
The college search is a deeply personal process that should be approached with intentionality and thoughtfulness, because where you attend has the power to change the trajectory of the rest of your life. No pressure, right? With over 3,000 colleges and universities to choose from, I love the fact that I get to empower students to decide if Dickinson is the right school for them.
Massey's or Leo's?

Leaving the PNW, where I fell in love with Salt & Straw ice cream, I was worried about where I would get my ice cream fix. But Leo's cornbread flavor has done a surprisingly good job at filling that void! However, with Massey's right down the road from campus, my advice is to get one scoop at one and then one at the other and decide for yourself.
Fun Facts
I have visited 23 countries and 49/50 U.S. states (Alaska, I'm coming for you!).
Kate Flannery, Meredith from "The Office", sent me a personalized video and a signed cast photo. I can show you both if you come visit me on campus!
My favorite place to be is in a U.S. National Park, and I have been to 15 of them so far. They truly are "America's Best Idea".
I'm a photography enthusiast, who loves to document my travels, food and experiences on my Instagram.
As your regional counselor, it is my goal to get to know you as an individual and help you learn more about Dickinson. Feel free to reach out at any point in your search with questions, concerns or recommendations on where I should eat when I'm in your hometown!
All the best,
Rylan Good, M.Ed.
Associate Director of Admissions
goodr@dickinson.edu

Preferred pronouns: he/him/his