Sariah Franklin '25 and CCLA's Days of Service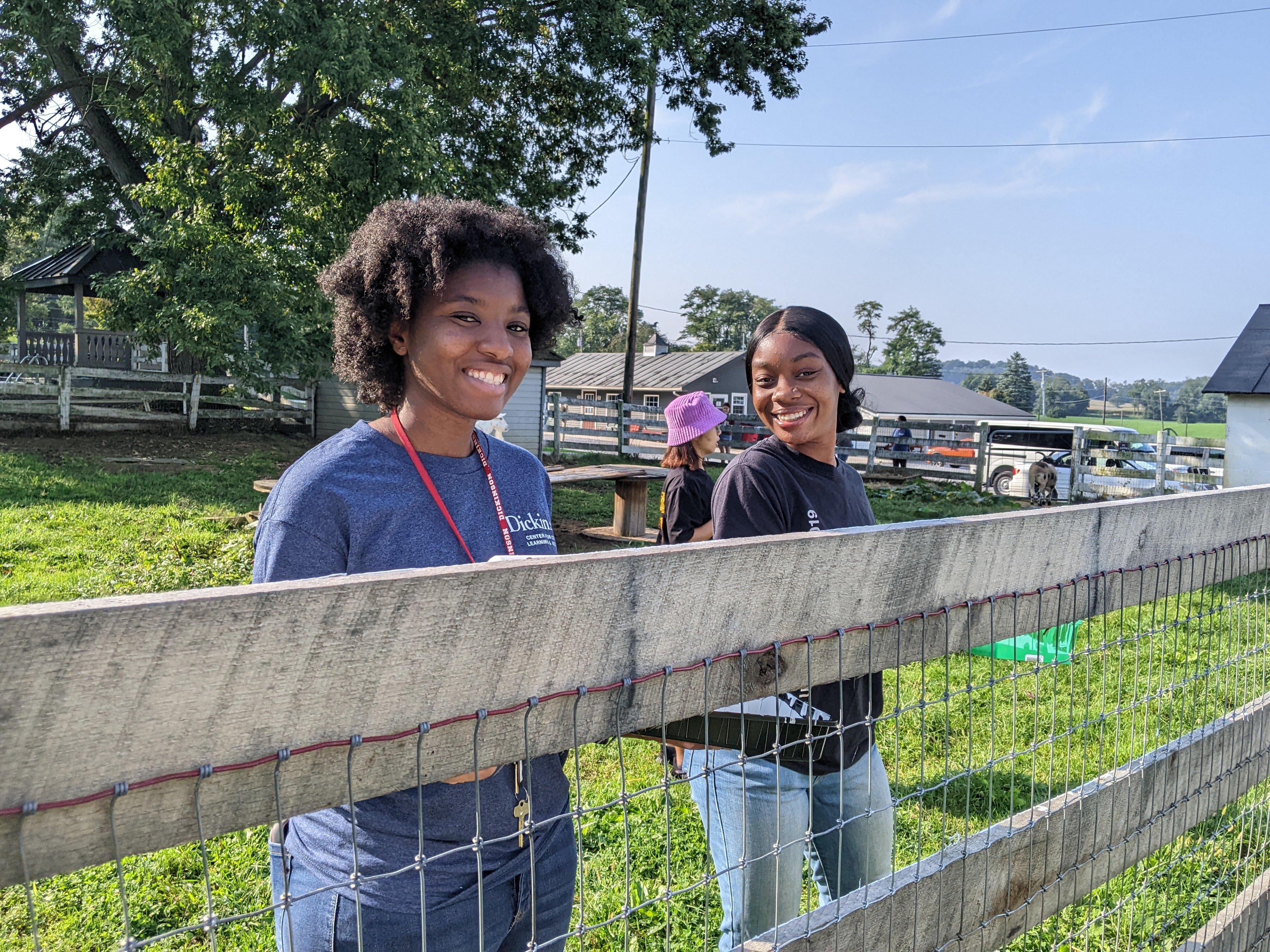 By Ashley Doan '25
"Working at CCLA has taught me the meaning of civic engagement. It is about engaging with the community around me, being mindful of different communities, and taking the initiative to do service." Those words are from Sariah Franklin '25, a psychology major, who is part of the Women's Basketball Club and the executive board for Girls Who Code. Her time as the Day of Service coordinator at Dickinson's Center for Civic Learning & Action (CCLA) has been important to her own sense of purpose and her identity on campus.
During high school, Franklin did not have many opportunities to participate in community service, but once she arrived at Dickinson, she eagerly sought opportunities to engage. Prior to joining the CCLA student leadership team, Sariah participated in a CCLA-sponsored Day of Service at Jessica's Closet. At that event, volunteers relocated and organized donated formal dresses that were made available to high school students who otherwise might not have been able to afford formalwear for prom or homecoming. The project allowed Dickinson students to work alongside college staff and community members from New Life Community Church and C-Luv (a local thrift store). As well, Dickinson's Center for Sustainability Education (CSE) partnered with CCLA to plan and execute the event. Volunteers reflected on the impact of their work and considered the importance that access to a formal dress might play in the life of a young person. The conversation turned to the significance of rights of passage, social and cultural events with the power to shape the high school experience. Franklin enjoyed the experience immensely, which led her to have a conversation with Jessie Scarlett '22, CCLA's Day of Service coordinator, who recommended that Sariah consider applying for a spot on the student leadership team. She did, and started her position in fall 2022.
Franklin planned and facilitated multiple Days of Service with CCLA during her year. Initially, she said, she found it challenging to take on this leadership role, but she gained confidence throughout the year. Her position also allowed her to learn about pressing concerns and challenges within the Carlisle community and gain a deeper understanding of social, economic, and political dynamics of a wide range of issues. Reflecting on her time as the 2022-23 Day of Service coordinator, one day stood out to her—a trip to the Red Tomato Farm & Inn. Franklin was inspired by the community that cared for people with disabilities and gave them opportunities they wouldn't have otherwise. It made her think about the different issues in society and how she could make a difference. She was struck by the wholesome values of giving service to others in a safe and caring environment.
Franklin also mentioned that she loved CCLA's weekly team meetings, where she was surrounded by people with diverse experiences and perspectives. She said that the team was always helpful and constantly remind her that her job was a learning opportunity and that it is okay to make mistakes. This is a mindset that Franklin appreciated, noting that it pushed her to look beyond her own experiences and led to her own personal growth. Franklin plans to use this knowledge to inform her academic studies and pursue advocacy projects that are relevant to the community.
Besides her job at CCLA, the Emerging Leaders Retreat was a pivotal moment for Franklin. She learned about the meaning of leadership through the Dickinson social change model, which emphasizes the importance of values, recognizing one's strengths, and creating change in society. As a result, she now interprets leadership to be about growth and learning as much as she can so that she can make a greater impact. And, working at CCLA was the perfect opportunity for her to begin that journey. She remains determined to use her skills, knowledge, and passion to create positive change in the world and leave a lasting impact.
For more information about CCLA's current Days of Service, please visit our webpage.