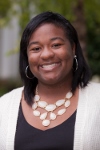 Hi! I am Raven Baytops, originally from Richmond, Virginia and I am an admission counselor here at Dickinson. As a regional counselor, I have the great pleasure of working with and getting to know students from Georgia, Eastern Tennessee, Kentucky, Indiana and Maryland.
Not to long ago I was in your shoes similar to yours. I remember the eagerness of finishing high school strong, the nostalgia of making lasting memories with friends, and the excitement of starting a new adventure in college. For me the college process was like a goldie locks adventure, where I was visiting many types of schools to see what was just right. To spoil the story, I chose another great liberal arts institution, where I have recently graduated from with a major in Linguistics and a minor in Public Health. Outside of the classroom, I was involved in welcoming new students to campus with admissions and orientation. Through these activities, I enjoyed being a part of new students' journey.

The question that I'm probably most often asked by students is why I chose to work at Dickinson. My answer is similar to the one I asked myself when I was going through the college process. I was looking for a liberal arts environment where I would have the opportunity to contribute and learn from my environment, and also get to know people from diverse areas on a personal level. I have felt that Dickinsonians all strive to foster a community that welcomes contributions from all of its members. I may be new to the Dickinson community, but I truly do feel right at home.

As your regional counselor, I am here to help you through your college process adventure. I am resource for you to answer your questions or help you connect with professors and students. I also want to get to know you. Feel free to email me and share a little more about you: your favorite subjects in school, interests in music, sports, entrepreneurship ... you name it!
I look forward to staying in touch with you as you continue your college exploration.
Best,
Raven B.
Raven Baytops
Admissions Counselor