The division of Information and Technology Services (ITS) provides technology resources, and a wide-range of services tosupport technology awareness for the campus community.
ITS prides itself on personal attention to constituents and improving services in response to the needs of the campus. Our staff can help with your information and computer/technology needs from maintenance and upgrades to using the newest technology to support teaching and learning in the classroom. We are here to help you achieve your objectives and become even more successful as a student, faculty member or administrator.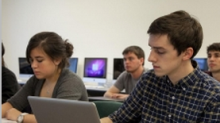 Academic Technology supports faculty and students in the creation and use of new media for presenting ideas in the classroom and to the world. Genres of new media include podcasting, digital storytelling and collaborative editing with social software.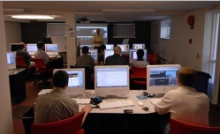 Dickinson's historic campus may be rooted in the past, but it's also wired into the future. From geographic information systems (GIS) to the high-speed network that enables discussions to continue long after class, the college provides faculty, students and staff with the technology resources they need to excel.