Student Experiences within the Office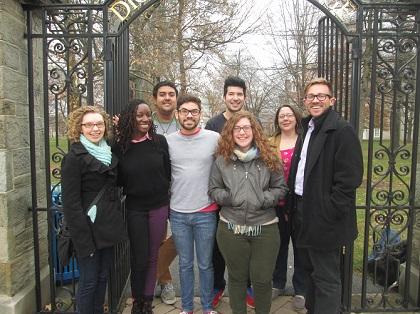 Pride Coordinators are responsible for supporting a learning environment that contributes to student development, especially around issues of gender and sexuality. The working philosophy of the Office of LGBTQ Services emphasizes the value of maintaining an inclusive work environment that both thrives through the unique qualities of individual staff members and provides student workers with opportunities for personal growth and professional development.
Each year, we seek individuals with strong commitments to social justice issues, dedication to cultural awareness, and a strong responsibility for their own personal growth. In addition to the ability to perform the specific duties and tasks of each Pride Coordinator, these positions are best suited to people who are willing and able to develop positive relationships with groups and individuals, will model openness and active learning, and will maintain the highest standards of basic Office services.
If you are interested in learning more about the specific positions offered each year, or reviewing the most recent application, please review the documents below:
Application Materials

Hiring timeline for Spring 2015 and Fall 2015
Spring 2015 Pride Coordinator Hiring Timeline

October 31st - Applications Available
November 12th - Applications Due
November 17th-21st - Interviews Scheduled
December 5th - Positions Announced
SPRING 2015 PC HIRING TIMELINE EXTENDED! SEE APPLICATION FOR MORE DETAILS!
Fall 2015 Pride Coordinator Hiring Timeline

March 16th - Applications Available
April 17th - Applications Due
April 20th-24th - Interviews Scheduled
May 1st - Positions Announced

If you would like to learn more about being a Pride Coordinator, please contact the Office of LGBTQ Services.