Please click on the link below to view events and programs:
Center for Spirituality and Social Justice
Series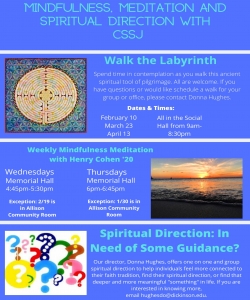 What Matters Most
Based on the book "Last Lecture" by Randy Pausch, these conversations give students the opportunity to hear what matters most to their faculty and staff. The themes of these dinners have focused on religious beliefs, importance of diversity, facing cancer, career development as life-long, and other topics of personal importance to the guest speakers. Speakers come from all parts of campus and include sports coaches, admissions counselors, student life staff, faculty, facilities workers, and many more.
3/24: What Matters Most Dinner, 5-7:00pm, Asbell Center
Weekly Mindfulness Meditation
Spiritual Direction: In Need of Some Guidance?
Our director, Cody Nielsen, offers one-on-one and group spiritual direction to help individuals feel more connected to their faith tradition, find their spiritual direction, or find that deeper and more meaningful "something" in life. If you are interested in knowing more, email nielsenc@dickinson.edu.
Labyrinth
Used for over 4,000 years, the Labyrinth walk is a self-alignment tool aimed to clear one's mind and give insight. Once per month, the labyrinth is laid out in the HUB Social Hall for students, faculty and staff to enjoy.
"Faith and..." Discussions
This series provides a space for exploration of the intersections of faith and various topics selected by our student staff. Generally over common hour, student staff invite a professor to facilitate a discussion about the intersection of faith and a topic in which they have some expertise. In the past, we have hosted events around the intersection of faith and politics, women in faith, Standing Rock, queer identity, and more. Dates and times TBD, check back for more infomation later.