Josh Eisenberg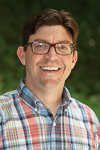 Josh Eisenberg, Interim Director of Student Leadership and Campus Engagement, returns to Dickinson College after spending the last 12 years in and around Chicago. A graduate of Franklin & Marshall College (B.A., History) and The Ohio State University (M.A., Educational Policy and Leadership), Josh is excited to be back on campus this Fall serving as a College Dean. When he's not engaging the campus and leading students, Josh is home with his wife (Audrey, Class of '02) and their five kids. In the remaining 5-7 minutes of free time, Josh loves to read, watch sports (especially baseball), and road trip. He is also, hands down, the best Chicago tour guide in Carlisle, PA.
Office: Holland Union Building
Email: eisenbej@dickinson.edu
Phone: (717) 245-1671
Elizabeth Farner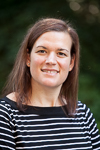 Elizabeth Farner joined Dickinson College in January 2009 and is responsible for the student conduct process. Before arriving at Dickinson, she worked and lived in San Francisco, California in residential life and housing. She was an undergraduate at York College of Pennsylvania and received her Master's in Counseling from Shippensburg University. She lives in Carlisle with her husband and son. In her free time, she enjoys traveling, biking and watching professional baseball.
Office: Holland Union Building
Email: farnere@dickinson.edu
Phone: (717) 245-1676
Tara Fischer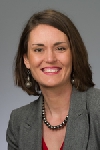 Tara is a Dickinson graduate and majored in psychology. While exploring the world of politics during a brief stint as a staff member for a U.S. congressman, Tara developed an interest in the intersection of public policy and personal life. As a graduate student at Northwestern University, she shifted her focus into public policy and administration, with a concentration in educational policy and how it impacts the individual and community. Tara is passionate about access and student development, and she spent over a decade in the Office of Admissions at Dickinson prior to transitioning into the role of associate dean of academic advising.
Originally from the beautiful Blue Ridge mountains of Virginia, Tara married a Dickinsonian and lives in Carlisle with her husband and son. She enjoys outdoor adventures and artisan bread making. As a former college athlete, Tara is a passionate supporter of Dickinson's athletic programs and can still be found on the volleyball court, attempting to relive the glory days.
Office: Biddle House
Email: fischert@dickinson.edu
Phone: (717) 245-1080
Amity Fox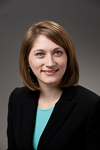 Amity is an associate dean of academic advising and the director of internship programs. She holds a BA in International Business & Management and Russian Area Studies from Dickinson College and a MS in Higher Education from Drexel University. Although her first job was in the financial industry, Amity quickly realized her love of higher education and working with students. She has dedicated her career to supporting students in their pursuit of experiential learning (mainly internships, research, and fellowships) that integrates and applies their useful liberal-arts educations beyond campus. Prior to her position in the academic advising office, Amity worked in Dickinson's career center, Kutztown University, and Philadelphia University.
Having grown up in a tiny, rural town in southwestern PA, Carlisle felt like a bustling metropolis when Amity started her first-year as a student at Dickinson - studying abroad in Moscow was an even bigger adjustment! In her downtime, Amity loves to visit museums, introduce her son and daughter to Legos and puzzles, and go on hikes in the local state parks with her family.
Office: Biddle House
Email: foxa@dickinson.edu
Phone: (717) 245-1080
Amanda George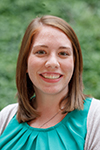 Amanda George joined the Dickinson College community in 2013, and she now serves as the director of Residence Life & Housing. You can find her office in the lower level of the HUB in the Student Life office. She holds a bachelor of arts in psychology from Susquehanna University, and a master of arts of higher education and student affairs from the University of Connecticut.
Amanda lives in Carlisle with her partner and her French bulldog (Rue) who loves getting attention and giving puppy kisses on walks through campus. Amanda loves all the dogs, reading, trying out new recipes, and attempting to be a knitter.
Office: Holland Union Building
Email: georgea@dickinson.edu
Phone: 717-245-1556
Becky (Rebecca) Hammell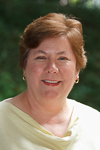 Becky has worked returned to Dickinson after a six year hiatus working at a women's college. During her first seven years at Dickinson, she worked in both Student Life and Academic Affairs including serving as Director of Student Activities, Sophomore Class Dean, and finally as Associate Director of Academic Advising and First-Year Dean. Currently she works with her staff on all facets of student activities, leadership development, recreational and outing program, and new student programs. Becky's undergraduate degree from Valdosta State University is in American History with an emphasis on antebellum Southern History. Her MA from the University of Delaware, Winterthur Program in Early America Culture focused on material culture studies, specifically late 19th century material culture and material culture of childhood. Becky lives in Carlisle with her husband, and two furry St. Bernards (Lulu and Bailey). She enjoys gardening, cooking, travel, music, friends and family, and needlework.
Office: Holland Union Building
Email: hammellr@dickinson.edu
Phone: (717) 245-1639
Angie Harris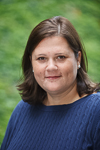 Angie Harris is originally from Richmond, VA but has also lived in North Carolina, South Carolina, Texas, and now Pennsylvania. She is the proud aunt of an adorable niece and two handsome nephews and mom to her yellow lab, Bella. She has a bachelor's degree in music (voice), master's degree in higher education and student affairs, and currently is a doctoral student at the University of Virginia in higher education administration. In addition to her role as a college dean, she is also associate dean of students and director of Residence Life & Housing. Angie loves watching college football, more specifically SEC football and the Gamecocks. She also enjoys photography and travel. You can find her in the Student Life Office on the lower level of the HUB.
Office: Holland Union
Email: harrisa@dickinson.edu
Phone: (717) 245-1556
Annie Kondas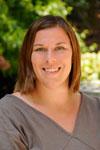 Annie Kondas joined the Career Center at Dickinson College as the Associate Director in the fall of 2015. Prior to her position in the Career Center at Dickinson, Annie held the roles of Director of New Student Programs (2013-2015) and Assistant Director of Campus Life (2008-2013). Annie is originally from Northeast Ohio and holds a Master of Arts in College Student Personnel from Bowling Green State University and a Bachelor of Science in Business Administration from American University.
Annie lives in South Middleton Township with her husband, Phil, two children, Miles (3) and Kate (6) and Boston terrier, Lucy. She enjoys playing on a competitive volleyball team, a good political debate, watching Game of Thrones and cheering for the Ohio State Buckeyes and Cleveland Cavaliers.
Office: Biddle House
Email: kondasa@dickinson.edu
Phone: 717-245-1740
Erica Lawrence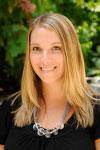 Erica Lawrence has been a member of the Dickinson community since 2008 in various roles, most recently settling in as Director of LGBTQ Services. She is a proud graduate of Franklin & Marshall College (B.A. Sociology - Yeah Dips!) and the University of Delaware (M.A. Counseling in Higher Education, Student Affairs - Go Blue Hens!). Throughout her professional career and within her personal life, she has been passionate about exploring issues of sexuality and gender identity, social justice, intersectionality, and allyship. Outside of work, Erica enjoys hiking trails in beautiful Central PA, running long distances (slowly but surely), watching soccer, musical theatre, reading, cooking, listening to music, going to concerts, and spending time with friends and family. Erica lives in the dynamic and vibrant midtown Harrisburg with her Latin-teaching wife and their two cats (Fiyero and Elphie).
Office: Landis House
Email: lawrener@dickinson.edu
Phone: (717) 254-8054
Sonja Paulson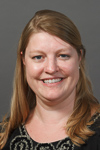 Sonja Paulson, Director of International Student & Scholar Services, joined Dickinson in September 2015 after relocating from the northern plains of Fargo, North Dakota. Language, culture, and identity have always fascinated her. These interests motivated her to teach English in Slovakia, where she grew in her appreciation for nature, heightened her admiration of second language learners, and acquired a taste for sauerkraut. Sonja holds a B.A. in English from St. Olaf College (Northfield, MN) and an M.A. in Comparative International Development Education from the University of Minnesota.
Sonja lives in Carlisle with her husband and cuddly Cavachon, Burk. She enjoys watching NCAA ice hockey, tackling home improvement projects, and playing strategy games such as Settlers of Catan or Ticket to Ride. She doubts she will ever shed her upper Midwestern accent.
Office: Stern Center for Global Education
Email: paulsons@dickinson.edu
Phone: (717) 245-1343
Vincent Stephens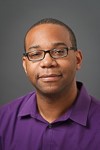 Vincent L. Stephens is an evolving human being who aspires to be well-informed, good humored, and ethically sound as a life practice. As a graduate of the nation's only liberal arts college dedicated to the communication arts, Emerson College in Boston, he believes in the unique power of the liberal arts. After earning an M.A. in Popular Culture Studies at Bowling Green State University, and a Ph.D. in American Studies at the University of Maryland, College Park he taught at the University of Maryland and Syracuse University. From 2011-15 he served as Director of Multicultural Student Services (MSS) at Bucknell University. Since June 2015, he has served as the Director of the Popel Shaw Center for Race & Ethnicity. He is also a contributing faculty member in the Department of Music.
Vincent is co-editor of the 2017 book Postracial America? An Interdisciplinary Study (with Anthony Stewart) and has published essays in African-American Review, American Music, the Journal of Popular Culture Popular Music and Popular Music & Society, as well as various edited collections. He also maintains the popular music blog Riffs, Beats & Codas.
In his personal life, Vincent is passionate about food, literary fiction, automobiles, and spending time with loved ones.
Office: Popel Shaw Center for Race & Ethnicity, Landis House
Email: stephenv@dickinson.edu
Phone: (717) 245-1559
Damon Yarnell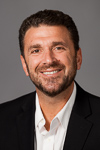 Damon Yarnell was born and raised in New York City and has also lived in Los Angeles, Philadelphia, and Chapel Hill. He holds a BA in comparative literature from Columbia University, an MFA in design from the University of the Arts, and a Ph.D. in the History of Science from the University of Pennsylvania. Damon is unrelenting in his enthusiasm for the liberal arts, and he relishes every chance he gets to learn something new. At Dickinson, he serves as the Dean of Academic Advising and coordinates the fellowships program. To relax, he enjoys sports of all kinds and movies with exploding helicopters.
Office: Biddle House
Email: yarnelld@dickinson.edu
Phone: (717) 245-1080