Orientation & New Student Programs Summer Staff
The Student Director of New Student Programs is primarily responsible for assisting in the organization and execution of Orientation and the associated First-Year Experience programs. During the summer, the director serves as a point of contact for incoming first-year students and families as they prepare to begin their college experience at Dickinson. When the remaining First-Year Experience coordinators arrive on campus, they guide the coordinators through training and serve as support for the First-Year Mentors during Orientation.
Emma Jane Beckert
Student Director of New Student Programs
My name is Emma Jane Beckert. I am a rising senior currently living on Carlisle Barracks only 3 miles away from Dickinson. Being a military child, I have moved 14 times in my life. Dickinson, however, has been the place I have enjoyed living the most.
I am a history major with a concentration in environmental history. This past semester, I went abroad to Bologna, Italy. I was very excited to go abroad. I could not have guessed how influential on my it was going to be. I not only gained Italian language skills but was immersed into the culture. I have memories and friends I will cherish for a lifetime.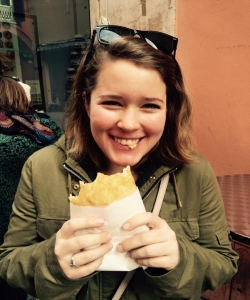 Apart from Student life, I am a member of Kappa Alpha Theta sorority. I am the president of PALS(Peers Assisting Learning about Sex) a sexual education organization that works closely with the Wellness Center to provide knowledge and resources on campus. My sophomore year, I worked as a resident advisor for Residence Life in a First-Year dorm. This is where my love of New Student Programming. Welcoming all the new first-years and getting to know them over the course of the year reignited my love of Dickinson. I knew from then that I wanted to be part of orientation every year after to share my excitement and passion about Dickinson.
My after graduation plans are to-be-determined. I have dreams of returning to Europe or travelling abroad somewhere. Working more in Higher Ed. is definitely a possibility; I've definitely caught the bug for working in Higher Ed. But I plan to enjoy my senior year at Dickinson without too much fretting over my future.
I am really looking forward to working with the First Year experience program and especially with the First Years themselves. My hope is to inspire the new students to really challenge themselves and to dive into Dickinson with reckless abandon. That is how I did it, and I think most Dickinsonians would agree that it is the only way to do it.