Orientation & New Student Programs Summer Staff
The Student Director of New Student Programs is primarily responsible for assisting in the organization and execution of Orientation and the associated First-Year Experience programs. During the summer, the director serves as a point of contact for incoming first-year students and families as they prepare to begin their college experience at Dickinson. When the remaining First-Year Experience coordinators arrive on campus, they guide the coordinators through training and serve as support for the First-Year Mentors during Orientation.
Quadrese' Glass
Student Director of New Student Programs
My name is Quadrese' Glass. Originally from West Philadelphia, as a rising junior at Dickinson I have come to make Carlisle a home. I am a proud Africana Studies and English double major. In my majors I study Black Childhoods and Black culture; specfically, I seek to recover Black Childhoods. On campus I am a member of eXiled Spoken Word Society, the Black Student Union, Hypnotic Dance Team, Prison In-mate Tutoring, Liberty Cap Society and an employee in the Student Leadership & Campus Engagment Office.
As the Student Director of New Student Programs, I assist with the execution of New Student Orientation. It is my responsibility to ensure that the STUDENTS have an informative, exhilarating, smooth, and welcoming transition into the Dickinson community. This summer, I am working with other members of the Orientation staff to plan events and workshops designed to help students and parents alike make Dickinson theirs.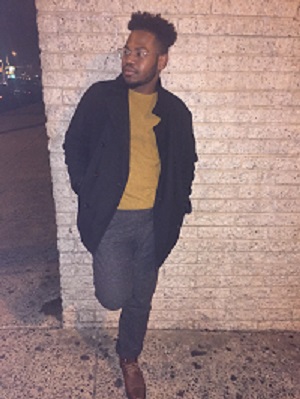 This coming Spring, I will be studying abroad in Cameroon- in central Africa- for a semester. Since the age of eight I have dreamt of traveling to "the Contient;" my fascination with the various cultures that mix and merge within the borders of the countries have stimulated my desire to study in an African country. Once I declared Africana Studies as my major, and a journey to Africa became more tangible, I was ebullient by the ability to fuse my two loves: learning and travel.
I am really looking forward to working with the First Year experience program and especially with the First Years themselves. My hope is to inspire the new students to really challenge themselves and to dive into Dickinson with reckless abandon. That is how I did it, and I think most Dickinsonians would agree that it is the only way to do it.
Emma Jane Beckert
A member of the recent graduate Dickinson Class of 2017. I graduated with a degree in History. I began my work with Orientation my junior year as a First-Year Coordinator for Events. After I came back from my spring abroad, I was the Student Director of Orientation where I helped plan the Orientation for the class of 2020. This year I am a Coordinator for New Student Programs. I am facilitating the new staff's transition while working on some new projects for the 2017 Orientation.
I really love working in New Student Programs because I want to make a lasting positive impact on the incoming class. I want to pass on my passion and love for Dickinson to every incoming first-year