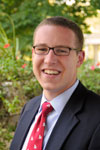 Dickinson in a few words: Founded in 1783 just days after the American Revolution ended, Dickinson's founders (who, in their free time, were also signers of the Declaration of Independence and authors of the Constitution) boldly committed to educating students in the "useful arts and sciences" to become leaders of the "new democracy."
Dickinson was the first college on America's western frontier, first to introduce the study of modern foreign languages, first to add field research into a college curriculum and first to require the study of then revolutionary new fields like chemistry. Today, the college remains ever committed to a global, useful, sustainable education for all of its student, believing the that the 21st century requires intercultural understanding and an educated citizenry to tackle the world's most pressing challenges as stewards of the common good.
Fun Facts:
Favorite Places to Eat in Carlisle (in no order—but maybe):
Allenberry
Issei Noodle
Brick
Café Bruges
John's Hideaway
*Molly Pitcher Brewing Company, a thriving downtown brewery, recently opened up a second location on High Street and debuted a new menu, which could make it a contender for a spot in the top five.
Favorite Things to Do in Carlisle (enjoyed with my wife, also a Dickinson grad, and our two little "Red Devils"):
Eating
Attending Red Devil athletic events
First Fridays
Hiking on the Appalachian Trail
Farmers on the Square (Carlisle's downtown farmers market)
Final Thoughts: My Dickinson experience was all about connecting my passions, exploring new ideas, and stretching my understanding of the world around me. You should look forward to Dickinson expanding your comfort zone, prompting you to see your education and your passions in a global way, emboldening you to try new ideas, engage the world and be a thoughtful and responsible citizen and leader. As you move through your college search, do so with enthusiasm, knowing that there are institutions like Dickinson out there willing to have an opinion, to embrace its founding message as a revolutionary college and to educate students to connect their passions and become engaged citizens and leaders.
Gregory Moyer '06
Assistant Vice President for Enrollment and Director of Admissions Recruitment
Email: moyergr@dickinson.edu
Phone: 800-644-1773, 717-245-1231
Education: BA in History, Dickinson College