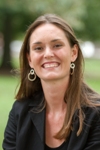 Greetings from Dickinson! I'm Tara Vasold Fischer, associate dean of advising, college dean and coordinator of the community college partners, and a proud graduate of the class of 2002.
At Dickinson, I found a college that gave me exactly what I wanted—balance. Originally from southern Virginia, I majored in psychology, conducted and presented major research, worked several on-campus jobs and had the opportunity to intern in the U.S. Congress. I was also a four-year student athlete. Dickinson was academically challenging for me, but also a lot of fun—a place to explore passions and the outside world. The foundation I received here has prepared me well for my graduate work at Northwestern University, where I am studying Public Policy and Administration. Because of my time at Dickinson I am well-armed with strong research skills and the ability to think critically and solve problems creatively.

The beauty of the Dickinson experience is that it's individualized and gives you the opportunity to connect your academic and extracurricular interests with the world around you. This provides a useful foundation for success no matter what you choose to pursue in life.
Please be in touch if I can help in any way—I'm looking forward to working with you throughout your college search!
Tara Vasold Fischer '02
Dean and Director of Academic Advising and Coordinator of the Community College Partnership Initiative