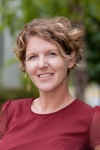 Greetings from Dickinson! I am the Director of Admissions Programs and Services here at Dickinson. Before coming to Dickinson, I worked in the same capacity at another small, academically rigorous, liberal-arts school. With this background, I am familiar not only with Dickinson, but with the landscape of admissions in general. I am thrilled to be at Dickinson, a school where students are passionate, intellectually curious and engaged in the world.
As a native of the Carlisle area, I have always been aware of the ways in which Dickinsonians are working to improve their community—both locally and globally. Now, as a member of this staff, I am able to see that this global sensibility is the first of many qualities that makes this school unique. Does the prospect of a global education interest you? Do you see the connections between your interests—as vast and varied as they might be? Are you looking for a college that will offer you an education that is both progressive and useful? If so, you are in the right place.
Some fun facts:
What is my favorite spot downtown? A nearly impossible question to answer, as I absolutely love Carlisle and all that it offers. That said, I will always go out of my way to find a minute to stop by Miss Ruth's Time Bomb. From the racks of great vintage clothing, to the enormous wall of fun socks, there's always something to discover at the Time Bomb. Additionally, the owners of this shop are some of the best people in Carlisle—welcoming, kind, funny and wild—they alone are worth the stop!
What is my favorite spot on campus? This answer probably changes every year—the campus offers so much. At the moment, my favorite spot on campus would have to be the Quarry's porch. That big wrap-around porch provides a great place to sit outside with your lunch and just watch the world in motion.
What is my favorite Dickinson tradition? Charter Day—the "birthday" of the college—is my most favorite community tradition. Charter Day brings the entire campus together—students, staff, and faculty—for a huge picnic on the academic quad in front of Old West, where it all began. And, since Charter Day happens in early September, it's the perfect way to kick off another great academic year at Dickinson.
Massey's or Leos? The ongoing friendly rivalry between neighboring ice cream businesses may have been born partially out of the fierce (and loudly proclaimed) loyalty of Dickinsonians. I, for one, am Team Massey's all the way. Their peanut butter shake is perfection.
As your regional counselor, it is my goal to help you learn more about Dickinson and to get to know you as an individual. What gets you motivated? What are you curious about? What do you love to do? I invite answers to these questions and more and, likewise, I would be happy to answer any of your questions about Dickinson.

All the best,
Molly Boegel
Assistant Vice President for Enrollment and Director of Admissions Programs and Services
Pronouns: she/her/hers (Why Pronouns?)
Follow me on Twitter @MollyAtDson