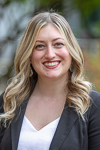 Hello! As an Admissions Counselor at Dickinson, I have the great pleasure of working with students from Indiana, Kentucky, Maryland (the Baltimore area, including Baltimore City, Baltimore County and Howard County), Missouri, New Jersey (Hunterdon, Middlesex, Monmouth, Somerset, Sussex and Warren counties) and Ohio.

If someone had once told me that I would one day call Central Pennsylvania my home, I wouldn't have believed them! As a northern New Jersey resident accustomed to easy access to New York City, I grew up with the best of both worlds – rural, small town community with easy access to see as many Broadway shows as we had time for. What I didn't expect to find in the Carlisle area are many of the same things I loved when growing up. There is a strong sense of community and inclusivity, the area boasts Instagram worthy views and there are more restaurants than any small town has a right to! For this Jersey girl, Dickinson feels like home!

I was initially drawn to the college because of its location but I have come to love many more aspects of what makes Dickinson unique. Having grown up in an area steeped in Revolutionary history, I am a self-proclaimed history nerd. I love getting to boast that I work for the first college in the newly founded United States! For those looking to experience a global community, Dickinson offers not only one of the strongest study abroad programs but also a diverse student body and faculty. I love that I can be in central Pennsylvania and yet be immersed in a global community. What has been clear to me since day one is Dickinson works tirelessly to foster a supportive environment – there are opportunities to pursue sustainability in and outside the classroom, to immerse yourself in new and diverse experiences and to become a lifelong learner.

Favorite Places to Eat in Carlisle:
Molly Pitcher Brewing Company – The combo of food and history are right up my alley!
Spoons – With 50 soups on rotation, there's always something new to try!
Taqueria Laurita – A taco truck but indoors? Yes, please!
Café Bruges – The fries are a must-get item with any meal!
Fun Facts:
I attended a public, liberal arts university in northern Pennsylvania, so I am a true believer and supporter of a liberal arts education and the flexibility it can provide you in any of your future endeavors!
I am a major foodie! When not in the office, you can find me at my favorite local restaurants in Carlisle or in downtown Harrisburg.
I have been backstage on a few Broadway musicals – my favorite being Man of La Mancha where I met Ernie Sabella, the voice of Pumba in Disney's The Lion King!
I lived in Long Beach, CA for a time and have traveled to Austria, Belgium, Bermuda, the Bahamas, Canada, France, Germany, Mexico and the Netherlands!
I am available to answer your questions at my Google Voice number (717-745-8484) and available for individual meetings upon request. Please visit my Bookings page to register for a time!
Sharon Kleindienst
Admissions Counselor
Preferred pronouns: she/her/hers