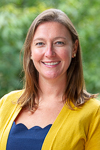 As your regional counselor at Dickinson College, I'm excited to get to know you! Our hope here in admissions is that we can be a resource for you throughout your college search.
I work with students from Connecticut and New York (Westchester, Rockland, Orange, Putnam and Dutchess counties). As a native of Westchester, I am excited to be working in a region where I have roots. I look forward to connecting with you in your backyard or in Carlisle. Dickinson will open doors to share new perspectives and opportunities you may never have thought possible.

Regardless of where you are in your admissions process, I hope that I can be helpful as you continue with your search. I've seen this college transform the lives of countless students, and I do hope Dickinson remains high on your list!
Best wishes,
Anne Brewer
Associate Director of Admissions
Based in Greenwich, CT