ASKS responses
Answering The ASKS: Tracking PSC's responses to 2016's requests for a more inclusive campus
In 2016 a committed group of students advocated produced a list of ASKS for Dickinson to address to improve the campus climate. The four areas included Training and Development, Student Campus Resources, Curriculum, and Faculty Diversity.
Below we outline ways the Popel Shaw Center has executed its mission since 2015, the first year a full-time Director was hired. The Center's work is informed by a combination of best practices in Inclusion, Diversity, Equity & Access (IDEA) work in higher education, progressive emerging ideas in higher education literature, political and cultural climate, and institutional needs.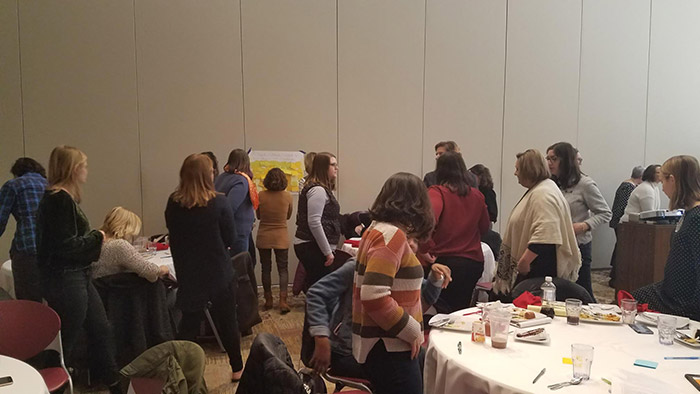 Training and Development
The PSC launched the Inclusive Leadership Student Training retreat in Fall 2016 for clubs, student office workers and peer leaders. Over 125 students and 30+ organizations have participated in the workshops offered during the following semesters: fall 2016, spring 2017, fall 2017, spring 2018, fall 2018, and fall 2019. Based on attendance patterns and costs the retreat is offered each fall.
In fall 2017 the PSC hosted a workshop focused on resolving cultural conflicts, informed by restorative practices, called Did you really just say that? Each year the Center has offered separate sessions for students and personnel. Over 150 community members have completed the training including 96 students and 59 personnel.
Each year Human Resource Services invites personnel to apply to participate in the Management Development Program. The PSC has facilitated the Developing cultural awareness as a management practice workshop every fall since November 2016.
Inclusive pedagogical practices are essential for effective classroom instruction. Since fall 2017 The PSC's Director and the WGRC's Director have offered faculty training opportunities focused on inclusivity. These have included Inclusive Pedagogy: Implicit bias and microaggressions in the classroom (Fall 2017, Fall 2018); Inclusive Pedagogy for the 21

st

century (Spring 2020); and Inclusive Pedagogies 2.0: Creating an inclusive syllabus (Fall 2018).
The PSC and WGRC have also co-facilitated Facilitating challenging conversations workshops in Fall 2017 and Spring 2020.
The PSC's Director received training as an Intercultural Development Inventory (IDI) Qualified Administrator in January 2018 and has led individual debriefings for students and personnel who have completed the IDI.
The PSC's Director participated in the Intercultural Summer Study Group (Summer 2018) focused on helping faculty and staff integrate intercultural work more intentionally in their campus work.
The PSC offers customized trainings for offices and departments by request and/or collaborates with various partners periodically. These include the following:

Understanding and minimizing the influence of unconscious bias [co-facilitated with Donna Bickford] (for department chairs and search committee members) (Summer 2016)
Facilitator and Moderator training [facilitated by Sustained Dialogue] (Fall 2016)
A map toward inclusion: Creating inclusive learning environment (for Waidner-Spahr Library staff) (Summer 2017)
Costumes and Cultural Appropriation: What is Your role? (co-sponsored with BERT and the Landis Collective) (Fall 2018)
A Restorative Approach to Conflict (for Assistant Professor, Educational Studies, Kirk Anderson's Race & Education course) (Spring 2019)
Center for Sustainability Education (CSE) staff inclusion workshop (Spring 2020)
Campus Climate Conversation Series (Spring 2020)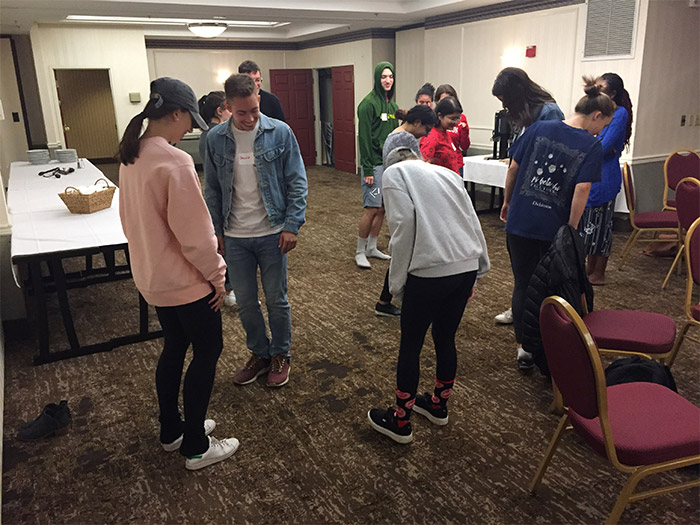 Responses
The PSC's Director serves as the Coordinator for the College's Bias Education & Response Team (BERT). As a collective BERT has done significant work to make reporting resources more visible for the campus community and to increase opportunities for education and awareness around creating an inclusive campus. Key areas include the following:

Creating a promotional poster series with information about bias and bias reporting distributed in multiple campus buildings (Spring 2016-present)
Facilitating informational workshops for student residential life staff on Recognizing and reporting bias and related topics including a summer 2018 training focused on responding to larger public bias incidents
Co-sponsoring Campus Inclusion Week on Britton Plaza each September (Fall 2016-present)
Hosting the "More than Words" series focused on language in spring 2019 and fall 2019. After hosting an educational and interactive program that attracted 70 faculty, staff, and student participants BERT hosted fall 2019 programs focused on LGBTQ+ language and Indigenous American language.
BERT invited a Human Resources representative to join in summer 2016 and created permanent opportunities for student and faculty representatives to serve on BERT in spring 2017. In spring 2020 the PSC's Assistant Director and the Director of Community Engagement, Civic Center for Learning and Action (CCLA) joined BERT as members.
BERT designed and conducted the first survey of bias response practices at U.S. liberal arts colleges with multiple peer institutions to develop a list of best and promising practices in the field. Colleges and universities regularly consult with BERT for guidance on developing bias response practices and protocols.

The PSC's Director serves on multiple campus advisory boards charged with campus reform and implementation including the following:

Member, President's Commission on Inclusivity[PCOI] (formerly the President's Commission on Diversity) since fall 2015
Founder and chair of the Inclusivity Reading and Research subcommittee of PCOI in fall 2018
Member, Access and Disability Services (ADS) Advisory Board since fall 2015
Member, Trans Advocacy Committee (fall 2015- spring 2017)
Founder and chair, the PSC Advisory Group, an interdepartmental group that meets monthly, since spring 2016

The PSC, as member of the Landis Collective (now the Office of Equity & Inclusivity), designed and facilitated a first year diversity & inclusion initiative begun in spring 2016, and oversaw the Social Justice Peer Educators (SJPE) program from 2017-19. The PSC continues to offer programs that fulfill the first year diversity & inclusion requirement for first year students.
The PSC's Director co-founded the Restorative Justice Working Group with Elizabeth Farner, Assistant Dean, Conduct and WGRC Director Donna Bickford in spring 2016 to explore and integrate restorative practices in various facets of the college.
The PSC's Director collaborated with the Vice President of Institutional Effectiveness and Inclusivity and the General Counsel, and sought input from various campus committees and a faculty & staff focus group, to draft the College's Freedom of Expression philosophy statement (summer 2019-fall 2019).
---
Since the original ASKS were developed and presented the PSC has made two important structural changes to deepen its outreach and support:
First, in Spring 2019 the PSC launched the A.C.E. peer mentor program for first year students from historically underrepresented backgrounds, international students, and first generation students. After hiring and training 20 peer mentors in spring 2019, the program welcomed 40 first year mentees in September 2019.
Second, the PSC hired Assistant Director Christian Perry, who began in July 2019. A former Associate Director in Enrollment Management at Dickinson, Perry supervises the peer mentors and directs the A.C.E.'s programming and training.