Support for Individuals
Worship Spaces and Schedules
On campus, worship space is available to students throughout the week through the Prayer and Meditation Room. Worship occurs for Christian and Jewish students weekly on campus. In addition, students of all faith traditions join the local community in worship.
Prayer and Meditation Room
Open 24 hours - a space for personal or small group prayer and meditation open to the entire Dickinson Community.
Bottom Floor HUB (near FAS Mail Room)
Dickinson Christian Fellowship Service
Monday night, 7 p.m.
Memorial Hall, Old West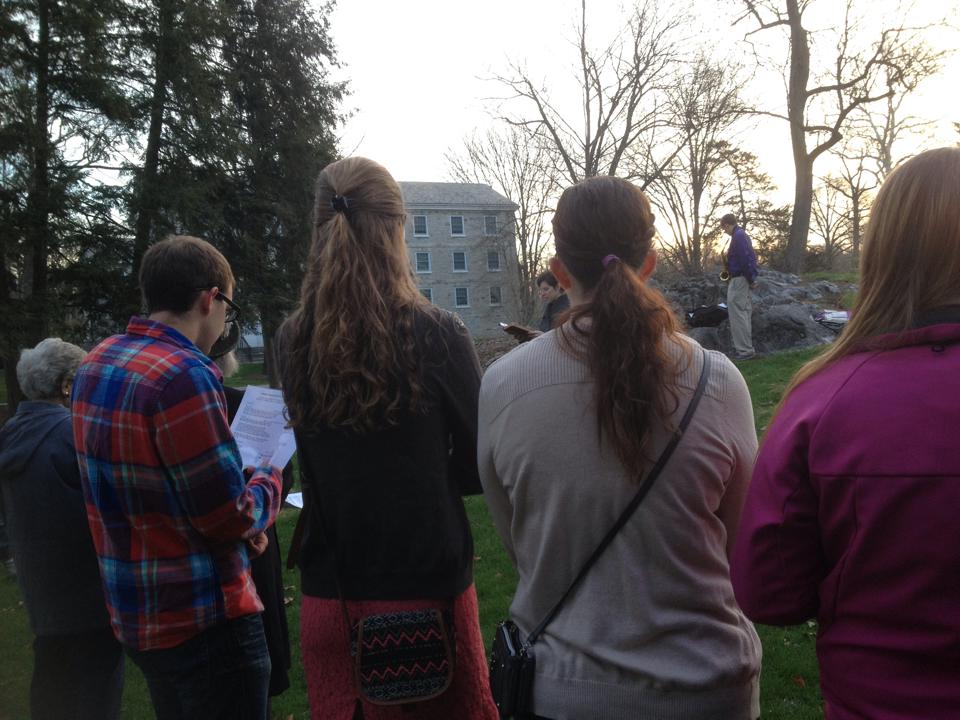 Members of the Dickinson Christian Fellowship met early in the morning for an Easter Sunrise Service
Roman Catholic Mass
Sunday night, 3:00 p.m. Allison Hall
Confessions: 2:00-2:45 p.m. Room 124 Allison Hall, across from the Interfaith Chapel
Mass Schedule (with special holidays)
Shabbat Service
Friday night, 6-7 p.m., Kosher dinner follows
Asbell Center for Jewish Life
For more information, visit the Asbell Center for Jewish Life webpage
For more information, visit the Religious Organizations page.
Additional Resources for Practicing Religion on Campus
Donna Hughes serves as the director of the Center for Service, Spirituality, and Social Justice and is a good source of information. Additional staff resources include Ted Merwin and Father Dwight. For additional information and contact information, see the Religious Life Staff Page.
For information about faith communities in the Carlisle area, visit this page.
How to Get Involved
Sign up for our email list.
Like us on Facebook.