Why do students become a part of the Community Engagement Fellows program? It's all about engaging with local community. But the ways in which students do so are seemingly endless.
The Community Engagement Fellows (formerly known as Montgomery Service Leaders - MSL) is distinctive to Dickinson as a program for students committed to making significant contributions as members of the Dickinson and Carlisle communities.
Students live out the engaged vision through the program's three hallmarks: in-depth community engagement, leadership and awareness and academic connections. These hallmarks provide opportunities to build bridges as engaged citizens, equipping students to be lifelong learners and leaders in their communities in Carlisle and beyond.
The application for the 2020-2021 Community Engagement Fellows Program is closed.
Student Leader 2020-21: Clara Roth '21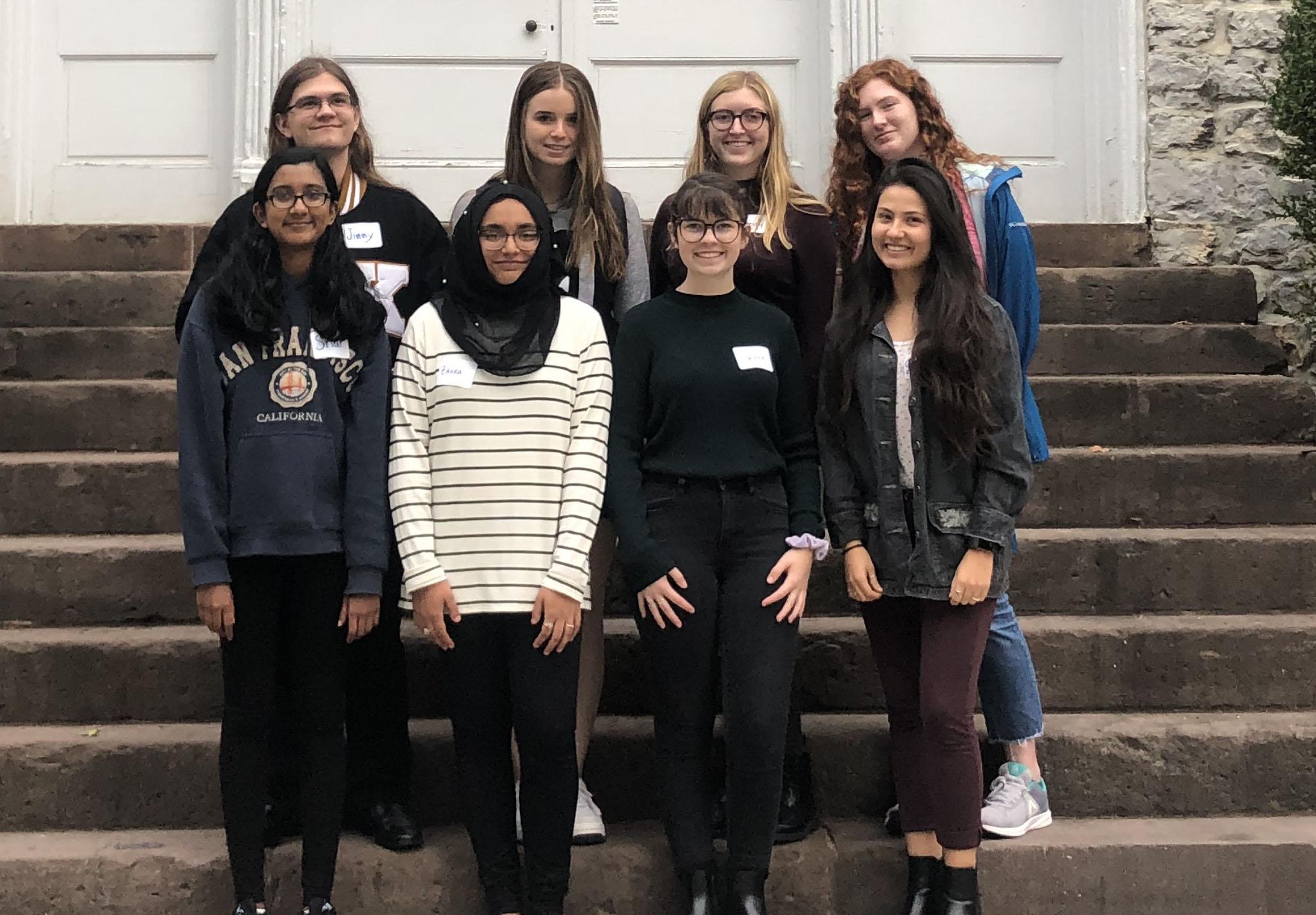 Level 1 Montgomery Service Leaders, 2019-2020
Developmental Service Levels
These levels are the key ingredients for Community Engagement Fellows to connect the campus and community in deep, intentional ways. They are designed for students to grow professionally, personally and educationally as they move from dedicated volunteers to project coordinators.
Level 1: Exploration - Level 1 students will serve as dedicated volunteers (8-10 hours per week) to learn about the organization, recipients and areas of community need. Leadership development will explore personal identity, service and social justice. These hours will be paid from work-study funding for the academic year. An application process will occur each fall for this level.
Level 2: Integration - In their second year, students engage in a deeper understanding with the community partner by working in a specific area of the organization (8-10 hours per week). Students will identify one course with which they will make intentional connections through their placement, bridging learning inside and outside the classroom. Students will identify the class in coordination with the associate provost for community-based learning/research. At the end of the year, students will prepare a short paper and public presentation addressing the connection they have identified between the chosen course and their placement.
A proposal for Level 2 will be due in the prior spring semester, after a meeting with the associate provost and identifying a course for intentional connection. Level 2 will be paid through work-study funding for 8-10 hours of service each week for the academic year.
Level 3: Capstone - Building on the community-partner relationship and learning of the first two years, Level 3 students implement a special project lasting one semester at the community placement and receive an Internship Transcript Notation. Level 3 Capstone students will apply for a grant from the Center for Civic Learning and Action for up to $500 to fund a project at the community placement. In the beginning of the semester, students will attend a grant writing workshop. These grants must be used by the student to advance the mission of the organization, be measurable and be able to be completed within the identified semester. The grant process allows students to work with the community partner at a new level to combine community needs, creative thinking and problem solving.
At the Capstone level, students participate in the Internship Transcript Notation Program. This program requires identified learning objects and four reflection papers (each 1-2 pages) in partnership with the Center for Advising, Internships & Lifelong Career Development.
A proposal for the Capstone level will be due in the prior spring semester, with the specific project grant application due by September 30 in the fall semester. Level 3 is one semester only; students will be paid through work-study funding (8-10 hours per week) and receive an Internship Transcript Notation for their Capstone projects.
Main Components
Community Engagement - Each Community Engagement Fellow will work with a Carlisle nonprofit service organization for 8-10 hours per week in a consistent, long-term relationship. Community partners serve as mentors, guiding students through a developmental process spanning dedicated volunteer, project assistant and project coordinator while helping students reach personal learning objectives. By undertaking increased responsibility and leadership, students' understanding of personal and social responsibilities and accountability is strengthened and solidified.
Leadership and Awareness - Interweaving personal and community awareness, ongoing leadership development and community experience, students are challenged to balance ever-changing community needs and personal insights through active learning. Students participate in intentional leadership training seminars, meet alumni in related nonprofit fields and share in group and personal reflection, connecting their service, classwork and personal growth.
Academic Connections - Community Engagement Fellows are expected to make connections between their classwork, community placements and personal goals. Each student will write an annual community learning agreement, outlining personal and professional learning objects for each year. In the second year, students will integrate their experiences in the community intentionally with one class through a project or reflection paper. In the third year, students have the opportunity to earn an Internship Transcript Notation for their work.
Expectations
Work with a sustained community partner 8-10 hours per week.
Annually complete a Community Learning Agreement with learning objectives and measurable outcomes.
Participate in training and enrichment meetings bi-monthly and specific orientations by year/focus for leadership development.
Have a willingness to explore identity, clarify and articulate values and be held accountable for personal and professional development through leadership training and individual meetings.
Complete an application/proposal process for participation in each level of the program.
Learning Outcomes
Increase understanding of the community needs, needs assessments and community responses through community partnerships.
Develop and build on leadership skills (working with diverse populations, public speaking, social justice, communication styles, power and privilege, time management, etc.) that enhance one's work within the community and classroom.
Participate in regular reflection and assessment of learning goals that enhance and create unique opportunities for each student in each placement.
Move from identifying to articulating, using one's identity, values and interests as the foundation for current community building and discernment of vocation.
Learn grant writing, assessment and review through a potential Capstone project that will open new insights on the interrelated complexities of community organizations and community need.
Developmental Community Placements
Community placements are with nonprofits capable of providing steady work and opportunities for students. They have strong mentoring supervisors and an interest in a developmental service model within a long-term reciprocal relationship with the college. The developmental aspect requires that a student is challenged each year in a new way to make connections, serve differently or lead in a new capacity.
Learn more about our Developmental Community Placements.
Who We Are
To learn more about the students who participate in the Community Engagement Fellows program, please visit our Student Profiles.