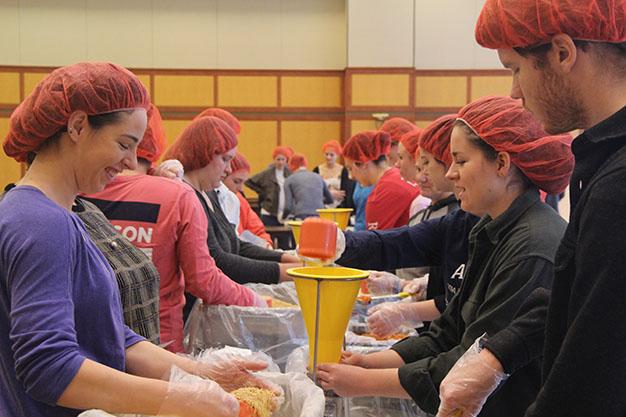 Students package over 10,000 meals during a volunteer event with Rise Against Hunger.
Justice Is Served seeks to provide service opportunities alongside discussions and educational events that delve into the social issues that create many of the problems that service seeks to improve. The program represents a flexible space where the student coordinators can explore the social justice issues that they feel are important through both community service and education.
Examples of Past Projects
Packing food with Rise Against Hunger
Hunger Banquet highlighting the disparity in food access
My Culture is Not a Costume event highlighting cultural appropriation in Halloween costumes
Volunteer days with Salvation Army, the Furry Friends Network, and Project SHARE
To stay up to date on our latest events, subscribe to our weekly newsletter or follow us on Facebook and Instagram!
If you are interested in Justice Is Served or have any questions, please contact the 2019-20 student coordinator (Jackie Logsted '22) at justiceserved@dickinson.edu. If it is summer, please contact us at engage@dickinson.edu.
Annual Events
Justice Is Served puts on a variety of events and service opportunities that change each year. However, there are a few events that the group hosts each year.
Hunger Banquet
Each fall, Justice Is Served hosts our annual Hunger Banquet, which aims to increase awareness of global food disparity. As students enter, they randomly select their lot—high, middle, or low income—out of a bowl. Students with a high income are served a four-course meal by waiters at fancy tables. Students with a middle income receive a single slice of pizza and a cup of water. Lastly, students with a low income sit on the floor and are given only rice and water. In the past, students have heard from professors whose research focuses on poverty and from Project SHARE founder, Elaine Livas, about how food disparity impacts the Carlisle area.
Rise Against Hunger
Each year, Justice Is Served raises $3,000 for Rise Against Hunger, an international nonprofit that distributes nutritious meals to schools across the world, and hosts a volunteer meal packaging event with the organization. In the Fall 2018 semester, this event brought together over 75 students, faculty and staff who packaged more than 10,000 meals, which were distributed to communities around the world.
Let's Talk Justice
The Let's Talk Justice series are monthly discussions, typically over common hour, with a professor, staff member, outside expert or panel on a social justice topic of the student staff's choosing. This series allows the Justice Is Served student staff freedom to explore timely social justice issues.