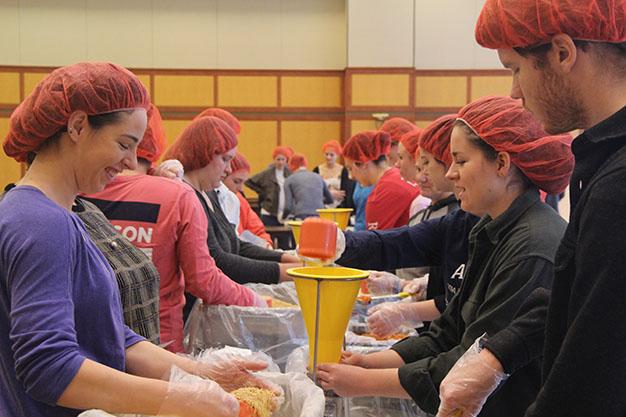 Students package over 10,000 meals during a volunteer event with Rise Against Hunger.
Justice Is Served seeks to provide service opportunities alongside discussions and educational events that delve into the social issues that create many of the problems that service seeks to improve. The program represents a flexible space where the student coordinators can explore the social justice issues that they feel are important through both community service and education.
Examples of Past Projects
Packing food with Rise Against Hunger
Hunger Banquet highlighting the disparity in food access
My Culture is Not a Costume event highlighting cultural appropriation in Halloween costumes
Volunteer days with Salvation Army, the Furry Friends Network, and Project SHARE
To stay up to date on our latest events, subscribe to our weekly newsletter or follow us on Facebook and Instagram!
If you are interested in Justice Is Served or have any questions, please contact Angelica Mishra at mishraa@dickinson.edu and/or justiceserved@dickinson.edu. If it is summer, please contact us at engage@dickinson.edu.