The Center for Service, Spirituality, and Social Justice (CSSS) challenges students to Reflect, Lead, Connect, and Serve through these main program areas: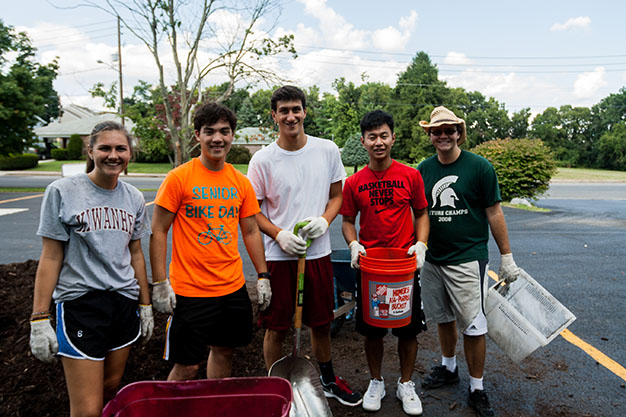 First-year students engage in service during orientation.
Montgomery Service Leaders - Montgomery Service Leaders are students committed to making significant contributions as members of the Dickinson College and Carlisle communities. John Montgomery was one of the three college founders and a strong advocate for the connection between college and community. Today, students live out this vision through the three hallmarks of in-depth community service, leadership and awareness and academic connections in a program for Federal Work Study students.
CommServ - CommServ is a network of student groups that reaches into the local community to meet a variety of needs on a regular basis. These groups build and maintain strong community partnerships through sustained interactions over several years. The coordinators of each student group meet weekly for reflection, training and leadership development as they seek to understand the complexity of community needs and services. The mentors meet regularly with their coordinators and serve weekly through their community partners.
Justice Is Served - Justice Is Served is a new program that seeks to provide both single day community service projects and education about larger social justice issues. It is shaped by a number of student coordinators who explore issues that they find important and create events and programs open to the entire college community.
Service Trips - Service trips immerse students and staff in communities throughout the US and abroad to see the needs of new communities without imposing our ideas and methods on others. Students confront underlying societal needs by asking questions and seeking connections locally, within Carlisle, and from their hometowns. Before, during and after service trips students engage in intentional reflection to clarify values, seek connection to academic work and enhance their identities as engaged citizens.
If you need to complete the required volunteer clearances for CommServ or any other volunteer organization on campus, please see the Volunteer Clearance Instructions. These clearances are required in the state of Pennslyvania to volunteer with children and other vulnerable populations. If you have any questions, please email csss@dickinson.edu.