Student Sandwich Series
*STARTING AUGUST 12TH, 2020 UNTIL FURTHER NOTICE, THIS PROGRAM HAS TEMPORARILY BEEN SUSPENDED DUE TO NECESSARY COVID PROTOCOLS.
Dining Services is proud to pass the torch as we conclude our Faculty Sandwich Series and introduce our new Student Sandwich Series at The Quarry. Students of the Dickinson College community have submitted recipes for their favorite sandwiches. Every two weeks a different sandwich will be featured!
Current Sandwich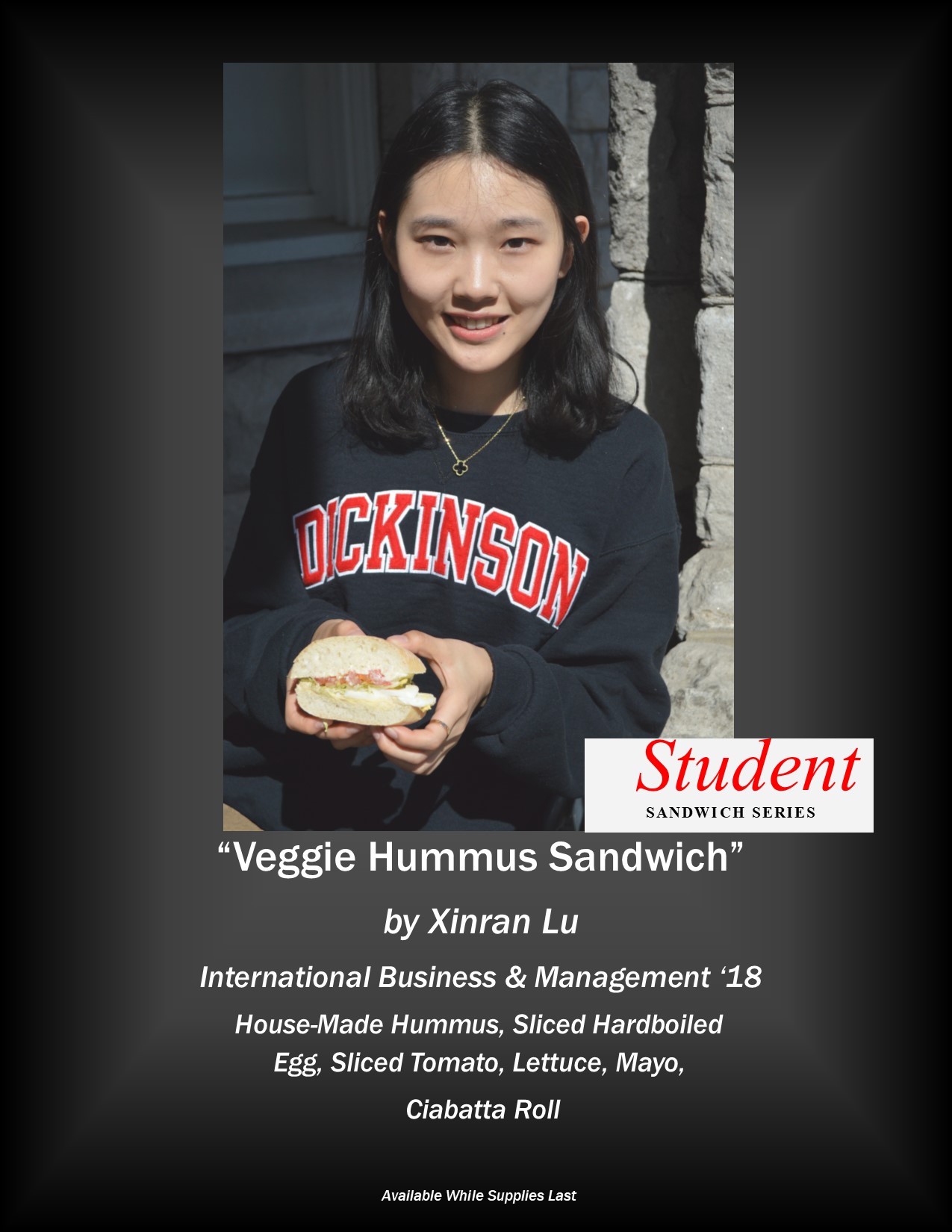 Past Sandwiches
Mac Franklin

Student, Class of 2018

Mac presents us with "The Fronk" an Amoroso's sub roll, packed with smokey house roasted turkey, melted provolone, delectable cranberry sauce, and cripsy lettuce; toasted to perfection.

Kamaal Haque
Associate Professor & Chair, German

and

Alex Gromacki

Student, Educational Studies 2018

Kamaal and Alex have passed the torch in this double feature sandwich series, where the Faculty Sandwich Series is transforming into the Student Sandwich Series.

The Spicy Turkey is a delicious mix of freshly sliced turkey, jalapeno, crisp lettuce and juicy tomato topped with a flavorful pepperjack cheese, with a bit of mayonnaise on locally baked wheat bread.

The Pesto Party made waves this spring with a hearty ciabatta bread toasted with fresh mozzarella, homemade pesto, and garden-ripe tomato.

Margee Ensign
President of Dickinson College

President Margee has inaugurated us with the Presidential BLT. An artisan sourdough roll contains a flavorful balance of crispy bacon, local hard-boiled egg, thinly slices provolone, frisee lettuce and fresh tomato.

Barry Tesman
Professor of Mathematics

Professor Tesman created an inspired and innovated sandwich with a mildly spicy curried chickpea mash, a sweet and spicy mango chutney, peppery arugula, crisp and refreshing sliced cucumbers on a whole grain roll!

Christopher Bilodeau
Associate Professor of History

Professor Bilodeau combined smoky bacon with crunchy, fresh lettuce and tomato along with a creamy mayonnaise and avocado, all on a painini'd multigrain bread!

Christopher Francese
Professor of Classical Studies

This delicious sandwich combines turkey, fresh-sliced mozzarella, tomato, and pesto on a toasted ciabatta bread!

Jennifer Schaefer
Associate Professor, Department of Mathematics and Computer Science


Professor Schaefer combined spinach and artichoke hearts with creamy mozzarella and swiss cheeses pressed between our garlic ciabatta bread!

DOUBLE FEATURE!

Scott Boback
Associate Professor of Biology

Professor Boback featured our Dickinson College Farm fresh eggs on this sandwich, along with wilted kale, avocado spread, sliced tomato, pepperjack cheese, and spicy mustard on Terrnetti's wheat toast!

Doug Edlin
Associate Professor of Political Science

Professor Edlin paired smoked turkey and smoked gouda with spicy mustard and fresh spinach on a crusty baguette roll!

Ben Edwards
Professor of Earth Sciences

Professor Edwards created the VOLCANO chicken wrap, a sundried tomato wrap filled with flaming hot goodness - buffalo chicken, jalapeños, roasted red peppers, sriracha drizzle, bleu cheese and tomatoes!

Robert Winston
Interim Provost and Dean of the College

Interim Provost and Dean Winston's sandwich is a tuna salad sandwich on a ciabatta roll with capers, lettuce, tomato, and provolone cheese.

Elise Bartosik-Vélez
Associate Professor of Spanish

Professor Bartosik-Vélez melted pepperjack cheese and jalapeños in between two slices of wheat bread.

Sarah Niebler
Assistant Professor of Political Science

Professor Niebler layered turkey, provolone cheese, sliced tomatoes and roasted red peppers on a toasted (or untoasted) plain bagel slathered in pesto mayo! YUM!

Stephanie Doulgeris-Glaser
Dining Services Retail Operation Manager

Stephanie toasted an Amoroso's Italian Hoagie Roll and topped it with mayonnaise, red wine vinegar, lettuce, tomato, provolone cheese, salami, pepperoni, and ham!

Todd Wronski
Professor of Theater

Professor Wronski's sandwich is a sliced roast beef sandwich on Terranetti's Rye Bread with swiss cheese, sauteed onions, and Russian dressing.

Melinda Schlitt
Art History and Humanities

Professor Schlitt's sandwich is a spicy turkey sandwich with fresh sliced smoked turkey, pepperjack cheese, sliced red onion, banana peppers and tomatoes on Terranetti's rye bread.

Interim President Neil Weissman
History, Interim President

Interim President Weissman's sandwich is a classic bagel and lox sandwich - a classic plain bagel, caper cream cheese spread on both halves, topped with decadent smoked salmon.

Dr. Nicoletta Marini-Maio
Italian and Film Studies

Dr. Marini-Maio's sandwich is a classic Italian bruschetta with tomatoes, fresh mozarella, salt, pepper, fresh basil and olive oil on ciabatta bread.
Dr. Matt Pinsker
History

Dr. Pinsker's sandwich is a beef brisket sandwich dressed with gold barbecue sauce on a potato roll.
Dr. Sarah Bair
Education

Dr. Bair's favorite sandwich is a pita filled with a chicken salad with walnuts, spinach and cheddar cheese.
Dr. Jeff Engelhardt
Philosophy

Dr. Engelhardt's sandwich features falafel balls with a traditional fattoush salad on naan bread.
Dr. Suman Ambwani
Psychology

Dr. Ambwani's sandwich is a Jhatpat Chicken Wrap. It features marinated chicken with lettuce, red onion & cilantro.
Dr. Jerry Philogene
American Studies

Dr. Philogene's sandwich includes fresh mozzarella, tomato and a basil avocado spread on a ciabatta roll.
Dr. Susan Rose
Sociology

Dr. Rose's traditional Reuben sandwich is crafted with corned beef, Swiss cheese, sauerkraut and Thousand Island dressing on rye bread.
Dr. Amy Wlodarski
Music

Dr. Wlodarski's favorite sandwich, an eggplant parmigiana sandwich, includes grilled eggplant, tomato sauce, provolone cheese, fresh basil and crushed red peppers on a ciabatta roll.
Dr. Karl Qualls
History

Dr. Qualls' sandwich, the Karl's Carlisle Cuban, features roast pork, sliced ham, swiss cheese, pickles and mustard on a ciabatta roll.
Dr. Michael Fratantuono
International Studies
Business and Management

Dr. Fratantuono's sandwich features hummus with veggie cheese, shredded lettuce, sliced tomatoes, sliced onions, roasted red peppers & a drizzle of balsamic vinegar on wheat bread.
Dr. Charles Zwemer
Biology

Dr. Zwemer's sandwich is prepared with corned beef and spicy mustard on rye bread with a pickle on the side.
Dr. David Sarcone
International Business and Management

Dr. Sarcone's Italian Sangweech is made with sliced ham, salami, provolone cheese, roasted red peppers, spinach, onions, mayonnaise and Italian seasoning on white bread.
Dr. Amy Farrell
American Studies/Women's and Gender Studies
Director, Clarke Forum for Contemporary Issues

Dr. Farrell's sandwich features smoked cheddar, cucumber, avocado spread & onion on sourdough bread.