Sustainability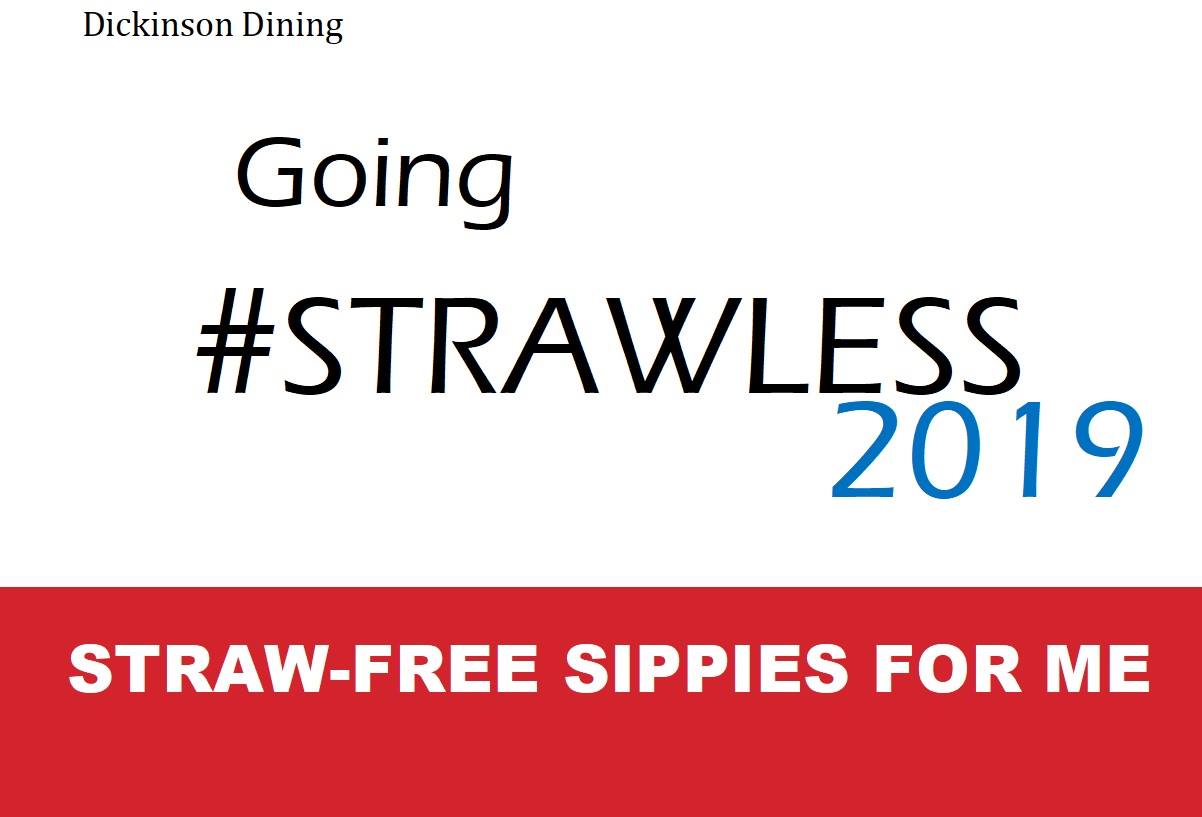 What we are doing
Dining Services continues its commitment to sustainable practices and supporting the Dickinson College community's efforts to lessen our impact on the environment and the world around us. Advancements since 2014 include:
Eliminating straws from all dining operations on 12/3/2018 and replacing them with recyclable sip-through lids that have no more plastic than a traditional plastic lid for straws.
Becoming a 3-Star Certified Green Restaurant since Fall Semester of 2015. There are only 250 restaurants in the country at that level and only 20 that have achieved the top level at 4 stars.
Reduced pre- and post-consumer food waste by 19 percent through food management software.
Replaced a 35-year-old vehicle with a new and more fuel-efficient model.
Since 2014 the Ecotainer Reusable Program continues to grow with each year as students, faculty, and staff take advantage of the inexpensive carry-out option.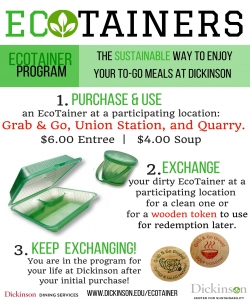 Eco-refills encourage all guests to bring their own clean beverage containers in and receive a discount on regular coffee and fountain beverages thereby reducing paper and plastic waste sent to the landfill.
Catering eliminated plastic plates and now offers light-weight melamine or compostable paper products as inexpensive alternatives to regular china service.
The Dining Hall is tray-less and has been since July 2009, reducing water and chemical use while encouraging guests to think about their food selections rather than "fill the tray."
Dining Services has employed a Dickinson Student as a Sustainability Intern each semester since 2014. Interns have documented food miles, food sourcing, validated animal welfare programs, and helped to identify ways to improve its practices.
We continue to review vendors to make positive changes like switching to Rutter's for local dairy products, or buying much produce from the College Farm as they can offer to us, and using from local providers such as Warrington Beef Farm, Martin's Eggs, Three Springs Fruit Farm, Terranetti's Bakery, and sourcing potatoes, pork, and tomato products from PA farms. Use a link at the left to learn about our coffee program and how it positively impacts lives and supports sustainable coffee practices in the world.