EcoTainer Program
Dining Services is proud to offer EcoTainers to the campus community as an effort to reduce waste and energy consumption. These containers, supplied by G.E.T. Enterprises, Inc., are made from polypropylene and are washed and sanitized by Dining Services for repeated use.
EcoTainers can be used at Union Station and the Quarry, as well as at Grab & Go. While disposable containers will still be available in retail locations, EcoTainers are required in Grab & Go for entree, soup and salad options.
Here are the directions for our EcoTainers: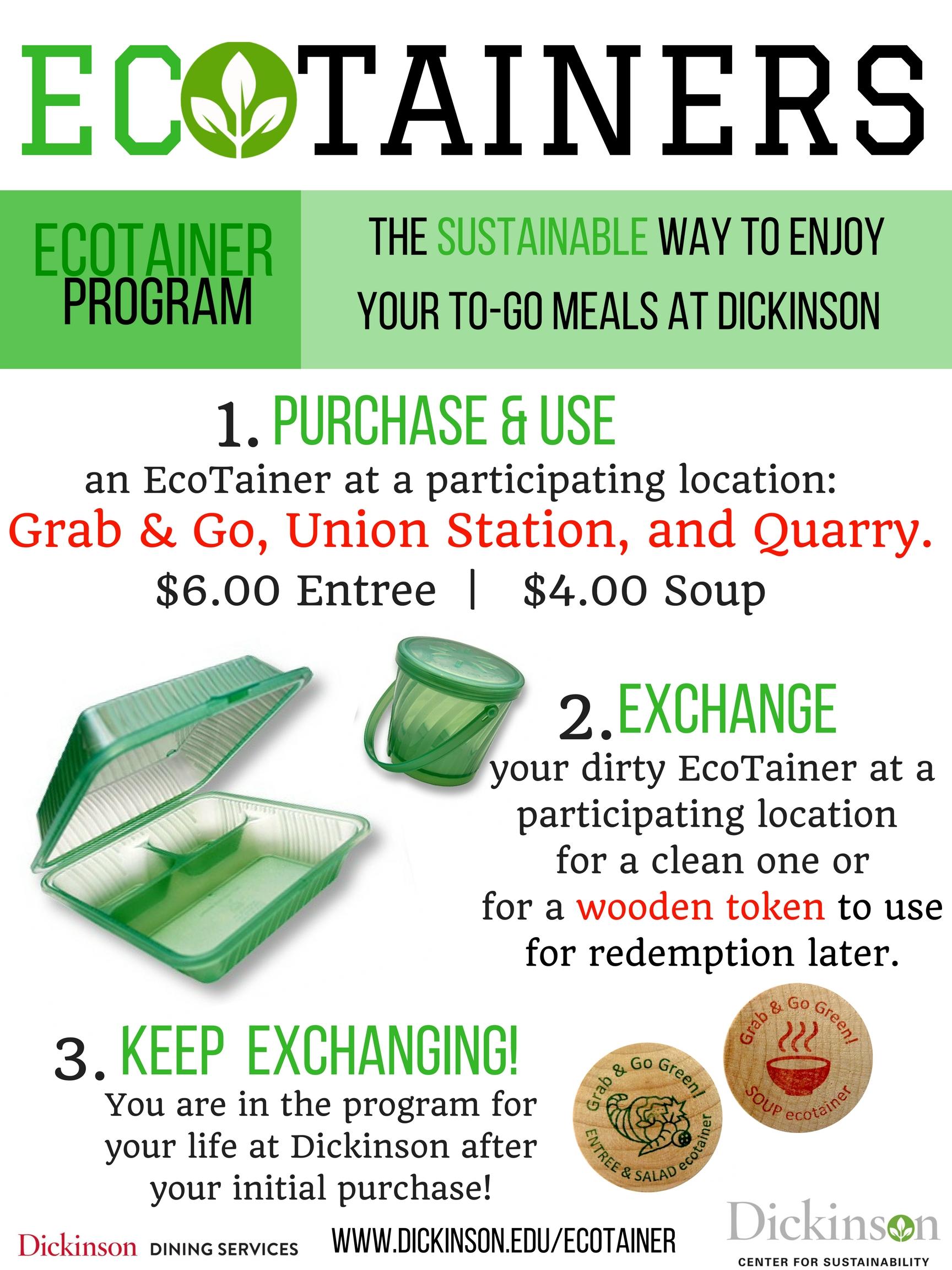 Step 1:
Join our EcoTainer program and receive your container(s) for a small, one-time fee per container. These containers can be purchased at the Quarry, Union Station, and Grab & Go.
Costs: Entrée container ($6.00), soup container ($4.00)
Prices are at cost to Dining Services; it is not our intent to profit from the sale of containers.
Step 2:
Return your used EcoTainers to one of Dining Services' participating locations - Grab & Go, Quarry, and Union Station - to be cleaned. Dining Services will wash and care for the EcoTainers and you receive a wooden token from the individual collecting EcoTainers. This token will be a placeholder until the next time you need an EcoTainer.
Step 3:
To receive a clean EcoTainer, present your wooden token to the staff at one of our participating locations - Union Station, Quarry, Grab & Go.
Frequently asked questions about the EcoTainer program:
Will other takeout containers be available if I don't buy into the program at Grab & Go?
Answer: These offerings are only available to those who commit to this sustainable initiative.
Can I bring my own containers to Dining Services location(s)?
Answer: Only Dining Services approved containers can be used.
Can I wash my EcoTainers and reuse them without having to exchange them?
Answer: All containers must be washed and sanitized by Dining Services prior to each use.