Dickinson in Cameroon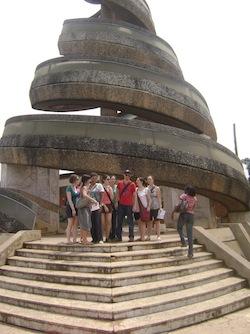 Dickinson students gather around the steps beside the Reunification Monument in Cameroon.
The Dickinson in Cameroon program enables students to develop an understanding of Africa as a whole and of Cameroonian culture and society in particular. This is achieved through a number of selected courses in the humanities and social sciences, as well as through internship and fieldwork opportunities that give students a chance to become active participants in Cameroonian society. Most students live with Cameroonian host families, giving them unparalleled insight into family life in the capital city of Yaoundé.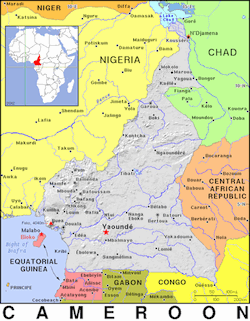 Dickinson Center in Yaoundè: Cameroon is a global study and research center operated by Dickinson College. Dickinson centers immerse students in the study of foreign language; foster a deeper understanding of the political, social, cultural, and economic histories of the countries and regions in which they are located; and form a worldwide network of living laboratories from which students can trace the causes and consequences of global forces, examine differing policy responses to global change, and assess and learn from successes and failures.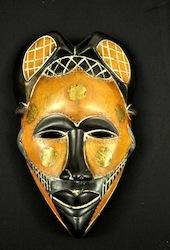 Traditional Cameroonian mask.
The capital of Yaoundé is primarily a center for diplomatic, administrative, and civil services. Many religious landmarks, museums, and the Reunification Monument (pictured at the top) can be found within the city as well. Additionally, Yaoundé is the location of several universities. Both French and English are spoken in Cameroon, and this is reflected in the education system. In terms of sports, Yaoundé is home to the Ahmadou Ahidjo Stadium, a sports complex where the soccer team plays its matches. There are two prominent markets within the city known as the Mfoundi and Mokolo markets where residents can go to shop, or they can browse the numerous small street-side markets. Yaoundé certainly is a very active city!