The Durden Bremen Center

Twelve Centers. A Global Network.
For more than fifty years, Dickinson has operated its own global study and research centers. These centers immerse students in the study of foreign language. They foster a deeper understanding of the political, social, cultural, and economic histories of the countries and regions in which they are located. And they form a worldwide network of living laboratories from which students can trace the causes and consequences of global forces, examine differing policy responses to global change, and assess and learn from successes and failures.
Students meet with urban planners to examine a scale model of "Harbor City,"
Europe's largest urban development project, as part of the College's new Summer Sustainability program in Bremen, co-directed by Professors Michael Heiman (Dickinson) and Hartmut Köhler (University of Bremen).

To learn more about the Durden Bremen Program and apply, click here.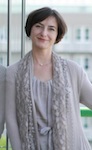 Janine Ludwig
Director