Toulouse Center

Twelve Centers. A Global Network.
For more than fifty years, Dickinson has operated its own global study and research centers. These centers immerse students in the study of foreign language. They foster a deeper understanding of the political, social, cultural, and economic histories of the countries and regions in which they are located. And they form a worldwide network of living laboratories from which students can trace the causes and consequences of global forces, examine differing policy responses to global change, and assess and learn from successes and failures.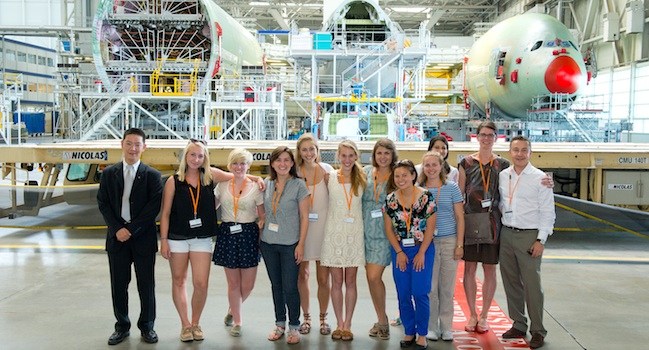 Professor Lucile Duperron and Summer Sustainability students meet with executives at Airbus, a leading aerospace company, one of Toulouse's largest employers, and new Dickinson internship site.

To learn more about the Dickinson-in-France program and apply, click here.
Recent Topics/Projects:

Former Toulouse Center Academic Director, Professor Sylvie Toux, co-led a mosaic program investigating and documenting the lives of migrants from North Africa in southern Europe. Dickinson's Center in Toulouse was the group's first base on a three-country program taking the student researchers and faculty to France, Morocco, and Spain. Read their stories.
Center Leadership

Julia Carnine
Director, Dickinson Toulouse Center
Laura Raynaud
Administrative Director